Category:E30
Jump to navigation
Jump to search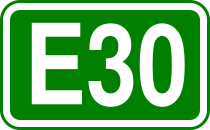 European route E30 is an A-Class West-East European route, extending from the southern Irish port of Cork in the west to the Russian city of Omsk in the east.
History
The E30 is one of the longest European routes with a total length of about 5800 km (3625 mi) (3300 km (2062 mi) from Cork to Moscow, 2500 km (1560 mi) from Moscow to Omsk. The naming is by the United Nations Economic Commission for Europe.
Formerly the route only went from Cork to Samara, with an often reported length of 3070 miles (4912km).
Formerly, before 1985, this was the E8 (London-Berlin-Brest).
Itinerary
The E30 routes over seven European countries, and includes two sea-crossings, one from Rosslare in Ireland to Fishguard in Wales, and one from Felixstowe in England to Hoek van Holland in the Netherlands.
Ireland
The ferry Rosslare - Fishguard departs twice daily, taking about 3 hours.
United Kingdom
European routes are not recognized by UK authorities and not signposted in the UK.
The nearest passenger ferries to Hoek Van Holland actually depart from Harwich, across the Orwell river south of Felixstowe, at the E 32. That ferry has 4 daily departures and takes about 4 hours. Cargo ferries depart from Felixstowe.
Netherlands
Germany
Poland
Within Poland the E30 follows the A2 motorway and the National Roads (Droga Krajowa) 14 and 2.
Belarus
Russia
The Russian stretch of this road coincides partly with the Asian Highway Network's AH6 (though this latter highway passes through Petropavl, Kazakhstan in its stretch between Chelyabinsk and Omsk, unlike the E30). The E30 follows the Russian main road M1 Belarus-Moscow, M5 Moscow-Chelyabinsk and M51 Chelyabinsk-Kurgan. It goes along minor roads past Ishim in order to avoid the Kazak border towards Omsk.
This article contains text from the Wikipedia article on E30.
Subcategories
This category has the following 2 subcategories, out of 2 total.
Pages in category "E30"
The following 57 pages are in this category, out of 57 total.
Media in category "E30"
This category contains only the following file.