Bad Bentheim
Jump to navigation
Jump to search
<map lat='52.30777016854781' lng='7.159824371337891' zoom='15' view='0' float='right' /> Bad Bentheim is a city in the southwest of Lower Saxony, close to the Dutch border.
Near this city the motorway A30 starts.
If you're in Bad Bentheim, don't hesitate to visit the castle, or at least have a look at it. It's nice.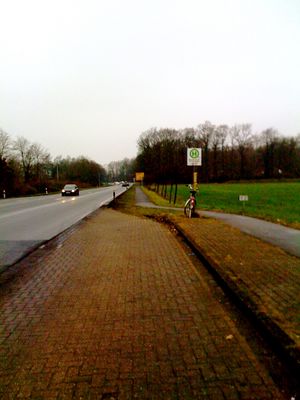 Hitchhiking out
If you travel by a Regionalbahn (train) towards the Netherlands, you may have to wait several hours on this station for the Intercity towards Amsterdam. From the station you need to hike about 300 meters south to get on a crossing with a bay where you may easily hitchhike to Gronau, Oldenzaal or Hengelo (see image). Although it's only some kilometers towards Oldenzaal, there are quite few cars going that direction. You might wait a bit longer after passing Gildehaus. Towards Gronau, it shouldn't be such a big problem. This spot is much better than the next bus bay at the end of town, because it's behind the traffic lights, so traffic is not splitting up. Try to catch a ride towards Gildehaus at least, and don't get stuck at the next traffic light, as there are no good spots.
At the crossing, just take the road towards the north or try it behind the train station. The street (403) directly goes towards the on ramp Nordhorn/Bad Bentheim.