Kazakhstan
Jump to navigation
Jump to search
Kazakhstan

Information
Language:
Kazakh, Russian
Capital:
Astana
Population:
16,196,800
Currency:
Tenge (KZT)
Hitchability:
<rating country='kz' />
Meet fellow hitchhikers on Trustroots
<map lat='48.05' lng='66.9' zoom='3' view='0' float='right'/>
Kazakhstan (also spelled Kazakstan) is a country in Central Asia.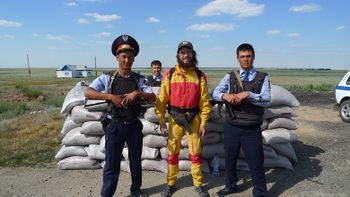 Hitchhiking in Kazakstan isn't predictable. You can get 4-day rides with trucks or just rides of a few kilometres to the next village. People often offer rides out of cities when they see you walking.
The road between Aktobe and Aralsk is terrible, with little asphalt. Vehicles get stuck in the mud all the time and crossing the country this way can take days.
Some drivers of small cars, typically only going a short distance out of cities, will demand money. However, long-distance lifts are typically free. Inside of cities, especially in Almaty it is very common to stop cars and use them as private taxi. This means that you have to leave the city to start hitching, inside it will cause a lot of headache. Experiences in Kazakhstan are different, some people had problems with drivers asking for money again and again, while for others it was no issue at all. For sure whereever you hitch, drivers will stop fast and the ironic fact is that somebody might wants to charge you for a 3 km lift, while the next driver takes you 1200 km from Almaty to Astana and this will be for free.
Average 600 km/day in south west, more from north west to north est (hitchhiking only in daylight). This depends also if you are hitchhiking alone or two people because some truck driver don't want more than a passenger at a time. Only Kamaz truck are legally allowed to take three people. From Aktobe most of the traffic is going to Shymkent less traffic to Kostanay and Astana. Longest ride offered 2000 km. Truck brand: 70% European like Scania, Volvo, Daf (average speed 70-80 km/h). 30% Kamaz soviet trucks (average speed 40-60 km/h). Very easy to hitchhike if alone, sometimes trucks was stopping for me even without tumbing while a was walking in the highway. They will stop even more if you are stuck in the middle of nowhere anyways most of the time expect to hitchhike from a truck restaurant to the other. In the desert in south west cars was stopping to provide me water sometimes or just to ask if i had enought water. Never bothered by police while hitchhiking or standing along the road just a lot of speed radars for the drivers. If you are hitchhiking cars for short distances always explain to the driver you will not pay for the ride because a few normal cars are working as a taxi.
Nevertheless a very good country for hitching, especially to cover long distances.
The Russian word used to explain Hitchhiking is "Avto stopem" And the local slang for no money is "Kapusta Pusta!" (Literally means "the cabbage is empty") and it's a good way to make those grumpy west Kazakh smile. Witch helps.
Cities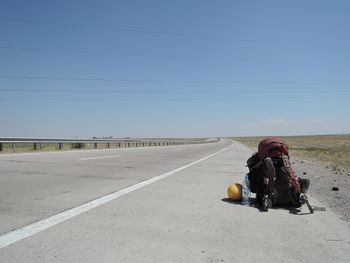 Border Crossing
The boat from Baku, Azerbaijan arrives at the port of Aktau. It costs 80 Tenge (110 USD) as of March 2014. The journey itself takes around 25-30 hours but the boat can wait for a few days offshore depending on weather and dock conditions in Aktau.
Multi-border points are Aisha-Bibi, Sypatay Batyr, Korday, Kegen, Karasu (2010).
Multi-border points are Kurmangazy, Taskala, Syrym, Aksai, Alimbet, Zhaysan, Kayrak, Akbalshyk, Zhana Zhol, Karakoga, Urlitobe, Sulu Agash, Kosak, Sharbakty, Auyl, Ube, Zhezkent (2010).
Multi-border points are Tazhen, Zhibek Zholy, B.Konysbaeva, Shardara, Kaplanbek, Syrdarya, Celinny (2010).
Multi-border point is Temirbaba (2010)
Multi-border points are Khorgos, Dostyk, Kolzhart, Bakhty, Maykapchagay (2010).
Khorgos border crosing: the only allowed way to cross border is by bus. Border is very serious: dogs, watchtowers, barbed wire, walls, soldiers, about 4 checkpoints between countries, scanners, walls, walls... Crossing border takes about 2-3 hours. It looks like border between worlds and it really feels like that from the cultural point of view. Buses are paid, but z-z-z88 (talk) managed to get a free ride without seat from China to Kazakhstan in 2016. In China without bus ticket you are not allowed even approach border, but bus leader can take you through these pre-border checkpoints. Korn managed to find a ride at the border with a wedding society. It is just a couple of kilometers to the Kazakh side. From there you can walk, once you pass the gate to the customs.
SIM-cards
Some Beeline SIM-cards a bit expensive but no need any ID(2010). SMS 0,05USD. Most Kazakh people use either Aktiv or Kcell. It's extremely cheap to make phone calls to other Kcell/Activ users (they are the same company). Passport is needed for this sim card.
Experiences
Nomadwiki & Trashwiki
Check Nomadwiki for info on accommodation, showers etc. or Trashwiki for dumpsters...and share your wisdom :)