Albania
Jump to navigation
Jump to search
Albania

Information
Language:
Albanian
Capital:
Tirana
Population:
3,170,048
Currency:
Lek (ALL)
Hitchability:
from

Error creating thumbnail: Unable to save thumbnail to destination

(good) to

Error creating thumbnail: Unable to save thumbnail to destination

(very good)
Meet fellow hitchhikers on Trustroots
<map lat='41.02623044860001' lng='19.3853759765625' zoom='6' view='0' float='right' />

Albania is a country in the Balkans in Southern Europe. The capital is Tirana. It has borders to Montenegro, Kosovo, Macedonia and Greece.
The road network is not very complicated, and getting out from and past towns is usually just a matter of walking in the right direction. Roads do tend to go through the towns, but keep an eye out for signs for shortcuts to avoid tedious walking when transiting.
Hitchhiking culture
Hitchhiking in Albania can go surprisingly well. Even though Albania is still one of the poorest countries in Europe, the country's living conditions have improved greatly in the past years.
People are usually friendly and ready to help. Be aware some drivers expect money, since private taxi is a major form of public transport. Make sure that before you board a vehicle the driver is not an informal cab-driver. A simple 'no taxi' phrase should be enough to avoid misunderstandings. Some found it useful to learn "por.... jo para.... jo problem?" (but.... no money... no problem?) and ask it as they stop (yes/no = po/jo, and mirë (pronounced mir) = fine/good). Some drivers will refuse to take you for free, but still every other driver should pick you up. Hitchhiking with a sign can be useful to differentiate yourself from the other people using public transportation.
Also, make sure to keep an eye on the road -- if the driver makes sudden turns and other similar actions while driving it is likely that he is either a taxi driver or that he thinks he is doing good by bringing you to the local bus station, and would expect some money from you. You therefore will have to be reiterative on stating that you travel by autostop. This kind of driver behaviour usually is not valid for the company car or truck drivers': they are already salaried and won't be offering a taxi service to you.
Women hitchhiking alone do not encounter more issues than the average European country.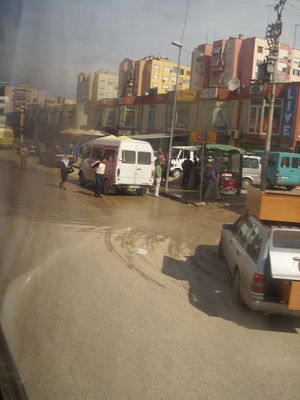 Safety
Albania has a good hitchhiking reputation. The government financial trust in police force has lifted up the safety level in most areas of the country; however, it is paramount to remain cautious, and hitching by night as well as in some areas might not be too wise. Beware of the poorest area and hitching next to slums since you will be quickly dragging the attention of dozens of children lurking at your bags, and would make almost impossible for you to get out of there, so if you find yourself around such place just walk away and ignore the people until you are in a better area.
Cities
Border Crossing
Be careful at the borders, because officers can be corrupted and there are many problems with smuggling of cigarettes, drugs and guns. Border controls are more "exact" than in the rest of the Balkans.
Qafë-Thanës-Struga border crossing

Quarim had problems at the border check to Macedonia (direction Struga, Ohrid) in 2008, he gave a bribe that the officers let him pass.
Klaudyna reports a very different experience: We crossed the Macedonian - Albanian border on foot and started hitchhiking straight after crossing, about 100 meters away from the officers. We thought it's was going to bring us in trouble and we were trying to be as discreet with it as possible. They noticed us of course, but their reaction was quite different from what we expected - they stopped a car for us and told the driver to bring us to Tirana coz there is not much traffic and otherwise we would have waited forever.
Eating & Drinking
In Tirana (and probably in other cities, too) you can find very cheap local food markets with really good and fresh vegetables, such as tomatoes, cucumbers, green peppers, olives, etc. Local olive oil and freshly baked bread is something everyone has to taste!
Do not drink tap water in Albania.
Accomodation & Sleeping
In Tirana one can easily get accommodated in so called private sector: these are people who have their apartments arranged to accepts occasional tourists. It is safe, quite cheap (you can talk about how much you can pay), you get friendly company (if needed) and tips how and where. To find these kind of places just ask some more tidily looking folks on the street, or in Internet cafes and other similar places.
There is a nice and individual hostel in the center of Tirana. Tirana Backpacker Hostel, Rruga Elbasanit 85, Tirana.
Other Useful Info
wikipedia:Albania wikitravel:Albania