Andorra
Jump to navigation
Jump to search
Andorra

Information
Language:
Catalan
Capital:
Andorra la Vella
Population:
71,822
Currency:
Euro (€) (EUR)
Hitchability:

Error creating thumbnail: Unable to save thumbnail to destination

(good)
Meet fellow hitchhikers on Trustroots
<map lat='42.580388494236956' lng='1.572418212890625' zoom='10' view='0' float='right' />
Andorra is a very small country in the Pyrenees, surrounded by France and Spain.
There are few roads and no motorways. To hitchhike onward it is necessary only to go to the end of the town, and passers-by can direct you. Andorrans are used to hitchhikers, as many of the South American workers here hitch to work and back.
The official language is Catalan and the currency used is Euro.
Precaution: do not leave your things (backpack, etc.) unattended while asking for a ride on the border or at petrol stations - small theft is common in this small country where the border is crossed by a number of smugglers.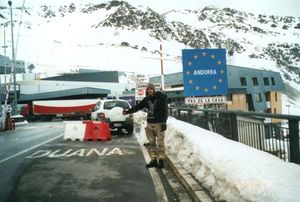 Towns