London
Jump to navigation
Jump to search
London is the capital of England and the United Kingdom.
Hitchhiking around London
London has a ring-road, the M25. You'll have to use it if you go from anywhere north of the Bristol-Oxford-London line to Dover resp. the continent, or the other way round. It's recommended to find a lift past London as it's somewhat hard to go find somebody going off the M25 into your direction from any of the service stations on the M25 - there are only three, one in the South, one in the East and one in the North-East.
South Mimms services is in Potters Bar in the north of London, on the M25 and right off the M1. For some reason, although it's a big services, you can get stuck for hours here. One option, as ever, is to ask people where they're headed..but there are so many directions possible that it could take a long time to even find someone headed your way. Standing at the exit of the services is unlikely to work, for whatever reason. Several reports of hours of waiting here mean that you probably need to try something else. If you're going towards the west, you can stand at the ridiculous entrance to the west slip road onto the M25. Although insane, you should be able to get a fast ride out. Have a big sign and someone should be able to at least take you further down the M25 to a better junction, or directly to where you're going..be it to the west or down to Sussex. Any information on going east?
Also, on the M25, it may be possible, if hitting London is unavoidable but it needs to be passed, to head around the ring on the junctions. The only problem is that a few of the junctions are really bad in the south..try not to get stuck in this trap and if stuck make a sign with M25 and east or west.
Hitchhiking out
Hitchbase has some information about hitchhiking out of London
Hitchhiking out of London is pretty tricky, but not impossible - the big problem is getting onto a motorway is a bit of a challenge, once you're on the motorway, stick to the petrol stations, hitching entrance ramp to entrance ramp is quite difficult, especially in the big cities.
Direction: West England, South-West England, South Wales
M4 Motorway
<map lat='51.491738177580345' lng='-0.28118133544921875' zoom='16' view='0' float='right' />
Where to: (The West (London)), Reading, Swindon, (The South-West), Bristol, Devon, Cornwall,
Cost of public transport: One ticket to Zone 3 - approximately 5 UKP from Zone 1. There are also a number of buses that run by this roundabout. The H91 runs to the hitching spot itself. I'll try and get more details next time.
Last verified: April 2010
Get the Underground to Gunnersby tube station(District Line) or the main line station at Kew Bridge. (Alternatively, the Overground Stop South Acton doesn't have barriers, but is a kilometer further away.) Both stations are on the Chiswick High Road (A315 - one west and one east of the roundabout) along which you walk 500m to Junction 1 of the M4. You want the Esso petrol station that is on the corner of the slip road onto the motorway heading west. There is a lay-by nearby with a sign saying M4 west.
Last verified: 20th February 2011: I frequentlly hitch from this spot, works well, and rarely wait more than half an hour. Wait just before the bus stop as this is where people generally stop. / Verified in July 2013, got lucky and the second car on that Esso petrol station took me until Bristol.
Heading for Cornwall, it is much easier hitching the M4 and changing to the M5 in Bristol than trying to hitch the M3 through Dorset. An alternative spot for the M4 nearer to the centre and a good one for the M3: Exit at West Kensington tube (zone 2 district line). Turn right out of the station, there are traffic lights 10m away. Turh right and there is a layby where you can stand. The advantage of this spot is that all the traffic must stop here frequently for the lights and much of it is going to either of the motorways. (It's also cheaper to get to). I never normally wait more than 30 mins. here.
Direction: South-East England (Kent)
M20 Motorway
<map lat='51.43983124736507' lng='0.0528717041015625' zoom='15' view='0' float='right' />
Option 1: Mottingham
Cost of public transport: One train ticket from zone 1 (approximately £3.50 off-peak) or take the Jubilee line to North Greenwich, and from there, the 161 bus to Mottingham. (Mottenham train station doesn't have barriers...)
Last verified: July 2014
Directions: The train to Mottingham Station (Zone 4) departs from Charing Cross Station (Zone 1) through Waterloo East (Zone 1), London Bridge (Zone 1), New Cross (Zone 2) and Lewisham (Zone 2) stations on its way to Dartford or Gillingham.
This is very close to the entrance to the M20 to Dover. When you come out of the train station, head for Sidcup Road (corner of 'Sidcup Road' and 'Court Road', around 800 yards). At the traffic lights turn left, where you see a Shell petrol station. This leads towards Dover. This is the A20, which eventually becomes the M20.
The best ride to accept from Mottingham is one that brings you directly into the South-East along the M20 and past the M20-M25 junction, most likely to the Maidstone Services. Many drivers said that many hitch-hikers happen to stand and hitch at the junction, but the police might be more likely to pick you up.
Last verified: Cost of the train to Mottingham was £5. Me and and my girlfriend hitchhiked from Mottingham spot and a lorry picked us up in 15 minutes and took us to the start of M20. There we waited about 20 minutes in a motorway entrance, and got a drive by another lorry all the way to Folkestone service station. There a car picked us up after 5 minutes and took us with them on the ferry and all the way to Brugge in Belgium.
Option 2: Swanley
Cost of public transport: One train ticket from zone 1 (approximately £3.50 off-peak) or take the train from Elephant & Castle in central south-east (no barriers) towards Seven Oaks for a free ride.
Last verified: September 2013
Directions: You can get onto M20 from Swanley. Get a train to Kent from London Victoria (Ashford International, Gillingham, Seven Oakes, etc.). Some trains will go directly there, otherwise change at Bromley South.
Swanley By pass: From the station head away from town on London Road, onto Maidstone Road, where you'll find a hole in the fence on the left. There is a BP garage with a McDonalds, it's a longer walk than to the Texaco mentioned below but managed to get a lift there in 15 minutes at 10pm asking people (September 2013). It seemed most traffic was M20/M25, but might of been the time of night. This is perfect for getting to Maidstone.
London Road Walk into town from the train station, taking London Road, out of town towards the M20. On the way there is a Texaco petrol station that seems quite busy. Further down (where I hitchhiked, August 2012) there is a big parking space, with a greasy spoon van if you're hungry or in need of a cup of coffee. The road takes you straight down to the motorway.
<map lat='51.3902018510923' lng='0.188269615173336' zoom='15' view='0' float='right' />
"'Option 3: Clackett Lane'"
"'Last Verified'": April 2015
"'Cost of Public Transport'": 0-9GBP
"'Directions'": For those in a hurry going South-East, there are trains from London Bridge to Oxted, a 3km walk from Clackett Lane services (on the south of the M25). You can reach London Bridge by overground from a station without barriers and skip the fare. Once there, you're already on the motorway and you just need to head East.
M2 Motorway
Get the Underground to London Bridge Station (Northern Line - Jubilee Line) and get the commuter train to a station called Mottingham (direction Dartford) (Note that you can hitch along the M20 and changing to the M2 in Maidstone)
A21 Motorway
Hitchwiki could use your help to complete this article. You can help by expanding it.
Help providing the information with the one available for the M20
Direction: North-West, Scotland, North Wales
M40 Motorway
M40 is different from other motorways originating from London, as it starts quite close to M25 as a continuation of the dual-carriageway A40.
A40 has a number of entrances with heavy traffic, and the following 3 places have been successfully hitched from:
Take a Piccadilly or Metropolitan Line to Uxbridge station (Zone 6). Exit the station onto High Street and turn right. Walk until you reach Harefield Road - turn left there, and then right at the next big roundabout. From there follow signs to M40 - you will eventually get to junction 1 slip road, and you can hitch-hike from there.
Confirm with the driver that he is going straight on M40, and does not turn onto M25 (London Orbital). Also beware that Junction 2 is not very easy to hitch-hike on (see M40 article)
Hanger Lane Underground station (Central Line, West Ruislip branch, zone 3)
As you exit into the main hall of the tube station, have a look at the local area map and find an exit by the Westbound A40 slip road. Once you are out of the underground, keep walking along the slip road, and then A40. There are two good places to hitch from:
One of them is a bus stop just past the junction with Lynwood Rd. It has a long lay-by, which is a good place to hitch from as long as there's nothing parked there. Legally, it's a "non-stopping except buses" lay-by.
The other place is half a mile further on - a little lay-by with no restrictions. I (Lnx) have not personally hitched from there, but it looks like a good spot and has an advantage of being open to the entire A40 (the Lynwood Rd bus stop has a separation between the incoming slip road and the main carriageway, so you can only be picked up by traffic emerging from North Circular Road, or Lynwood Road).
Hillingdon Underground station (Piccadilly/Metropolitan Lines, zone 6).
As you exit the tube station and go to the end of walkway, turn right and walk until you reach big traffic light-controlled crossroads of 'Long Lane' and 'Western Avenue' (NOT the A40 Western Avenue). Cross the road, then turn right and continue to the roundabout, whose primary exit is the slip-road to A40. Stand on the grass next to of the hatched area - the hatched area is a good and legal place for a vehicle to stop. The area is also well-lit which makes it a perfect place to hitch at night.
It is advisable to have a sign saying "Oxford" or something, as a lot of traffic leaves M40 at junction 1a to continue on M25.
There is also an Oxford Tube coach stop in Western Avenue/Freezeland Way nearby. If you happen to get really stuck (which I think you won't - I waited only about 12 minutes for a ride on an evening during a post-Christmas season) and only need to get to Oxford, this might be an alternative.
Update: I took this advice to travel from London to Oxford in October 2010, and it worked very well: I didn't reach the roadside til 9pm, so the world beyond the streetlights was utterly dark, but still got a ride within half an hour. A good spot to travel Northbound from London.
Direction: North
M1 Motorway
Option 1 - London Gateway Services
Cost of public transport: One ticket to zone 5.
last verified: August 2014 (very good although most people are only going as far as Northampton). June 2012 (good spot indeed, we asked around the service station and were picked up after 30 min towards Northampton). November 2011 ( very good spot, we found a lift in less then 5 minutes, also in the dark)
It is possible to walk from Edgware tube (Northern Line) to London Gateway Services on the M1. The walk is about 2.5km. There are a few different ways to walk, but the simplest is: Turn right out of the station onto 'Station Road'. Follow the road along, it turns into 'Hale Lane', keep going, then turn left onto 'Selvage Lane' and keep going, you will then go over a bridge over the M1 and come to a big roundabout 'Apex Corner'. Go down into the subway under the roundabout, and come out on the A1 ('Barnet Way), just by the petrol station. Turn left just behind the petrol station onto 'Ellesmere Avenue', this road runs parallel to the high way. Keep walking until you come to a road on your left with a big sign with three symbols, one of which would translate as 'no access to anyone except authorised vehicles' and clearly goes under the motorway. Walk down it and you come to London Gateway Services.
<map lat='51.572129' lng='-0.230595' zoom='16' view='0' width='400px' height='200px' float='right' />
Option 2 - Staples Corner
Cost of public transport: One ticket to zone 3.
Last verified: 18th August, 2014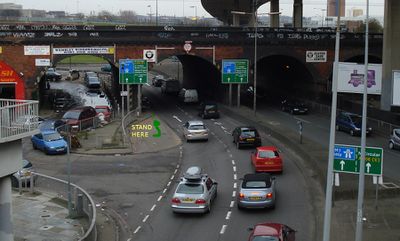 This is a very good option :)
Another option is to take the tube to Brent Cross (Northern Line). From there you follow the 'North Circular Road' westwards for about 1km (along Tilling Road), and you get to the bottom of the M1 (don't get confused with the A1 which also passes nearby, although if this road is more convenient for your destination, you can also hitch from here). After passing the shopping centre, you should see the M1. It is possible to hitch at the first entrance you see, which is the traffic coming off the 'Westbound North Circular' (there is a bus stop just after the slip road joins the North Circular, and a small lay-by further on - both adjacent to the lane for M1). You can also hitch at the traffic lights (see spot on the map to the right) or on the hard shoulder on the on-ramp that slopes up right after those traffic lights.
This place seems to work really well. I get the bus to brent cross and then its about a 10 min walk to this spot.
However, it tends to go slightly quicker if you walk 2 minutes more around the roundabout (Staples Corner West ). You'll see a railway bridge, go under it and there is a bus stop beside a car repair place (the bus stop itself is near Adrian Avenue and is by the Western side of the railway bridge). It doesn't look like such a great place, but it works quite well if you have a sign (worked for Lnx - a 5-minute wait in the dark!).
This is a very good place, however one user recommends right next to the car repair center ( on the right of it )there is entrance for the M1 Motorway which is slightly going upwards before meeting the highway. You may go up and make sure to stand atleast 100 meters away from the point where cars enter on this road from the redlight behind, since they need some time to spot you and there is plenty of space for them to stop ,if you have a sign that says M1. Worked quite well on 18th Aug 2014. If you are too close to the entrance incline they will zoom past by you so ensure you walk up a bit and give them enough distance to see you and your sign.
Important *** : If you are getting in a car here, ensure that the driver is driving atleast 50-60 miles and not getting off on some nearby town before 50-60 miles. From this point on to until 50-60 miles on this highway there is no Petrol Station at all. So ensure you can get a ride with someone who knows a petrol station on this highway and can drop you to a Petrol Station.
In case you are going to Edinburgh : Once you are on any of the petrol stations you will find a lot of people going in that direction, going to LEEDS and then further on. Somewhere ahead of Leeds M1 becomes A1 (M) highway however ensure that once you are on this highway going in direction of New Castle, and then Edinburgh, you do not get down at the last petrol station before New Castle. Get down at the 2nd last or 3rd or 4th last petrol station before New Castle but not the last one. The second last one has a huge Mac Donalds and the last one has Burger King and Costa, is a small petrol station and mostly has locals from the New Castle coming for petrol. A hitch hiking couple got stuck here and could not find a ride for 13 odd hours back beyond New Castle. So thumb rule do not get down on the last Petrol Station before the city, unless it is a Mac Donalds. Ensure who ever is taking you drops you only on Petrol Station and not on a country road. After New Castle, there is only one major or decent petrol station in a town called Alnwick ( pronounced as Annick). Try finding someone who is going to Edinburgh directly from one of the good Mac Donalds stations before.
A1 Motorway / A1(M) Motorway
(See information for M1, Option 2 - Staples Corner. Hold the sign saying "A1 North". There must be better places to get onto A1, though...)
This is untested, but should work. Take the tube (Northern Line) to High Barnet, here take the 84 bus to South Mimms services, at the junction between the M25 and A1(M). One user tried this, and thinks the junction is too big, and the traffic too fast, for this to be a good spot. Another user spent 5 unsuccessful hours at South Mimms trying to get the A1(M) North, most people aren't likely to stop at the first service station on their way out of the city.
Direction: East Anglia, East Coast
M11 Motorway
The M11 begins near Redbridge, so this is an ideal place to go to. Simon and Jason managed to get a ride to Newmarket from the train to Redbridge, as someone noticed us making a sign.
Redbridge is on the Central (Red) underground line and local buses (66) stop next to the station. Once on the station, turn right and use the subways to cross under the A406. Once on the ramp on for A406 (extending Eastern Avenue), there is a great place for vehicles to pull over. The spot is located just next to the bridge over a canal or river. The traffic will not be coming from A406, but it is really a good place to hitch a ride. It is strongly recommended that you bring a M11 sign with you. Personal experience was that even with this sign, a few cars will stop heading towards other destinations.
TIP: To get to the same part of london, you can also take the Central line to Roding Valley. Here there are no barriers as you exit so if you managed to get into the underground system for free, you can get out for free. It's about a half an hour walk to the start of the M11. For getting into the underground system, you can for example get in at Finsbury Park where there are no barriers either. There are also other stations.
Direction: South, South West - Hampshire and Dorset
M3 Motorway
M3 is not an easy motorway to get to, although the following worked for Lnx:
Take the train bound for Shepperton from London Waterloo and exit at Kempton Park station. Exit the station (do not go on the footbridge), cross the racecourse car park and turn right into Park Road, which goes into the slip road coming off A316. When you reach the A316 itself, walk on the pavement in the opposite direction to the traffic. You will immediately see a lay-by (chances are some lorries will be parked there). You can hitch from there. The position is not perfect, as the road is going downhill, and the traffic is traveling very fast (50-70mph).
Kempton Park station is just outside London Transport Zones (Hampton, the previous station on the Waterloo-Shepperton line, is in zone 6), but it has no ticket barriers and the chances of meeting a ticket inspector between Hampton and Kempton Park should be quite remote.
An Alternative, joining the A316 before it becomes the M3
Get a train on the same line as above, and get off at Fulwell Rail. Walk South on Wellington Road, and then turn right onto Park Road. Follow this road as it joins the A312 for about 1.5 km in total. Just below the A316 bridge, which you will see ahead of you as you follow the A312, there is a roundabout. The first left turn on this roundabout is an on-ramp for the A316. There is a bus stop and a pedestrian crossing here, and traffic is going uphill, and so is quite slow. One user waited here for about 30 minutes with a sign saying "M3".
A3/A24 Motorway
Hitchwiki could use your help to complete this article. You can help by expanding it.
Information needed
Possible site along the A3 would be located between Putney Heath/Roehampton and New Malden/West Wimbledon, New Malden offering the best opportunities
The A24 is best reached directly in Leatherhead outside the M25, there is a on-ramp to the M25 as well
M23 Motorway/A22 Motorway
Directions: Take a train to Coulsdon South from East Croyden (zone 6) Turn left out of the station and walk 600m up to the roundabout. Nearly all the traffic goes to the M23 from there.
Direction: East (Essex)
A12/A13 Motorway
Directions: So to go towards Ipswich, take the tube to Bow Road Station. Here you need to ask direction to the A12. Walk along Bow Road. At the end of the road you will come to a round about with traffic lights on it and also a McDonalds You can get lifts from here to Ipswich or Colchester along either the A12 or A11. I waited 20 minutes. It was OK. There is plenty of room for people to stop at there is a bus stop right near.
Airports
Paid transport to and from airports can be expensive. Hitching can be a good alternative. The exits to the airports can also be good places to get lifts to other places. For example, if you get stuck on the western part of the M25, try to get to Heathrow, from there people are going all over the country. If you are coming from Brighton, and trying to get around London, you may get a ride quicker to where you want to go if you get dropped at Gatwick Airport than at Pease Pottage services.
Transiting in Greater London
Since nearly all the motorway networks lead towards London you probably might have to go through that urban area somehow to reach your destination. The M25 is the ring motorway that surrounds the city and connects with every possible motorway network in destination of the country. It is then better to be left at some very specific Motorway Services to manage to catch a ride further.
Be careful: there are only 3 service stations on the M25, and on the whole western part there are none at all. If you get dropped at a junction rather than at services you can get really stuck, as a large part of the traffic is only going round the road a short way. If it is not possible to get a lift to one of the services, consider waiting for a ride that takes you actually to the road you want to be on, rather than just stopping somewhere random on the M25.
Clacket Lane Services
Possibly the best place to get lifts on the M25. There is a bridge here to cross from one side to the other, which can be useful to know if, for example, you are trying to hitch from the M4 to Brighton but get a lift with someone who is going to Dover.
To get to Clacket Lane Service Station from London get a train to Bromley (you can use an Oyster card: http://www.tfl.gov.uk/tickets/14836.aspx), then bus 246 (timetable here: http://www.londonbusroutes.net/times/246Sum.htm)
Ask the driver to tell you when you get to Pilgrims Lane, then walk down Pilgrims Lane and Pilgrims Way to Clacket Lane Services. You can see where you're going on a map here: http://www.motorwayservices.info/clacket_lane_services_m25/googlemap Where it says "Clacket Wood" is the service station. There is also a street view of this area on google maps.
Clacket Lane is an excellent place to hitch to Brighton (Westbound) or Dover (Eastbound) and also fairly good for most other directions as it's a busy station. Best thing is to stand outside the main doors into the station and ask everyone that comes out if they are going your way ("excuse me, are you by any chance going to Bighton?")
To get from one side to the other walk down the country lane to the back of the station until you get to the bridge and cross to the other side (couple of km)
Public Transport
See the specific article for Transport for London on nomadwiki.
Sleep
There are several options when it comes to finding a place to sleep. If the worst prevails and you're without a place, you're still not too bad off. Central London is relatively safe and you probably wont be bothered sleeping outside.
Its quite possible to sleep out in London in considerable privacy despite its gigantic population of 10 million. Go North East to Trent Park (Picadilly Line North, second to last stop before Cockfosters - i.e. Oakwood Station). Find the directions for the university (Middlesex) campus and walk (or take the free bus) up the hill. Beside it and beyond the lake are quite a few miles of woodland and and it is incredibly beautiful. Jason lived here for 7 months during his final year of university. Be careful with park wardens, they eventually discovered him during the last few weeks of his studies. Build camouflage from ferns if staying for long. People are unlikely to be your greatest threat...dogs are. Dogs! A lot of people walk them here but you can find amazing places if you search hard enough. And if you search really really hard, you'll find a tree with the dates of the past dweller's residence...;)
Also, outside this station (Trent Park), there is a Greek Bakery. Behind it lie huge sacks of bread every night. Please go. Its crazy that this could possibly be wasted every night.
Squatting
London used to have an abundance of squats, but it has recently become more difficult. While it is still legal to squat commercial property (warehouses, offices, shops), it is illegal to squat residential buildings (if you admit you are doing this to the cops, you might be sentenced to jail time.) For all information on squatting in the UK: the Advisory Service for Squatters is helpful for people that are planning to find a place to live and cannot really help you find a place to crash. It's located at the Freedom Bookstore in Whitechapel and is another great place to meet squatters as well as get online for free. The address is Angel Alley, 84b Whitechapel High Street, Whitechapel, London, England, E1 7QX. (Tel. 020-32160099) That being said, there are still a good couple of squats all around London. Most squats are places where people live and go about their normal business, so don't expect too much from them. Perhaps it would be good to find some friendly squatters by word of mouth or on couchsurfing or similar. Don't worry about the negative connotations associated with squats. They generally aren't crackhouses or scabies-infested punk hangouts. People of all types squat in London and their homes are usually very nice. They are especially helpful if you're planning to stick around for a while, but can also be great if you're just passing through. Zactalk ended up with a squat to sleep in on his first night, and in Mayfair of all places! There are still some remnants of squatting communities in North London, North East London, and South London. If you want to meet some people, go to the practical squatting nights taking place every week (alternating): http://www.squatter.org.uk/for-new-squatters/practical-squatting-nights/ For more info on social centers in London, check out Autonomous London. Generally though, it has become harder to track squats down or just pop up, as there are fewer, and more and more evictions, which means less space. This should in no way discourage you, however!
Eat
Cheap and free food abounds in London.
Free
Hari Krishna offer free food from several locations in London at lunchtime: outside SOAS by Russel Square from 12:15 to 2pm(Monday thru Saturday), for example. Expect to queue for 30 minutes, arrive early to guarantee a fill - the food does run out. Otherwise...
If you want a free, warm meal closer to the end of the day: from Thursday to Sunday there is a food market on Brick Lane, next to the vintage market (the one with the vinyl records store). Try going there about 6-7pm. Most vendors will be closing their booths and throwing food away. Just go up to them and ask(it's handy to have your own container). It's mostly Asian cuisine therefore delicious.
In the UK, the term for eating food that would otherwise be thrown away, is called skipping. Lots of people do it, all from people that come from poor countries and see all the food that goes to waist, to people that are political in there way of living. Many people, especially in the squat scene live totally out of food from the bins...
Plenty of places throw out food at closing time. Always check the bags out front of Pret a Mangers and Benjy's at 5-7pm. If you feel up to it, you can even go inside when they are closing shop and explain that you're homeless and pick out all the food you want instead of getting it off the sidewalk. Feel no shame, you're helping to curb wastefulness! (That being said, Pret a Mangers doesn't give any food to random people, just to "charity".)
The Coffee Republic on Great Marlborough Street near the Oxford Circle and Carnaby Street is reported to put out garbage bags with totally normal food--boiled potatoes, sandwiches, etc. every evening around 8pm on weekdays and 7pm on weekends. The sandwich company "Eat" throw away lots of stuff everyday all over town. Have a look in there bins or outside the shops on the street. The bakery 'Paul' in Blackfriars and Paddington throw out a lot of cakes, all extremely luxurious and scrumptious. From Blackfriars station walk up the main road, and Paul's will be on your right after a few minutes. If you are into Sushi, try one of the many Wasabi places in the city when they close at 9pm or 9.30. They always leave food outside, and there are always loads of people picking it up, but you'll get some if you're on time.
The most luxurious place to skip is always Waitrose. Places like Sainsburys, Marks and Spencers (generally difficult to skip!), Tesco and so on have a marking system on their packed food that says when the food should be thrown away and when it should be eaten before. The gap between this days are often two days and you can still have it more or less a week more depending on what it is. Most bins are secured by fences, cameras, etc. Don't mind them too much, it is rare that they'll call the cops on you as long as you don't "destroy property".
Good places to try in Hackney are E.A.T., Iceland, supermarket metros or locals and markets.
Cheap
If you're going to self cater, stick to Sainsbury's and Tesco rather than the convenient Off-Licenses for better prices. If you are a bit out of Central London, you might as well look for Lidl, Morrisons, Netto or Asda. Anyhow with a decent and wise grocery, you can get your grocery for nearly a week for about 10-15 pounds at any of the mentioned supermarket with decent, fresh and healthy food (to cook). Be aware though that these supermarkets are not in any sense "ethical". They are wiping out local shops, taking monopoly on feeding us, destroying the environment and throwing away food every day that could feed hundreds of people. It's better to eat out of their bins.
If you get tired of peanut butter sandwiches or want to fill up for the weekend, try one of the many £5 all-you-can-eat Thai Buffets which are always always totally vegan! (some good all-you-can-eat start at £3,50). Go early, they get more expensive in the evening. While downtown, you can also get a '6-inch sandwich of the day' at Subway for 2 pounds.
The markets in Camden Town have cheap food around 5pm, especially in the Lock Market where, if you walk for a few minutes past all the initial food courts, you can easily find dishes of noodles for £2.
Internet
In Westminster, there's a public library which you can use for free Internet access. You might need to register yourself, though, and that process (and waiting for the next available computer) can take quite some time.
Go to the Apple store (on Regent St. near Oxford Circus), ask any local around Piccadilly or Regent or Oxford street and they should be able to tell you the exact location.

Regions of
England