Sheffield
Jump to navigation
Jump to search
Sheffield is a former steel mining community that has transformed itself into a vibrant student city since the mines closed in the second half of the 20th century. It is nicknamed 'England's largest village', as it has a very local, small-town feel to it. It claims more trees and parkland per person than any other European city, and is built upon seven hills (cycling here is not for the faint-hearted). Despite all this, Sheffield is the fourth biggest city in the UK.
Many tourists ignore Sheffield, because Manchester is so close. Many English people also forget that Sheffield exists for some reason. This is fine with Sheffielders - it means that they get to keep their home as their special secret. Sheffield has a strong character of a typical 'northern' city, and there is much to see and do following the recent renovations to the city centre. There is a small but rapidly growing Hospitalityclub community, fueled by the annual 'Bummit' hitchhiking competition organised by Sheffield University. Sheffield is 10 minutes' train ride away from the Peak District national park, with many mountains and lakes to explore.
Hitchhiking Out Northbound (M1 to Leeds, Edinburgh)
For heading north on the M1, you can take the bus, tram, or train to Meadowhall Interchange from different parts of the city. Here, there is a layby just before the on ramp to the M1 (northbound) after the Sainsbury's petrol station.
Hitchhiking Out Southbound (M1/A1 to Nottingham, London) & (A1 East to Cambridge, Norwich)
There are a few ways to get onto M1 southbound from Sheffield:
- From Sheffield South: Opposite the BP garage at Meadowhead roundabout there is a layby, not ideal but OK.
- From Sheffield Centre: There is no obvious or easy way! You can get the X54 or X55 from Sheffield Centre to junction 31 of the M1 - from which you can access A57 to join A1 east or join M1 south. You can also stay on the bus to get to village of Woodall (about one hour ride from Sheffield city centre) and walk down a farmtrack to Woodall Service Station. Counter-intuitively, this is also a route for going North (there is a footbridge over the motorway).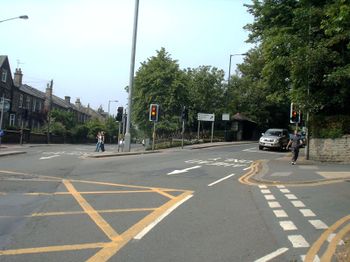 To go to Manchester, use the A57 road. It's a small road, but it's fast, beautiful and easy to get a ride. Go to the junction of Fulwood Road and Manchester Road, shown in photo 1) and the map above. It is the A57 and is in the Broomhill district. From the city centre, Broomhill is a 30 minute walk.
First get to Sheffield University (note: NOT Sheffield Hallam University). From the cathedral in the city centre, follow the tramlines uphill for 10 minutes. You will pass various bars and restaurants (this is West Street), and then the tramlines turn a sharp corner at the university's tram stop. Walk towards the university complex (the large buildings on the 'other' side of the tramline, you can't miss them).
From Sheffield University walk west along Whitham Road for 15 minutes. It's best if you ask someone around the university for Broomhill: they will point you in the right direction. This is a bit difficult to describe, so asking people is important. Check the map above.
Once you get to the shopping street in Broomhill, look for the SPAR supermarket. The hitchhiking spot is about 50 metres further along the road from there, away from the city.
Alternatively, from the city centre take bus 40, 51, 52 or 120 to Broomhill (cost: £1-£1.50, 50p if you have a student card). Once you leave the bus stop ask around for the SPAR supermarket, get to the supermarket and keep walking to find the hitchhiking spot.
The junction itself is not ideal for hitchhiking, being on a corner with traffic lights and a box junction, where the cars waiting to turn right up the fork are not easily accessible by a pedestrian. A much better option would be to start walking along the A57 Manchester Road itself for a short way. Head up past Ashdell girls school, and you've probably gone far enough here. Be careful though, in school hours, there are about a million chelsea tractors parked on the double yellows here, and you won't get seen. Further down the road there are better stopping places for the cars, however a lot of this is uphill and can be tiring.
Many cars drive directly to Manchester or Stockport. Once you're in the countryside hitching becomes a lot easier, so it it is worthwhile accepting short lifts.
Hitching without using public transport
The "traditional" way to hitch out of Sheffield is on the 'Castlegate'/'Sheffield Parkway' road, just after Park Square roundabout. However, the road system is complex and it is very difficult for drivers to stop there.
From the cathedral in the city centre, follow the tramlines downhill (you may as well walk instead of buying a tram ticket: the distance from the cathedral is about 10 minutes' walk). You'll pass by the tramstops 'Cathedral', 'Castle Square' and 'Fitzalan Square/Ponds Forge'.
The track then goes over a bridge. Go over the bridge as well. Underneath you is Park Square roundabout (see photo 2)).
Take the footpaths over the roundabout, and you will see a main road leading out of the city (see photo 3) and the map above). Find a suitable spot on that road and hitchhike from there - cars are going to the M1 motorway and will take you in all directions except towards Manchester.
Motorway service stations
The first service station heading north on the M1 is Woolley Edge services. It is between junctions 38 and 39. It is 30km away.
The first service station heading south on the M1 is Woodall services. It is between junctions 31 and 30. It is 15km away.
Map of West Sheffield/Sheffield city centre
<map lat='53.3809' lng='-1.4852' zoom='14' view='0' width='800' height='220'/>
All other directions

Another options might be worth investigating buses in the direction of Grenoside etc. and trying to get a lift up to junction 36. You'd have to hitch from a residential neighbourhood to do this, however, so further research is needed. The roundabout beyond Sheffield Wesnesday's Owlerton stadium (Hillborough) might be a good place to try.
Another option for going North would be to go via Manchester.
The Attercliffe Common/Broughton Lane junction is another possibility for accessing the M1, although it is unlikely to be much better than the Castlegate/Sheffield Parkway spot described above.
Nomadwiki & Trashwiki
Check Nomadwiki for info on accommodation, showers etc. or Trashwiki for dumpsters...and share your wisdom :)