Brno
Jump to navigation
Jump to search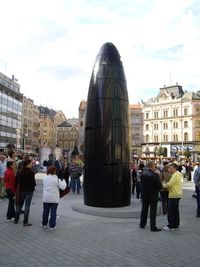 Brno is the second largest city in the Czech Republic and the historical capital of Moravia.
Hitching in
If your driver is not going to the city but continue on this motorway, you can ask him to leave the motorway at the Vienna exit, and turn right onto a smaller road after 150 m. This road then leads under the large street Vídeňská, where there is a tram stop. The driver can drive on to a roundabout and easily get back onto the D1.
At the Bratislava exit there is a shopping centre Avion with a free bus to the city centre. The driver can easily get back onto the D1 too by driving about 2 km.
If driver is going toward Vienna or Bratislava it's quite clear where to get off.
If your driver is not going into Brno, ask him/her to drop you off at the "Futurum" shopping centre on the motorway. There you will find a free bus to central Brno.
If your driver is not going into Brno, you can jump off either at the "Olympia" or "Avion" shopping centre on the motorway. From both you will find a free bus to central Brno.
If the driver continues to Prague jump off at OMV petrol station at the end of Brno (Starý Lískovec). There don't go though the appletree plantation - it is too complicated. Easier way is more hidden - go back next to the highway for about 300 m and then there is a path going under the motorway. Go left and you'll get to the town (and public transport) in 5 minutes.
If the driver continues to Bratislava jump off at IKEA.
If the driver continues to Vienna jump of at Futurum Shopping centre or at a petrol station in Modřice. At both places there is a tram route.
Hitching out
First option
This spot is quickly and easily accessible from various parts of Brno with hitchability from average to good. Find trolley-bus 25, 26 or 29 and get off at stop "Čtvrtě". From the bridge you can see big road to Prague. Go down and after 200 m there is smaller petrol station. Next to it is great place to hitchhike just a few metres from pump machines where you can ask people. Unfortunately on this lane often parks some truck or two so you can only hitchhike cars leaving station or ask.
If you get stuck here, you can try your luck in another spot which is quite close to this one. Walk towards the highway and the bridge over your road, climb up the bridge and follow the road NW until you see traffic lights and you can stand right after the lights where you get people from both directions. However, it's really difficult for drivers to stop here for you to get in. It's much, much better to just go to second option, it's not that far away.
Second option
15 minutes walk from stop "Osová" - trams 6, 8 or trolley-buses 25, 29 (terminus). From tram stop go up to the bridge. From trolley-buses loop go over the bridge. There is bus stop, you can take bus 69 to stop "Čermákova" or continue this wide road 400 m to the end - crossroad with new houses behind. You can already see the motorway and petrol station. But turn right. After 350 m you are at the bus stop "Čermákova". Turn left (street Čermákova) and at the end you can see small tunnel under motorway. Just before tunnel on the left you can go up and after 300 m you are at OMV petrol station. In winter could be hard to get there.
This station is bigger than the one at first option, little bit harder to access, good hitchability.
= Third option
Small petrol station OMV on the motorway near Bosonohy - almost without cars. To Bosonohy, bus stop "Hoštická" you can get by bus 69 (from Masaryk's University campus, or trams 6, 8 stop "Dunajská"). Then go little bit back to the main road and right. After 1,5 km you will see that station. Or from "Dunajská" you can go by bus 401 or 402 (you have to pay the driver; once an hour) to request stop "Tranzitní plynovod". Just few metres back and right is that petrol station.
Nonsense to go here from Brno city. It was pure luck to get lift in 5 minutes. Getting there takes more time than average waiting time in 1st or 2nd spot.
Fourth option
Bigger petrol station Shell on the motorway near Popůvky. A bit further from Brno (3 km after the Third option) but almost all cars go to Prague or even further. Take bus 401 or 402 (↑↑) to the "Popůvky - Vintrovna" stop. Continue on the main road 850 m and there is the spot. You can also walk & hitchhike to this place from Bosnohy.
First option
Take bus number 67, or the free "Avion bus" (it goes from 9am till 10pm every 20/30 minute) that starts on the bus stop "Úzká", and get off at the commercial zone "Avion". There is a petrol station (where you can shower and even sleep) along the motorway which is going to Slovakia. It's a big commercial zone with big shops. One of them has free internet access, it's the electrical shop before Ikea. This isn't the greatest spot, but there just isn't any better, so don't expect any miracles. Asking around is probably crucial at this spot. Ideally get a trucker to take you at least to the next MOL gas station (about 16km out).
I got stuck at this spot for almost eight hours, from early morning until about 3pm. There is surprisingly little traffic and a sign is worthless, you have to ask around or sit at the gas station. Speaking Russian or Czech will probably go a very long way as the mistrust is the biggest issue here. The second option is just as bad. - Rebew (27.07.2021)
Second Option
This is probably a much better one than the first option. Take bus 40, 48, 59, 67 or the free "Avion bus" and get off at Hněvkovského. Walk 450m in the direction the bus was going (if you took the bus from the city center). After passing a crossroads with traffic lights, you will see a gas station. Now you can choose whether you approach people that stop at the gas station or stand at the beginning of the fairly long driveway to it.
First option
Take the free bus from behind Tesco, at the tram 2 stop Ořechovská, to the shopping center (obchodni centrum) Futurum. Once you are at at the shopping center Futurum, you will find a Tesco gas station, but most of the people there are just staying in town. From here you can walk couple of kilometres or use tram 2 to second spot. Catch ride to a Shell gas station in Mikulov, from where its really easy to find a ride to Vienna.
Unicorn fuel station
Take a tram 2 to the stop "Modřice, Tyršova". And walk little bit back near the Unicorn fuel station. Cars are going very fast here, however, and don't have much room to stop, so you might try alternating between thumbing on the road and asking drivers who stop at the station.
Third option
There is a nice spot for hitchhiking just next to the tram 2 stop "Ústřední hřbitov" where you can hitch south to Vienna or just to the next petrol station. When you get off the tram just go on the main street and then turn right 100m and you will find a nice place to stop cars. Keep in mind that this spot is not on the main road so there's a litle smaller trafic.
Fourth option
Mikulov is a nice town near the Austrian border with very slow and dense long-distance traffic. Take the bus 105 from the centre, Ústřední hřbitov or Novomoravanská stops all the way to Mikulov. The ticket is 14 CZK with ISIC, or 56 CZK (~2 €), you can buy it directly from the driver. Looking for a car going to Mikulov at the petrol stations in Brno is not as easy since many people only go to the nearby villages. It takes some time but from Mikulov you can get easy rides by standing on the roadside or asking around far beyond Vienna.
First option
Take tram number 8 to station "Krásného", from the station go to the overbridge. To Olomouc you will stay over head 30 minutes.
Second option
Take the trolleybus number 33 from the railway station (Hlavní nádraží) to the station "Langrova" (it takes 13 minutes). Cross the street and go up the street Slavkovská, after two minutes you come to a main road which you also cross and continue on a footpath straight for another 50 meters to a petrol station which already lies on a highway.
Third option
Best spot (for D1 only): From the stop Úzká (next to the big Tesco close to train station) or bus station "Zvonařka" take bus 602 or 702 to "Jiříkovice, motorest Rohlenka" (about 20min). Cross the street and you are at a huge petrol station (with KFC, McD, etc.) which is outside of Brno right at D1. Lot of drivers to Olomouc and Ostrava.
Alternatively if you don't want to take a bus to Rohlenka, you can get there by one more car hichthiking as well. Take a bus 33 from Hlavní nádraží (train station) and go to stop "Slatina sídliště" (terminal). Go right and you will see a roundabout 50 m ahead. If you cross it straight and hitchhike there, you'll get to Rohlenka in 15 minutes without paying the bus. (good choice if you have already ticket for Brno public transport)
Fourth option
Good for Uherské Hradiště. Take a bus 33 from Hlavní nádraží (train station) and go to stop "Slatina sídliště" (terminal). Go right and you will see a roundabout 50 m ahead. Cross it straight and hitchhike there. Usually you get first car to Slavkov u Brna and then second car to Uherské Hradiště or further.
First option
Take tram 12 to the stop "Červinkova" and go 200 m to the left. Just before the bridge get down to the highway. Almost everywhere there is good shoulder for cars to stop or another 200 m behind is Shell petrol station.
Second option
By buses 41 and 42 get to the shopping centre Globus (bus stop "Ivanovice, Globus"). There you can hitchhike just after roundabout or up at the main road.
Other options
At the highway near tram 6 terminal station "Kr. Pole, nádraží".
At the highway connection near tram 1 stop "Tylova".
Both spots are probably better than Second option spot. Add more specific info please
Nomadwiki & Trashwiki
Check Nomadwiki for info on accommodation, showers etc. or Trashwiki for dumpsters...and share your wisdom :)
Czech
cities with more than 20.000 inhabitants