Bratislava
Jump to navigation
Jump to search
Bratislava

<map lat='48.14' lng='17.10' zoom='10' view='0' />
Information
Country:

Slovakia
Population:
419,678 (31 December 2014)
Major roads:

E 65

E 75

E 58

E 571

Meet fellow hitchhikers on Trustroots
Bratislava is the capital of Slovakia.
Hitching in
If you are coming on the motorway from the north-east but your driver is continuing to Hungary or Austria, ask him to leave you at the Slovnaft gas station in Zlaté Piesky before the airport and the city centre. Jump over the fence in the southwest part of the gas station area (there is a hole), walk across the field to the other road, follow the sign "Center" and after one or two kilometers you will reach the last stop of tram 2 and 4.
Alternatively, you can ask your driver to drop you near Aupark shopping centre, but they need to exit highway right after crossing Prístavný most. Getting back on highway is very easy for them. This place is much more closer to centre than previous one, you can get to Hodžovo námestie in 5 minutes with public transport.
Whatever you do, do NOT get dropped off at Bory Mall. It is a big shopping mall with (at most) local traffic and the gas stations are incredibly hard to reach, it is also incredibly far from the city centre. There is a lot of construction work going on here and most sidewalks aren't finished yet, there are no signs and it's easy to get lost. Some drivers will offer to drop you off here, thinking that there is a lot of traffic because of the nearby Volkswagen factory. This is wrong.
If you're on the E65, it might be a better idea to jump out somewhere close to the zoo.
Hitching around
If you are just passing by the city (e.g. going from Prague to Budapest) avoid at all costs being dropped at a gas station in the city by a driver going into Bratislava. The road splits inside the city, the motorway is in the middle and the local traffic goes on a side road. Because of a wall there is no direct access from the city streets and the gas stations are not on the motorway. If you end up being dropped inside the city somewhere, you must follow the Hitchwiki advice to reach another spot or spend the night in Bratislava.
Hitching out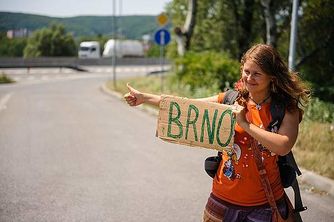 Lamač gas station
In the north of the city there is a small service station at the motorway going north to Brno. It's not a great spot, but it gets the job done. If it's been a while and you still haven't found a ride, try asking people for "Sekule" - this is the last gas station before the Czech border, so everyone stops here to get vignettes (highway stickers).
There are two options how to get there: Get off at bus stop called Húščavova. The bus stop is directly after the bus turns left and crosses the highway over a bridge. You need to indicate that you want to get off the bus at this station. In the worst case though, you can get off at the next stop Lipského and walk a bit more. When you leave the bus just walk back over the bridge and turn left and walk to the next traffic light to the station. Or get off at bus stop called Pridánky. You need to indicate that you want to get off the bus. Once you leave the bus, the service station is very close but not visible. Follow the direction in which the bus continues for 100 meters and you will see the exit of the highway and the service station on your left.
Mokrohájska
Go to a bus stop called Mokrohájska, the bus stop is on city road in Brno direction but it's not yet a highway. You can try hitch hiking directly 'behind' the bus stop, there's enough for car to stop or continue walking in the same direction the bus was going, about 300 meters further there's a large OMV gas station, McDonald's and non-stop Tesco shopping mall. You also can try to hitchhike on traffic lights nearby.
Zlaté Piesky gas station
There is a gas station directly on the D1 highway in Bratislava, near the AVION shopping centre. Take bus 61 in the direction of the airport and get off at the stop Fatruny. You can try either hitchhiking on the on-ramp or asking drivers at the gas station 750 m from the bus stop. It's bit harder to get in to gas station, you have to walk past highway for a while. There are a lot of trucks going by this on-ramp, because this is one of the industrial parts of Bratislava.
Zlaté Piesky bus stop
Take a tram 2 or 4 east to the last stop called Zlaté Piesky. Cross over the big road to your right and walk down past the Porsche dealership. Hitchhike on the highway just beyond the bus stop. Its not the greatest spot, but there isn't any other. The road splits into the E75 and the E58/E571 approximately 30 km east from here.
Vyšehradská gas station
The most traffic but it's hard to get there: This is a big gas station on the D2 highway south of the city. Go by bus 93 or 95 to the bus stop Vyšehradská (It is the last stop of the bus 93), Cross the big road called Panonská Cesta and walk to the gas station. It's a quite walk to get there. Here is a map. Stefan (June '16) is not sure if that walking path is correct in that map. He walked an other (longer) way: [1].
Most cars cars are either heading into Vienna or back to Bratislava from this location. If you're looking at heading into Budapest from here ask people, if they going in the direction of HU, Györ is good as well. There is a gas station further along on the M1, a little after the first exit for Gyor, from which you'll be able to catch a lift to Budapest in no time. With patience, you can find a driver for Gyor to lead you until Gyor's gas station where you find a second driver to Budapest in less than 5 minutes!
Walking towards Vienna
Following highway B9 parallel to the Danube walk towards Vienna with your thumb out. The traffic is slow and light enough that people can stop and pick you up easily.
Einsteinova bus station
Walk south over the UFO bridge and follow the pedestrian/cycle path to the right. You will arrive at a bus stop on Einsteinova, standing at the front of the marked off lane will give drivers a place to pull over. The road splits shortly after, but both ways lead towards Vienna, so to catch all possible rides it's best to wait before the fork. It's not ideal as three lanes of traffic are moving quickly by. If you are unsuccessful, two bus companies operating between Bratislava and Vienna pick up right at that bus stop about every 15 minutes during the day. Also, there's an on-ramp from the bridge onto Einsteinova, where cars have space to pull over,
Hungarian Border
Involves slightly less walking than the Vysehradska gas station. Take bus no. 91 from the SNP Bridge(Most SNP) stop (schedule) or bus no. 90 from the Nové SND stop (near Eurovea, but this one is right in front of the National Theater - schedule) to Čunovské jazerá - this is a "request stop", so you'll need to push a button to let the driver know you're getting out. From Čunovské jazerá walk further down along the road, where to your right, across the field, you can already see the highway. After about one kilometer, you will reach a farm track leading to the right, across the railway tracks towards a bridge over the highway, where you can already spot the former border infrastructure. Depending on the season, you might have to fight your way through a corn field, though, but that's our deal, right?
Signs will be useful here and, unlike in Vysehradska, all traffic will be headed to Hungary (duh!) - getting a ride to Budapest will be a piece of cake. You can also approach people on either side of the border as they're getting the Hungarian vignette (highway toll) - the shops are located in the old customs buildings.
My experience was that not many people stop to get the vignette here, only truck drivers and they are skeptical of hitchhikers. Surprisingly, many of them don't go to Budapest at all and I got offered a couple of weird rides, like Croatia. I found a ride to Budapest after an hour. - Rebew (28.07.2021)
Aupark gas station
Probably the easily reachable way to go Vienna: Take the bus number 50 and get off the last station which is named Aupark. There is OMV gas station, McD and big shopping mall as well. Since this location is not that far from the center of Bratislava there are some local people who go to further into Slovakia or city center. But there is a good possibility to find a ride for Vienna. In my case ıt took 5 min from OMW to find a lift and ıt was at around 18h, December 2013. For local people you can ask like that " Idete do Viedne?" You can also try to get a lift to the first gas station on the motorway named Jarovce.
Tesco Lamac gas station
Motorway-gas station in the north-east of the city. Take Bus 63 (crosses the whole town) and get out at Tesco Lamac (next to a shopping centre). Walk 1 km northwards and you get to a bridge that crosses the motorway. Go down the steps at the bridge and another 100m north and you're there. Or you can get there also by bus 83, 34, 22 and 20 or even 30. When taking the buses 83, 34, 22 and 20 you have to get off at the bus stop Húščavova, walk back few meter to the bridge, go under it, and walk 50m to the gas station. When taking the bus 30. Get off at Pridánky, cross the bridge over the highway, go under it, and walk 50m to the gas station. Both bus stops require you to give the driver a signal it's a button in the bus (When there's only one button that is it. When there are two buttons it's not the one that opens the door, it's the one that says STOP.) Most of the cars will be locals but there are also some trucks passing by here. If nobody is going far ask people also if they aren't going along the D2 to Jarovce and passing by the big gas station located there (Vyšehradská). Here is the map
Public Transport
Bratislava has pretty cheap and fast (except rush hours) network of trams, buses and trolleybuses. In Slovakia, city public transport is referred to as MHD. Tickets in Bratislava are sold by travel time, not by the number of rides or directions or zones (within Bratislava proper). Thus, all tickets are transfer tickets. They cost EUR 0.70 for 15 minutes, EUR 0.90 for 30 minutes and EUR 1.20 for 60 minutes. Students can buy tickets at half-price, but only if they're an EU citizen and have an ISIC card from an EU school. Drivers don't sell tickets. Beware that you must mark your ticket instantly after entering vehicle. To plan your journey you can use maps of lines, online route planner or offline Android route planner (1 month trial). You may use an app (AppStore and Google Play) to purchase tickets using a smartphone - beware that the tickets become valid 30 seconds after purchase.
Blackriding is not advised, ticket inspectors don't wear any uniforms and the penalty is very high compared to ticket price (EUR 50 if paid within 5 business days, EUR 70 afterwards). They always come in three, two of them are ticket inspectors and one is security guard. However, if you're from outside the EU(within the EU, there are ways to get you to pay), say you don't want to pay and give them your passport, if they ask for it because the most that they can do is to write you a fine. They will try to intimidate you and make up all kinds of bullshit, but again, all they can do is take down your personal details.
Sleeping
It's not possible to sleep at the railway station, you will be asked to leave, valid ticket won't help you. Better option is to sleep in sleeping bag or set up a tent in one of many forest areas, it's absolutely normal to wild camp in Slovakia, you won't have any problems. One of the best options are Koliba, just use trolleybus 203, get out at final stop and walk on the top of hill. You should find nice place to sleep. You can also try Pečniansky les on the right side of Danube river. It's also possible to sleep around Draždiak lakes in Petržalka or in forests near Železná studienka. If you are willing to spend more time in public transport, you can take a ride to Čuňovo and sleep close to local lake.
Other useful info
There is no problem in finding free or unsecured Wi-Fi. City offers free hotspots at Main Square, along Danube and in many other places. There's also possibility to connect in many of McDonald's, railway station, or KC Dunaj also has very good connection.
Nomadwiki & Trashwiki
Check Nomadwiki for info on accommodation, showers etc. or Trashwiki for dumpsters...and share your wisdom :)