Difference between revisions of "Project 888"
Jump to navigation
Jump to search
m

Line 148:
Line 148:
 

[[Robino]]

 

[[Robino]]

 
 
−

Dieuwka

+
 
 
 

[[fr:Projet 888]]

 

[[fr:Projet 888]]
---
Revision as of 11:09, 30 July 2008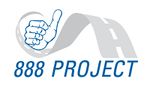 Hitchhike to Paris on 888, August 8th, 2008...08/08/2008...888
On the 8th of August over a hundred people (and counting) will join up to hitchhike to Paris from different places around Europe and further. Join this amazing event with fellow hitchhikers. We invite you to join this event and have an amazing adventure and a great weekend in Paris. Please sign up for this event and help organising it.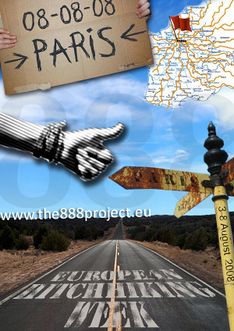 Help out!
The 888 Project seeks to ask you to hitchhike from all corners of Europe and beyond (whether from Belfast, Istanbul, Helsinki or Lisbon) to arrive at the Eiffel Tower - this world-renowned French lighthouse - in Paris on 888, August 8th, 2008. Participate in the first European Hitchhiking Week and Day and take part in the open space day on Saturday: "How to life a nomad-life", on hitchhiking, sustainable travel and hospitality exchange, with games, workshops, skill-sharing and knowledge exchange.
Participate to make the first European Hitchhiking Week a succes!
Get hitchhiking recognized as a real means of transportation!
Inspire other people to hitchhike!
Have drivers pick up hitchhikers!
Share your skills with others and inspire!
Help organising! Things to do:
Organise a local Project 888 Meeting in your country or city to team up with hitchhikers. Use an invitation, and adapt it to your local context, organise a location (your home, your host's home, a local bar, etc), invite other people through your favourite hospitality exchange community, etc, and add your meeting.
Translate the press-release and spread it.
Help organising events in Paris:

read this e-mail
Find a nice open spot for the Saturday where we can meet and exchange workshops
Think of what you would like to learn and share on Saturday during the Open Space day
Check the Project 888/Volunteer pages for coordination and to see how you can help making 888 a success !
The Program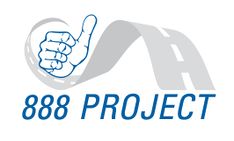 We Need Help To Organise The Actual 888 Weekend
Here's the program so far:
FRIDAY EVENING
Meeting under the Eiffel Tower until late (you know how we will look like)
We will play some Games
We will all move to a camp-ground/ or your host.
SATURDAY
We will be having an Open-Space Day starting at 11:00. The theme of this day is "How to life a nomad-life", on hitchhiking, sustainable travel and hospitality exchange, with games, workshops, skill-sharing and knowledge exchange. Place yet to be determined.
SUNDAY
Brunch starting at 1pm at Parc des Buttes de Chaumond?
Speeches
These 'speeches'/ workshops will form an integral part of the open space day on Saturday (in progress).
Once the European hitchhikers will have arrived, the organizers will address the hitchhikers.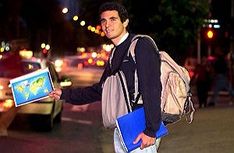 This address will be followed by the speech of Ludovic Hubler (a Frenchman who has just come back from a five-year hitchhiking journey around the world. During his trip, Ludovic organized conferences in more than 200 schools, met a large number of NGOs and organized some international events to create a network between them.
The Sustainable Side of the Project
A French association called Nature Propre supports the project The association aims at promoting sustainable development through a certain number of programs and the 888 project is one of the key projects of Nature Propre. Guillaume Mouton and Thomas Chretiennot will deliver a speech about the substainable side attached to the project.
The checkpoint cities
Participants are hitching from different locations. To make an overview of who is hitching from where, and to make coordination a bit easier, there is an overview of the Project 888/Cities. The cities are categorized according to distance from Paris. In some of the cities there are also Project 888/Meetings that are held in the week towards the 8th of August.
You are asked to sign up in the cities you are departing from, or crossing. You can use either the event-pages on Couchsurfing, or the Project 888/Cities. Participants are also using this group to discuss different routes.
The Documentary Project


The 888 project community has decided to get together and unite to make a documentary about hitchhiking. Different cameramen will be joining different hitchhikers across their journey:
Pascal Dumont will be filmed by Fabrice Renucci and they will hitch from Yerevan,Armenia to Paris, France.
Martin Boserup will be filmed by Misha Fournial and they will hitch from Saint Peterburg, Russia to Paris, France
Documentary Project instructions for cameramen
We are also inviting all the people wishing to meet up with hitchhikers from all over the world on August 8th, to participate in this documentary project through any way they would feel like: You can either:
Keep a journal
Take photos
Record with an audio recorder
Draw
Film
The film project will be a sort of patchwork using all the material that the hitchhikers will bring with them on August 8th.
Help from Paris on 888
Hosting
We are contacting the Paris community in order to host all the Europeans who are coming to Paris on 888. We are also considering a location for camping. Please read this thread
If you cannot find a host through Couchsurfing, Hospitality Club or BeWelcome then:
Call Center
This subgroup was designed to find 2 teams who can work on D-Day- 888- to answer hitchhikers' phonecalls. What these two teams will need to do to help the 8 8 8 project:
Have a landline phone number -Be at home on the 8.8.8 throughout the whole day and evening
Know the hitchhiking spots on a circumference of 200 ks around Paris
Know the Paris transportation system so that the hitchhikers who are lost can easily reach the Palais de Tokyo
Have a list of people who can host (they do not necessarily need to be on C.S. on H.C.
we will establish this list and send it to the two teams)
Please register on the
I Want To Volunteer For The Call Center Team 1 Sign Up Page or the
I Want To Volunteer For The Call Center Team 2 Sign Up Page if you would like to volunteer in one of our teams.
How to hitchhike out of Paris?
Check the page about Paris to find spots to leave the city.
Alternative resources:
Sign Up Now
Contact Us Now
Please feel free to contact us if you wish to bring your help to the project:
Fabrice Renucci- fabrice.renucci [at] hotmail.fr +(33)612871824
Dieuwke