Project 888/Newsletter
Jump to navigation
Jump to search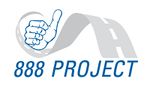 Post 888 Newsletter
The Paris hitchhikers' gathering was a great success thanks to everyone who was there and the clear weather. It was a very inspiring gathering for many of us as we shared so many stories and skills.
We stayed camping on the Champs de Mars in front of the Eiffel Tower for all the three days, entailing some deep and meaningful conversation with the local police force, though we were generally left alone by them. In addition to the usual "get drunk/get laid" action that seems unavoidable in such occasions, we also had some very practical workshops and talks such as:
Nomadic philosophy and practical skill-sharing.
General survival tricks, whether in the wild or in the urban jungle.
Much, much sharing of hitch-hiking experience. We had one big session of several hours of hitchhiking stories where everyone seemed to be sharing their best story. The Palme d'or goes to Fabrice and Pascal for the Stevie-Wonder-smile drug-lord ;)
Friendships were formed or developed. A very important thing for such a loose network.
Open space success !
It was very hard to leave that grass, a total of 150 people participated and some stayed until the very last end of it as we were all thinking about the next event! Many of us are very eager to find a way to meet again! We hope that our future events will have such nice days like these ones!
We opened a special 888-Evaluation page, for which we are also looking for your input. Go there and hit edit to share your thoughts.
Press Coverage
One of the aims of the event was to promote hitchhiking, also by means of press-coverage. We had some nice success here. There was some coverage from the main French press agency AFP and the most popular French weekly magazine (Paris Match) did a video for its web edition (see video), as well as some national radio-stations like France Info and France Inter. We also had press-coverage in Austria and the Netherlands, in the latter we were aired on a main TV news channel (see video).
The Documentary Project
No less than 4 film-making teams consisting in a hitchhiker and a cameraman hitchhiked to Paris. The four stories including the events during the actual 888 weekend, and interviews with Ludovic Hubler and Andre Brugiroux will be edited in Copenhagen, Denmark, to make one single documentary. It will take some time to have this finished, several months for sure, but we will keep you posted about it.
Stories & Photos
Some stories have been submitted, see for example 'A Nomadic Date in Paris' by Julien and '2 weeks trip' on Hitchhiking is not a crime! link by Patryk, the youngest hitchhiker. It would be great if you also want to share your story... There is also a flickr-group for the photos, check http://flickr.com/groups/paris-888/pool/ and feel free to add yours.
Next year: 789
789? The second edition of the European Hitchhiking Week? We hope for you that it will be a pleasure once again to share another experience together. Of course, it will be very difficult to do better, but if all participate a little, it will be our paradise :) Check hitchwiki.org/en/789 for more information, and feel free to take part in the discussion.
Some Hitchhiking Anecdotes
There was a lot of space in the car, I asked him take me to Orléans, he said: O.k. I will give you a ride! Oh no, I can't, my wheels will touch the car !!!
One hitchhiker arrived from Linz after 21 hours of hitchhiking. He then could only stay for 4 hours as he had to return home again to be back in time for his job.
The last hitchhiker who arrived in Paris for the gathering actually stayed partying with her driver the night before. Could there be a better excuse?
One hitchhiker had to go back 40 kilometers to pick up a phone he had left behind in a car.
Another hitchhiker almost lost all his luggage because he said good-bye before he picked his luggage from the trunk.
At least two attendees just took a plane from Berlin(!) to get to the meeting.
(upcoming) events
888 ... one day to go! Paris: here we come. French highways: get ready to be invaded.
Are you ready for Paris? A large number of people have already been hitching for some days now to get closer to the target, people are teaming up in different places and meetings are taking place in different locations.
The idea for Paris is very simple. We will gather in front of the Eiffel Tower, at this exact location: http://turl.ca/888 from anytime during the day until around 23:00 (or later even maybe).
Not everyone has found a host so far, and therefore we have the idea to also go camping at some place around Paris (we have one or two locations in our minds). To make up our minds what to do we probably will have some collective meetings to discuss all options on the spot.
We will also discuss where to meet up the next day; it is likely we will meet up at the same spot as Friday but we will try to update the forum and website when we know more.
If you're running late, or can't find anyone, you can txt or call the following numbers: +33612871824 (Fabrice) +31626071803 (Robino)
Happy hitching !
Are you ready for the European Hitchhiking Day/ Week? On the 8th of August we now have over 90 people who have registered so far in one way or another. We kindly want to ask you to update your Event-settings to give us an idea if you are actually planning to come and if you already have a place to stay: http://www.couchsurfing.com/meetings.html?mid=11024
Local meetings and routes There are currently meetings planned in Luxembourg, Hamburg, Lyon, Utrecht, Istanbul, Sofia, Belgrade, Budapest, Munich and Strasbourg one to seven days prior to the event in Paris. Join one of these meetings or create one yourself for the cities you will be passing through. To create a city meet-up, please create a sub-meeting
Arriving in Paris We will meet-up by the Champ de Mars (located by the Eiffel Tower) on the 8th exact location). We plan to do some games to share our experiences and stories, and food. If there are no fixed plans made yet (which is likely) we are very likely to have a meeting at around 10 to decide where we will be going and how, depending maybe also on how many hosts we have and how many people are looking for a place.
Accommodation / camping We have at the moment two options for accommodation.
The first idea is to do some old-school camping in the wild. We have localised a spot where we all could camp for free. It is just outside of Paris and not an official camp-site (and we don't have 'permission'). There are no toilets but fresh water resources are close by. Please share your thoughts in our e-mail group.
Things we need:
you to bring a tent
big army-tents
potentially some cooking material
Accommodation / being hosted The second option is to all stay with hosts in Paris. The coordination team is currently updating a document with the contact information (phone, address, availability) of all Parisians who would like to host us. So far we have been in contact with several hosts in Paris and currently have a hosting capacity for about 35 people. We will ask the hosts to come to the Champ de Mars, so we can deal with it on the spot. If you contact hosts in Paris yourself, please ask them to come to the Champ de Mars and if this person has crash-space for others as well. You can bring others with you on the 8th.
Accommodation / third option? A third option would be if we can find a court-yard somewhere in Paris or another spot closer within the city for about 20 tents. This would be the perfect way by which we could actually combine groups of people that are hosted in the city and others staying in a tent but closer to the city. If you know anything, please share your thoughts in the 888-group.
Documentary about Hitchhiking If you would like to contribute to the hitchhiking documentary with your hitchhiking experience/stories on your way to Paris, you will have the possibility to submit your photos, videos, drawings or audio digital recordings to the hitchhiking documentary team who will be updating the digital material unto a laptop on 888 by the Champ de Mars. The hitchhiking documentary team reminds you that you may contribute to the documentary project in any artistic way you can possibly think of. Be creative!
Open Space Day: Living a Nomadic Life For Saturday we plan to have a so-called Open Space Day, with games, workshops and discussion groups for sharing skills and knowledge exchange on hitchhiking, sustainable travel, nomadic resources and hospitality exchange. Location is yet to be determined. This Open Space Day follows the law of two feet: if you find yourself in a situation where you are not contributing or learning, move where you can, or create a new situation/ group.
Contact details For any contact prior to this event, please share your thoughts on the 888 CS group. On the 8th or before, if you need to be in direct contact, you can call/ txt or mail the following coordinators:

For more information: