Portugal
Jump to navigation
Jump to search
Portugal

Information
Language:
Portuguese
Capital:
Lisbon
Population:
10,670,000
Currency:
Euro
Hitchability:
<rating country='pt' />
More info:
Hitchbase
Meet fellow hitchhikers on Trustroots or BeWelcome
<map lat='39.5' lng='-8' zoom='6' view='0' float='right' height='320' country='Portugal' />
Portugal is a country located in south-western Europe on the Iberian Peninsula. Portugal is the westernmost country of mainland Europe and is bordered by the Atlantic Ocean to the west and south and by Spain to the north and east. The Atlantic archipelagos of the Azores and Madeira are also part of Portugal.
People are very friendly in general. During the summer, especially the coastline is overrun with tourists. In Portugal people are easy going and sometimes slow. Everything needs its time, so you will probably have to wait for a little while. Long distance buses are usually a bit late.
Hitchhiking
Hitching in Portugal is quite easy. However, it is important that you are protected from the sun. The weather is, especially in summer, extremely hot. During the autumn or winter season, rain can be constant, especially in the north and centre of Portugal. Although, you still might be able to find long periods of beautiful sunshine. Anyway, keep in mind that Portugal is SO WINDY, especially in coastal areas due to the oceanic weather. This can be an ease in summer's hot afternoons, but it's definitely harsh at night, even more if your plan is to wildcamp or vivac.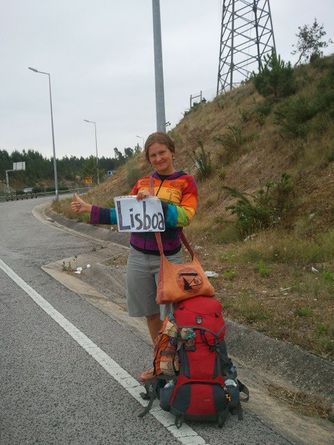 If you hitchhike near the coastal regions, you will probably have more chances of being picked up. Most of the people in Portugal live near the coast. Regions around Lisbon or Porto are generally with more traffic throughout the year. The Southern coast of Portugal is also very touristic, so you will have higher chances of being picked also by foreigners.
As an alternative to hitchhiking you can use the buses from Rede Expresso for overland travels. The railway network is not in a good state, it is slow and there are only two lines. Although, the network is improving a lot during the last years and it's easy to sneak in without paying, especially in short-distance regional trains around Lisbon.
Another important issue is the way you address the drivers (since speaking directly with them gives better result than standing on the exit of the highway, if you´re hitchhiking on one. The Portuguese, even if not very familiar with the idea of hitchhiking, turn out to be very friendly people if approached in the right way. Say hello, excuse for disturbing, explain where you´re going to and ask if by any chance they´re going the same way. Seems like very basic advice but in Portugal it matters more than in central Europe ;)
Truck Routes
A common way in Portugal for long distance lorries is to take the Autopista Castilla (E80). There is a huge truck stop at the border where they can get cheap Portuguese food, so many just wait until they get there before going to other areas of Portugal, mostly to Porto and Lisboa.
Fátima
Fátima is a little pilgrimage village. You could try using a sign with this name to increase your chances of being picked up. It's on the road between Lisbon and Porto.
Language
Despite Portuguese being the official language, Spanish is widely understood. However, using a few Portuguese key words goes a long way, as generally people give some value to that. You will find that many Portuguese speak English or French as a second language. According to the International English Proficiency Index [1], Portugal has a high proficiency level in English, proficiency higher than in countries like Italy, France or Greece.
Legal stuff
Normally, police won't bother you. Despite is forbidden to hitchhike at the middle of the highway, like mostly everywhere, your chances increase if you ask for a lift at the service stations or even at the tolls. In Portugal highways are payable, and so many of the vehicles stop at the tolls in order to pay.
Although walking along the highway (Autoestrada) can be an effective method in Portugal, you risk being stopped by the highway patrol. If you are friendly enough they might give you a lift to the nearest town or national road where it is legal to walk, but some have been known to call the police, particularly near Lisbon. Walking along the highway is not a punishable offense and there is no fine, but having the police called is a hassle for everyone involved. Note that simply hitchiking in general is perfectly legal, rather it is the act of walking along the highways which is illegal.
A traditional toll plaza usually has an electronic toll lane and one or more lanes for manual payment. Not all the vehicles stop because they have the electronic system which collects their costs with no need to stop. The vehicles which stop will do it at least by two different times. First, they collect a ticket which signs the start of their trip at a certain place. Later, they stop for the manual payment at a lane. Obviously, you will be less noticed when you ask for a lift during the collection of a ticket than during the payment at a lane.
Crossing Spain to get to Portugal
Portugal borders only with Spain. The rest of the country is surrounded by the Atlantic ocean. Portugal has signed the Schengen Agreement which means that borders with Spain are open. At times, there are mobile checks by the police or customs, especially in border regions like Vilar Formoso.
If you just want to get to Portugal from somewhere in Europe (or vice-versa), you'll want to to keep your hitch journey in Spain as short and quick as possible. This will happen by sticking to the the main road (AP-1 and A-62, Autovía de Castilla) from Bayonne/San Sebastian to Salamanca / Vilar Formoso (the portuguese border near Guarda). Even if you come from, say, Montpellier, it's recommended to hitch up to Bayonne and cross the basque country.
A good technique is to stay in one of the last service stations on the A63 in France before the spanish border, and wait for someone who can take you all to way to Portugal. Portuguese plates (1/3 of portuguese nationals live outside Portugal) or tourists (20 million invaded Portugal in 2016) will pass there.
Otherwise, don't let your drivers drop you at just any gas station along the way - try your best to stick to busy ones (on the right side and near the highway, Repsol and Galp).
If your ride is only taking you to somewhere near Vilar Formoso border and you want to go further in Portugal, stay at the last Cepsa gas station on the right side of the road, 5kms before the border. Gas is cheaper in Spain, and many cars fill up their tanks in there before entering Portugal.
Links
Personal Experiences
Pls add info
Nomadwiki & Trashwiki
Check Nomadwiki for info on accommodation, showers etc. or Trashwiki for dumpsters...and share your wisdom :)
Cities in
Portugal
with more than 40.000 inhabitants