Hamburg
Jump to navigation
Jump to search
Hamburg

<map lat='53.5533628' lng='9.989319' zoom='9' view='3' />
Information
Country:

Germany
State:

Hamburg
Population:
1.773.218 (28 February 2008)
Licence plate:
HH
Major roads:
A1, A7, A23, A24, A25
Meet fellow hitchhikers on Trustroots
Hamburg is the second largest city in Germany and is located in the north.
Hitchhiking out
Option 1: Serways Raststätte Stillhorn Ost
Take S-bahn S3 or S31 to Wilhelmsburg and then bus 13 to the last stop at Kirchdorf-Süd. Walk east along Karl-Arnold-Ring for 200 m. Keep walking straight and cross over the small bridge. Turn right after the bridge on Altenfelder Weg and walk for ≈500 m to the junction with Stillhorner Weg. If you look around here you will see an underpass, go under the autobahn and walk for 400 m until a small road to your left (Jakobsberg) just after the on-ramp. Walk 300 m north along this path and you will reach the back of the Raststätte.
Option 2: Horner Kreisel
Follow the directions as for Berlin below. Use a sign.
Take S-bahn S3 or S31 to Wilhelmsburg and then bus 13 to the last stop at Kirchdorf-Süd (max. ten minute trip). Walk east along Karl-Arnold-Ring for 200 m. Keep walking straight and cross over the small bridge. Turn left and walk 100 m to the parking lot of Raststätte Stillhorn.
If you are going towards the Netherlands, get a ride south to Dammer Berge on the A1 (just before Osnabrück), where the A1 joins the A30 in the direction of Rheine and Amsterdam.
Option 1: Autobahn Junction HH-Schnelsen
Take U-bahn U2 towards Niendorf-Markt. From there get out and ask people for the bus station (Busbahnhof). Take bus 5 or bus 191 and get off at Freizeitbad Bondenwald. This is a bus stop with a bus bay and here all the traffic to the motorway passes by.
Option 2: Raststätte Holmoor
Take S-Bahn S3 or S21 to Eidelstadt, and then A1 to Quickborn. It is possible to blackride. Then take bus 594 in direction of U A Norderstedt Mitte and get off after the bus goes over the motorway (Hasloher Weg stop). After getting off the bus, walk in the direction back towards the bridge (west) and you will immediately see a small road going left (Hasloher Weg). You will feel you are lost in the country side because after 200 m, this way doesn't look like a street anymore. Never mind, keep going straight for another 400 m and on your right you will see the petrol station. We needed less than five minutes to find a driver to Denmark :D
Update june 2018: The area around the highway is under construction, so you cant cross it via the mentioned road above. You can follow the instruction above but get off at stop Hasloh instead of Quickborn, go in direction of the train, turn right at Kirschenallee, which becomes Dorfstrasse, follow the road until you cross the highway, turn left at Quickborner weg and follow that into the woods until you reach Holmoor gasstation. Around 30-40 mins walking. Or you can go to Norderstedt Mitte instead and walk from there.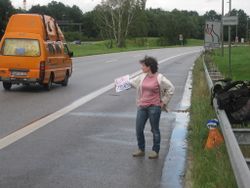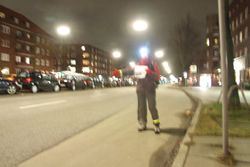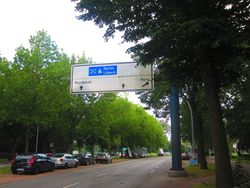 If you're planning to hitchhike towards Berlin on the A24, there's a bus stop near a big roundabout in the southeast of the city where it's possible to catch a ride directly to Berlin or at least part of the way. This spot is called the Horner Kreisel and is a popular hitchhiking spot for many hitchhikers in Germany. Here you can stand and wait for a ride. This works fine. For hitchhiking to Berlin prepare a cardboard sign with a huge B written on it, which is the number plate sign for cars from Berlin and understood widely. It's a good spot.
The easiest way to get there is from the Station Hasselbrook (S1, S11). You leave the train in the direction of Steindamm, upstairs turn right and the after a few meters left into the Caspar-Voght-Straße. Follow this street 500 meters until the big crossing with Sievekingsallee. On the opposite side of the Sievekingsallee you'll see the bus-stop Caspar-Voght-Straße. Ask for the road to Berlin if you are lost. Go further up the road and look for a bus stop with a large blue metal pole in front with lots of hitch-hiker traces :). It's just in front of the "Horner Kreisel" and is called "BAB Auffahrt Horn". You can also reach there by taking the U2 or U4 to "Rauhes Haus". This spot is actually great, because owners of Turkish shop at the station noticed strange amounts of hitchhikers in front of their business. I think they are quite enjoying it. Just when I was about to start, they invited me in for a free Turkish coffee and cigarette (I usually don't smoke, but this was kind of nice). They got some carton boxes and marker just for assisting hitchhikers, so they made one for me. Highly recommended (although it was two years ago, so I just hope they are still there).
Please note, some years ago they reconstructed the Horner Kreisel. Earlier it was possible to stand in the middle of it on an bus stop, but now the bus stop is located before the roundabout where the cars are driving pretty fast, and on the Kreisel the cars have no opportunity to stop.
Some hitchhikers claim that hitching on the roundabout turn-off direction Berlin is easier, as here you have much more traffic going your way. It's recommended to stand immediately after the roundabout, in the grass before the blue motorway sign. Cars can stop right after the motorway sign. This place is used by many hitchhikers. It's not uncommon to find a direct lift to Berlin in 5 minutes. But it has to be pointed out that doing so is against the law, for the Autobahn starts there − and you must not walk or stop on it. Hitchhikers and drivers, who stop there, can be fined. Apart form the legal aspect, bear in mind that this may be dangerous for you!
Update 22/10/2017: We were two people hitching and we tried several spot near the round about. The best one would be the one around 100m before the bus station at a traffic light. It can be difficult to get a ride because there is often traffic but anyway it seems to be the best spot to get a ride directly to Berlin.
If you want to go to Puttgarden for going into Scandinavia, you can hitch to the ferry at Puttgarden, and get a ride straight to Copenhagen. Have a look at the Puttgarden article for more info.
Links
Check Nomadwiki for info on accommodation, showers etc. or Trashwiki for dumpsters...and share your wisdom :)