Hamburg
Jump to navigation
Jump to search
Hamburg

<map lat='53.5533628' lng='9.989319' zoom='9' view='3' />
Information
Country:

Germany
State:

Hamburg
Population:
1.773.218 (28 February 2008)
Licence plate:
HH
Major roads:
A1, A7, A23, A24, A25
Meet fellow hitchhikers on Trustroots
Hamburg is the second largest city in Germany and is located in the north.
Hitchhiking out
Option 1: Serways Raststätte Stillhorn Ost
Take S-bahn S3 or S31 to Wilhelmsburg and then bus 13 to the last stop at Kirchdorf-Süd. Walk east along Karl-Arnold-Ring for 200 m. Keep walking straight and cross over the small bridge. Turn right after the bridge on Altenfelder Weg and walk for ≈500 m to the junction with Stillhorner Weg. If you look around here you will see an underpass, go under the autobahn and walk for 400 m until a small road to your left (Jakobsberg) just after the on-ramp. Walk 300 m north along this path and you will reach the back of the Raststätte.
Even though technically possible, it is not advisable to try and go East from here. It is however possible to catch a ride downtown towards Horner Kreisel from here.
Option 2: Horner Kreisel
Follow the directions as for Berlin below. Use a sign.
Take S-bahn S3 or S31 to Wilhelmsburg and then bus 13 to the last stop at Kirchdorf-Süd (max. ten minute trip). Walk east along Karl-Arnold-Ring for 200 m. Keep walking straight and cross over the small bridge. Turn left and walk 100 m to the parking lot of Raststätte Stillhorn.
If you are going towards the Netherlands, get a ride south to Dammer Berge on the A1 (just before Osnabrück), where the A1 joins the A30 in the direction of Rheine and Amsterdam.
Option 1: Autobahn Junction HH-Schnelsen
Take U-bahn U2 towards Niendorf-Markt. From there get out and ask people for the bus station (Busbahnhof). Take bus 5 or bus 191 and get off at Freizeitbad Bondenwald. This is a bus stop with a bus bay and here all the traffic to the motorway passes by.
Option 2: Raststätte Holmoor
Take S-Bahn S3 or S21 to Eidelstadt, and then A1 to Quickborn. It is possible to blackride. Then take bus 594 in direction of U A Norderstedt Mitte and get off after the bus goes over the motorway (Hasloher Weg stop). After getting off the bus, walk in the direction back towards the bridge (west) and you will immediately see a small road going left (Hasloher Weg). You will feel you are lost in the country side because after 200 m, this way doesn't look like a street anymore. Never mind, keep going straight for another 400 m and on your right you will see the petrol station. We needed less than five minues to find a driver to Denmark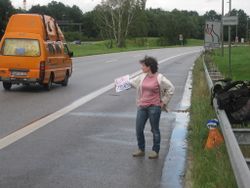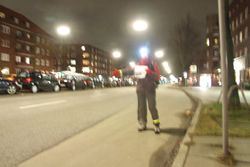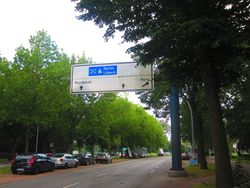 If you're planning to hitchhike towards Berlin on the A24, there's a bus stop near a big roundabout in the southeast of the city where it's possible to catch a ride directly to Berlin or at least part of the way. This spot is called the Horner Kreisel and is a popular hitchhiking spot for many hitchhikers in Germany. Here you can stand and wait for a ride. This works fine. For hitchhiking to Berlin prepare a cardboard sign with a huge B written on it, which is the number plate sign for cars from Berlin and understood widely. It's a good spot.
The easiest way to get there is from the Station Hasselbrook (S1, S11). You leave the train in the direction of Steindamm, upstairs turn right and the after a few meters left into the Caspar-Voght-Straße. Follow this street 500 meters until the big crossing with Sievekingsallee. On the opposite side of the Sievekingsallee you'll see the bus-stop Caspar-Voght-Straße. Ask for the road to Berlin if you are lost. Go further up the road and look for a bus stop with a large blue metal pole in front with lots of hitch-hiker traces :). It's just in front of the "Horner Kreisel" and is called "BAB Auffahrt Horn". You can also reach there by taking the U2 or U4 to "Rauhes Haus". This spot is actually great, because owners of Turkish shop at the station noticed strange amounts of hitchhikers in front of their business. I think they are quite enjoying it. Just when I was about to start, they invited me in for a free Turkish coffee and cigarette (I usually don't smoke, but this was kind of nice). They got some carton boxes and marker just for assisting hitchhikers, so they made one for me. Highly recommended (although it was two years ago, so I just hope they are still there).
Please note, some years ago they reconstructed the Horner Kreisel. Earlier it was possible to stand in the middle of it on an bus stop, but now the bus stop is located before the roundabout where the cars are driving pretty fast, and on the Kreisel the cars have no opportunity to stop.
Some hitchhikers claim that hitching on the roundabout turn-off direction Berlin is easier, as here you have much more traffic going your way. It's recommended to stand immediately after the roundabout, in the grass before the blue motorway sign. Cars can stop right after the motorway sign. This place is used by many hitchhikers. It's not uncommon to find a direct lift to Berlin in 5 minutes. But it has to be pointed out that doing so is against the law, for the Autobahn starts there − and you must not walk or stop on it. Hitchhikers and drivers, who stop there, can be fined. Apart form the legal aspect, bear in mind that this may be dangerous for you!

If you want to go to Puttgarden for going into Scandinavia, you can hitch to the ferry at Puttgarden, and get a ride straight to Copenhagen. Have a look at the Puttgarden article for more info.
Sleeping out & Tips
Eventhough theres a lot of parks and hidden spots in town where you can camp or simply sleep the night off in the ground, I would recommend to go to Hauptbanhof (central train station) and catch the regional train that goes towards Maschen Train Station (not to be confused with the nearby village as you would be directed to take buses on a more complex route). The deal with Maschen is that its the second largest Freight Train Yard in the world (and only by a few tracks not the first one), its quite a sight and a great place to hang out specially if you appreciate freight trains and large infrastructures. Theres a ton of spots to camp right by the yard but I would suggest to find your way to one of the 4 lakes that you can find right next to it. See im Mascher Moor should be your best bet but beware that its the most popular one so you might wake up with a lot of people walking by (but camping is ok as people do it all the time, specially on fishing trips). Take a moment to walk up the bridge crossing the yard and take that marvelous sight. Notice that the Bridge is under constraction (as of May 2021) so you cant walk easily from one side to the other (but you can if you can crawl under that fence or jump thru the sides). My second recommendation is See im Grossen Moor which I found more peaceful in terms of people but a bit noisy due to proximity to a highway. There are portable toilets on the way to the sandy beach and you should find enough spots right by the water to camp. To go there its a better idea to jump out from the train at Meckenfeld train station as its a much shorter walk than from Maschen Passenger Station. If you happen to be caught on a storm or something, theres the creepy tunnel that goes all the way under the freight yard where you would be safe from rain and winds but maybe not from dracula. If for whatever reason you dont wanna take this route or the bridge in order to cross the yard and you take on the stupid idea of walk thru the tracks, beware that this is a freight yard where trains are assembled and dissasembled, which means that theres a lot of silent killer-wagons being released into the tracks, no lights and no sounds. Just silently ghosting their way thru the yard and if one of those heavy tons of steel should hit you that would be it for you. Then theres the tracks where the fast trains show up in a split second. So my advice, no walking thru the tracks unless you have eyes and ears all around your head and know how to use them.
Notice how there seem to be no ticket inspectors at all in Hamburg, Ive been on and off in that town in the years 2018,2019,2020 and 2021 and taken countless rides on buses, sbahns, ubahns and regional trains going in and out of the city and never been asked for a ticket.
Trashwiki & Nomadwiki
Check Nomadwiki for info on accommodation, showers etc. or Trashwiki for dumpsters...and share your wisdom :)