Hamburg
Jump to navigation
Jump to search
Hamburg is the second langest city in Germany and is located in the north.
Hitching Out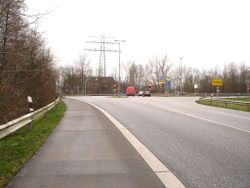 There take bus #191 until stop Sellhopsweg. Get out there, walk some 200m back to the traffic light. You'll see that the road going left follows the way to the highway. There's no footpath, so you have to walk along the green space next to the road. Might be tricky in winter, easy in summer. Just take care when trucks and cars coming from behind! After some 300m you're at the ramp. There's enough space for you to stand on, and it's easy for cars to recognize you and to stop. Have a look at the picture for this spot. Oh, someone mentioned that this spot might be illegal to stand on, but can you find an Autobahn sign in the picture ? ;-)
East towards Berlin
If you're planing to hitchhike towards Berlin on the A24, it's best to get to the big roundabout in the southeast of the city. You can't reach it directly by U-Bahn or S-Bahn, so you have to walk. The easiest way is probably from the S1, S11 and U1 stop Wandsbeker Chaussee. From there you have just to walk straight on Hammer Straße. When you reach the roundabout it is difficult to get a ride standing in the middle of it, as the cars have no opportunity to stop. But on one side, in Sievekingsalle, there is a busstop. This works fine. This spot is called the Horner Kreisel and is a popular hitchhiking spot for many hitchhikers in Germany.
Links
��������������������