Amsterdam
Jump to navigation
Jump to search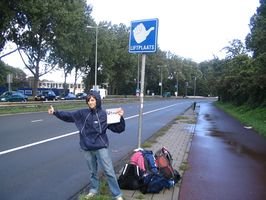 Amsterdam is the capital of the Netherlands.
Amsterdam is often abbreviated A'dam, which can be a nice alternative to put on your signs.
Hitching In
During daylight it's usually not a problem to hitch on on-ramps close to Amsterdam, so if you've been at petrol station for 25 minutes you might want to give it a try at an on-ramp closer-by.
Public transport is fairly okay in the Netherlands, albeit a bit expensive since the introduction of the "chipkaart", see below. There are convenient metros from e.g. the Bijlmer. Coming from South there is a petrol station just a couple of kilometres before Amsterdam. There are enough people stopping before going into the city, alex never waited longer than 10 minutes to get a ride, with most of the times putting my bag directly from one car into another. So get off there when your driver doesn't go where you need to be in Amsterdam and catch easily a ride that goes to the district you want to go - this will save you some bugs and 30-60 minutes getting to the other side of town.
Hitchhiking out
There is an official liftplaats about 100 meters south of metro station Sloterdijk on Haarlemmerweg. Here you will find a lot of traffic going straight to Haarlem, and possibly even cars going to Leiden, and further to Delft and Den Haag. Though, most cars going there will use the Ring A10 and then the A4 to Den Haag.
For Liva it was not the best place even though you have had to do it when you're anyway there...
There is an A10 on-ramp near Sloterdijk station. Exit the station and go 200m east on Hatostraat, 250m north on La Guardiaweg and 250m east on Basisweg and then cross over to the on-ramp.
Another ramp is a little way up the street from the last. Get there from the last by continuing further down Basisweg (which becomes Transformatorweg until Kabelweg). Follow this north past s101 (Nieuwe Hemweg). The ramp is off of Vlothavenweg.
<map lat='52.342785761313266' lng='4.922003746032715' zoom='13' view='3' float='right' />
If you are hitching in the direction of Berlin or Hamburg, you might find the route-page from Amsterdam to Berlin useful.
If you are hitching in the direction of Bremen, Hamburg or Copenhagen, you might find this route-page from Amsterdam to Copenhagen useful.
There is a liftplaats, a spot specifically for hitchhiking, at the Gooiseweg next to the Prins Bernhardplein situated before NS Station Amsterdam Amstel (pass the bus stop). This road leads to the ramp of the S112 of the A10, the motorway around Amsterdam (direction A1 and A2). A little further on that road and behind the bend you will find a petrol-station where you can talk to drivers, often a better way for getting a ride.
This is what the place looks like in Google Streetview.
Most cars here will drive along the A1 towards Amersfoort, Hengelo and Germany. The first petrol-station is just 8 kilometres further, just after Muiden. A second petrol station and parkingspot, called De Slaag, is located 37 kilometres from Amsterdam, right before Amersfoort.
First you go by train, tram, metro or bus to the station Amsterdam Amstel. From there three bus lines, 320, 322 and 327, are going to busstop "P+R Terrein" in Muiden. A presale ticket costs EUR 2,90 for all buses ("GVB 1 uur" ticket). In the bus you pay EUR 5 for bus lines 322 and 327 or EUR 3 for bus line 320. Step out at "P+R Terrein" in Muiden, walk under the motorway-bridge, immediately after the bridge (10 meters!) turn left on the pavement, climb to the motorway and on the cycling lane along the motorway walk the east ("direction Germany"). That takes you over the canal. Follow the pavement till the end, then walk along the bus lane ("lijnbus" is marked on this lane), still going along the motorway. The last 350 meters are on the motorway: stay behind the safety barrier. Keep in mind that walking there is illegal and may (although rarely enforced) result in a fine of over EUR 200.
From the liftplaats you can also find rides to Utrecht, Arnhem, Nijmegen and Belgium, though you will find hitching from here relatively harder compared to the Utrechtsebrug, which is the spot for Utrecht.
Since there are so many different directions (and sometimes even many hitchhikers) it's better to make a sign.
There are trains, trams (12,51) and metros to Amstel station from most other stations in Amsterdam. It is a 1 minute walk from there, just behind the FORTIS Bank.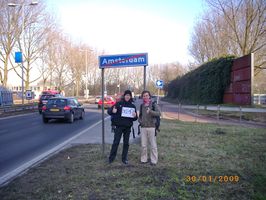 Option 2 There is often a lot of competition at the liftplaats and drivers usually only go short distances, so by the time you have finally left Holland you will have had approx. 3–6 rides. You can easily avoid this by taking a train to Hengelo (buy a discount ticket, see below). Then, from the train station Hengelo take bus 14 to Bruninkshoek. You now find yourself on the street Oostelijke Esweg. Walk in the direction the bus just came from towards the street Hasselerbaan, then turn left. Walk down until you cross Oldenzaalsestraat. Turn left and you will see a footbridge overlooking the A1. When you have crossed the bridge, don't turn right but walk through the grass and descend down. Turn left before the ditch and walk with the ditch on your right. Continue until you see a little forest; here you have to jump over a small ditch. Walk through the little forest and you will reach an excellent service station where nearly all cars go to Germany.
You can either go and hitch from the same spot as for going West at the Amstel Station, or hitch from where the motorway to Utrecht starts, which is called the Utrechtsebrug. This second option definitely gives you more cars going into the right direction and generally a lot less waiting time.
At the Utrechtsebrug you have several options. First, head to the Martin Luther King Park in Amsterdam Zuid where the motorway to A2-motorway starts, which leads to Utrecht and further to Den Bosch, Eindhoven and Maastricht. Take tram 25 to its end-stop or tram 4 or 12 and walk from the Vrijheidslaan south through the Rijnstraat to the motorway (A10/ A2). At the end of this road before the crossing, you'll find traffic lights where you can pro-actively ask drivers to drop you at the massive Haarrijn service station (See below). The best traffic lights to pick, as there are three sets here, is the one on your left side when you are standing facing the bridge.
From here you can also walk over the bridge, walk along the motorway over the grass towards a small petrol station 250 meters further, behind the bend. If you do that don't try (like me) to go right to the little residence, there are rivers and no path to get to the station, there are no other ways than walk along the road. Be careful when walking here, the space between you and cars is minimal.
NOTE: Though the spot is generally awesome, you are likely to spend hours waiting for cars going as far as Haarrijn on Sundays (and probably Saturdays too). It might be reasonable to try further spots to avoid local traffic during the end of week.
Just before Utrecht, after exit 5 (Breukelen) and just some kilometres before the Utrecht Ring you find a big petrol-station called Haarrijn. This is an excellent spot to find drivers for larger distances.
Boats
It is very possible to hitch boats around the Amsterdam canals. Just sit next to the water and thumb and eventually someone will stop. This is more aimed at sight seeing than getting somewhere specific, but more worth it than paying for the touristy ones.
Sleep
If you are caught in the rain with nowhere to go, the best place to stay dry that Zac found was outside the train station.
After walking all night in the pouring rain, trying to stay dry and warm wherever I could, I finally crashed outside the train station until the wee hours of the morning. At that time I moved inside of the station. This had mixed results. It was warmer and drier, but the security guards walked by and gave me a kick every time I dozed off.
There is another solution if you're caught in the rain : you can sleep on one of the tour boats parked along the river in front of central station, some of them have a roof outside the cabin and it can be a quite comfortable place. Policemen or guards sometimes come and kick you out, but far less than in the station.
Buy
"Philip's compact atlas Europe" shows service stations in some countries, is pretty compact and was available for 7 euros at the New English Book Store in Amsterdam, in June 2008.
It's not recommended to carry any type of illegal drugs with you while hitchhiking. A bit of weed inside the borders of the Netherlands is not going to get you into trouble. But taking any amount of weed (or anything else) across the border could be a problem for you and possibly your driver. And it's not worth it.
Public Transport
As of 2010 if you take a tram or bus inside the city, for any distance, and you will spend at least 2.60 euro, you need a "chipkaart", "nationale strippenkaarten" aren't valid anymore in all of the Netherlands (since November 2011). Check this for a good overview: http://www.gvb.nl/english/travellers/tickets-and-fares/ov-chipkaart-travel-products/Pages/ov-chipkaart-travel-products.aspx
For example, a one way ticket by train from Amsterdam Centraal to Zaandam is 2.40 EUR, a return ticket costs 4.50 EUR (to be used on 1 day, until 4:00am next day). (See http://ns.nl/)
So staying in a location that's easily reachable by train might actually turn out cheaper!