Republic of Karelia
Jump to navigation
Jump to search
The Republic of Karelia (Russian: Респу́блика Каре́лия, Respublika Kareliya; Karelian: Karjalan tazavaldu) is a federal subject of Russia. The Republic is located in the north-western part of the Russian Federation, taking intervening position between the basins of White and Baltic seas.
In Karelia, one can find more than 60,000 lakes and 27,000 rivers and two national parks, which makes it a perfect destination for nature-bound hitchhikers.
Main transport route is the M18 highway going from St. Petersburg via the Karelian capital Petrozavodsk north towards Murmansk. Hitchhiking is pretty easy on this road, count about one day (6-8 hours) from St. Petersburg to Pedrozavodsk (420 km).
A good spot for hitchhiking all the way to Pedrozavodsk is just behind the first DPS station in Karelia, before the city of Olonets. Behind this station you'll find some hundred kilometres till Pedrozavodsk with few settlements alongs the road. Platschi got a ride here organized by the police (without asking them!) in July 2009.
Cities and towns in Karelia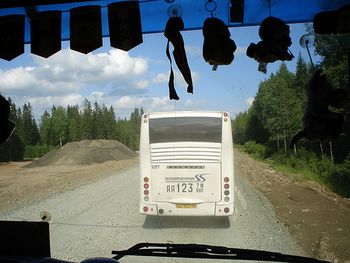 Subdivisions of
Russia