Antwerpen
Jump to navigation
Jump to search
Antwerpen is a nice city in Belgium, close to the Dutch border.
Hitching out
Hitchhiking is pretty common in Belgium, especially in the North, so you won't have a difficult time.
Southwest towards Gent, Paris
Option 1
Follow Amerikalei to the on ramp for the A14/E17. You have to go under a tunnel before getting out to the ramp. A good place to stand is here. Although it's easy for cars to stop here, it's illegal and dangerous to walk trough the tunnel. A safer and still good stop to start is just before the tunnel here.

Option 2
A better option is to hitchhike at the "Waaslandtunnel". Often called by locals the "Konijnenpijp". There is much room because of the bus stop and cars drive slowly because of the nearby traffic lights. Many drivers go direction Gent

Option 3
Take a tram in the city centre. Tram 2 direction Hoboken or tram 6 direction Olympiade. Get off at the stop called "De Singel". Right where you get out of the tram you find the ramp for the motorway. There is plenty of space for yourself and cars to pull over. I use this spot frequently and never waited more then 7 minutes for a ride to Gent. A sign could be helpful. Before Gent there are 2 petrol stations coming up if you need longer rides to for example Paris. The first one is Kruibeke and the second is Kalken.
Option 1
Get a train or some other form of public transport towards "Oost Station". When you leave the station, walk under the train bridge, walk straight down to the signs for Brussels. Here, you should stand after the traffic lights and in a position that you get the attention of cars coming from the two different sections of the junction.

Option 2
Take a tram/bus to Stenenburg stop - any of 21, 24, 242, 420, 421, 422, 423, 429. Once you get off there, turn left and go under the bridge. After you cross the bridge, turn right and keep going straight on, until you see signs of Brussels. After a while you will notice a motorway on your left going in direction of Brussels. Go until the traffic lights and cross them twice following the road signs. You will notice a good interstate, with an emergency line, where you get your rides very fast
Tram 10 or several buslines to Borgerhout Turnhoutsepoort hiychikr on bus station or walk northeast over the Turnhoutsebaan for only 250 meters, passing the railway tunnel and crossroads and hitch after the motorway sign, start of the A13/E313, on the bridge over the R1/E19. Later on this highway splits in two highways (A13/E313+A21/E34), so make sure you find a ride in the right direction. A sign could be very useful.
Take tram 6 direction 'Luchtbal' and get of at 'Merksem Lambrechtshoeken'. Follow the direction of the tram. You will notice McD. Just behind it, the highway to the Netherlands starts. The traffic is quite sparse but the cars go by slowly. There is plenty of space for you and a car to stop. There is a ring which goes to E19 highway.
If you are heading for Utrecht or Amsterdam, make sure your driver isn't going to Bergen op Zoom.
There is a massive service station (Hazeldonk-Oost), before Breda, on the Dutch-Belgian border, where it is easy to hitch-hike for example near the exit from the petrol-station. You just have to write a board, because the highway divides into two directions nearby.
---
!!! 2022/07 !!!
This entrance to the highway is closed off! An alternative place would be to take the tram to Q Easy petrol station in Schoten! This is one highway entrance further than the one in Merksem, definite plus side is that it's past where the highway splits into direction Utrecht/Amsterdam and Bergen-op-Zoom meaning you can't accidentally end up going to the latter :)
Most directions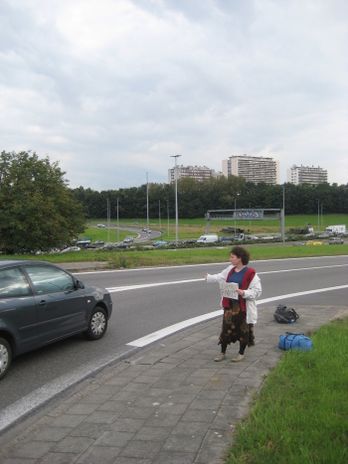 Motorway at the Luitenant Lippenslaan (a continuation of the Plantin en Moretuslei), the on-ramps there are good for heading to Gent, Paris, Brussels, the west of the Netherlands and possibly more directions. Make sure to make a sign as people can go many directions. Nearby metro stops include 'Draakplaats' and 'De Roma'.
(January 2023 edit) Alternative for those who prefer starting at gas station - east and maybe west/to the UK.
Take bus 420 (Herentals) or 421 from Berchem Station, to Ranst Kastanjelaan, and walk 2 km/2.4 km to the service station "Ranst". Note: I've only tried this going east, no fence to climb! Uncertain about going west. It's very possible to get a ride very far from here, as a lot of people stop here. A sign is recommended since the highway splits.
The bus costs 2.50 €, and you can pay with card on the bus. Not cash unfortunately. You can only buy a ten trip ticket (17€ for 10 trips) at most places who sells ticket. The tickets work for an hour on all De Lijn transport, and works for three years apparently. It should be possible to buy a ticket online as well.
Nomadwiki & Trashwiki
Check Nomadwiki for info on accommodation, showers etc. or Trashwiki for dumpsters...and share your wisdom :)