Schengen Agreement
Jump to navigation
Jump to search
The Schengen Agreement (named after the village Schengen, a village directly on the three border point of Germany, Belgium and Luxembourg, where it was signed), as far as travellers are concerned, basically dissolves border checks when travelling between member countries.
EU, EEA and Swiss citizens enjoy the freedom of movement within the Schengen Area - which means that they can live and work without restrictions.
All other nationals are divided into two categories - Annex I and Annex II. Annex I includes countries such as China, India, Russia and South Africa; Annex II includes Albania, Argentina, Australia, Brazil, Canada, Chile, Japan, Hong Kong, Israel, Macedonia, New Zealand, Serbia, Singapore, South Korea, Taiwan and the United States. For a full list, visit click here.
Annex I nationals need a visa to enter the Schengen Area. If they intend to spend up to 90 days in the Schengen Area, they should obtain a visa from an embassy or consulate of the main Schengen country they intend to visit - the visa will be valid for the whole of the Schengen Area. If they intend to spend more than 90 days, they need to approach one Schengen country to apply for a national residence permit or long-term 'D' visa. The national residence permit or long-term 'D' visa allows the holder to stay in that country for the period of validity and to stay in other Schengen countries for up to 90 days each. For example, the holder of a long-term 'D' visa issued by a Portuguese embassy valid for 1 year can stay in Portugal for 180 days, Switzerland for 90 days and Denmark for 90 days. For more information on intra-Schengen travel on a residence permit/long-term 'D' visa, visit the Danish Immigration Service website.
Annex II nationals need a visa to enter the Schengen Area, unless they qualify for a visa exemption. All Annex II nationals can enter the Schengen Area as a whole visa-exempt for up to 90 days in a 180 day period. New Zealand citizens can stay visa-exempt for up to 90 days in each of Austria, Belgium, Czech Republic, Denmark, Finland, France, Germany, Greece, Iceland, Italy, Luxembourg, The Netherlands, Norway, Portugal, Spain, Sweden and Switzerland without reference to time spent in other Schengen countries, but if they wish to travel to other Schengen countries, the normal 90 day every 180 days visa exemption period applies. More information on the special visa exemption for New Zealanders is available at the EU, NZ Government Safetravel, French Embassy, Spanish Embassy and Swiss Embassy websites.
Therefore, the Schengen Agreement will reveal itself to be a hassle for non-EU passport holders who are Annex II nationals (except for New Zealanders), because whilst previously travellers such as Americans, Australians and Canadians could spend up to 3 months visa-free in each European country, now the 3 month visa exemption applies to the Schengen Area (most of Europe) as a whole. Hence, for foreign travellers such as Canadian, US and Australian passport holders, the remaining options will be to cross to the United Kingdom/Ireland or go down to Romania, Bulgaria, Cyprus, the Balkans, Ukraine, Turkey or Morocco once nearing the end of their 90 days limit within Schengen and staying away for 90 days before re-entering a Schengen country. The UK border is probably the worst of these options in terms of chances of being sent away or denied entry.
Notice that sometimes within Schengen borders, especially while going along by train, policemen do come on board and ask to see your documents. Usually it's trouble-free, but they tend to harass Balkans and Turks more often than others.
Some Schengen countries allow Annex II citizens to work during their stay on their visa-exemption. France, for example, permits Canadians, Israelis, Malaysians, New Zealanders and Taiwanese (as well as some other Annex II nationalities) to work during their 3 month visa exemption period. For the full list of nationalities permitted to work in France during the 3 month visa exemption period, visit the French Ministry of Foreign Affairs website.
Member States
28 European states have signed the agreement, including most EU countries and four non-EU countries (Iceland, Liechtenstein, Norway and Switzerland). Ireland and the United Kingdom did not sign the treaty. 26 of these countries have implemented the agreement so far.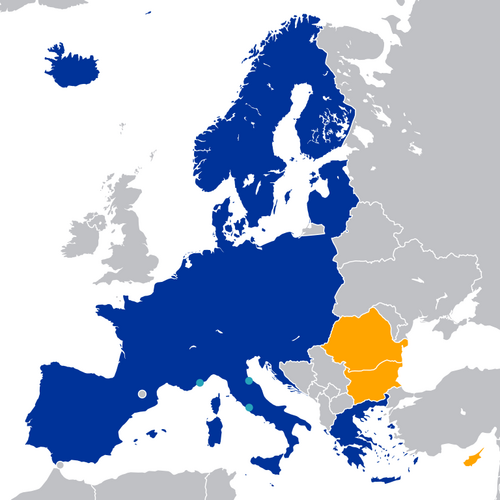 Current implementation
Note that whilst Monaco, San Marino and the Vatican City have not formally signed the Schengen Agreement, in practice there are no border checks when entering these countries from the Schengen Area.
Future implementation
Date unknown

Cyprus, dependent on resolution of Cyprus conflict
External links

Wikipedia has additional encyclopedic information on Schengen Agreement