Category:E4
Jump to navigation
Jump to search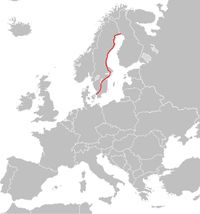 The European route E4 goes from Helsingborg in southern Sweden to Tornio in Finland.
Details
Total length is 1,590 kilometres.
Cities on the way are Helsingborg, Ljungby, Jönköping, Linköping, Norrköping, Nyköping, Stockholm, Märsta, Uppsala, Gävle, Söderhamn, Hudiksvall, Sundsvall, Härnösand, Örnsköldsvik, Umeå, Skellefteå, Piteå, Luleå, Haparanda, Tornio.
The E4 is told to be quite easy to hitch on. North of Gävle, the motorway turns into a road on which it is legal to walk and stand on (well, at least not as strictly forbidden as on a motorway... who knows exactly?). Between Sundsvall and Tornio, the road passes through most larger cities as city streets, which is an advantage for hitchhikers.
Pages in category "E4"
The following 17 pages are in this category, out of 17 total.
Media in category "E4"
This category contains only the following file.