Category:Bavaria
Jump to navigation
Jump to search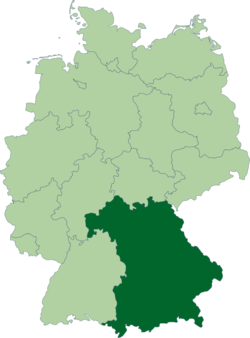 Bavaria (German: Bayern) is the largest federal state in Germany. It is located in the southeast. Munich is its capital.
If traveling towards Austria, e.g. Vienna or further east (Hungary, Romania, Slovenia, it's most likely that someone will cross this state. A popular route is e.g. the A3, crossing the country from west to east, ending at the Austrian border near Passau.

Federal States of
Germany
Pages in category "Bavaria"
The following 36 pages are in this category, out of 36 total.
Media in category "Bavaria"
This category contains only the following file.