Syria
Jump to navigation
Jump to search
Warning
Travel to Syria is not advised due to the civil war between government and rebel forces.
Read Wikipedia article about Syrian civil war and about War zone safety from Wikivoyage. In 2013 the Russian hitchhiker Konstantin Zhuravlyev disregarded this travel warning and was arrested by jihadists on the day he crossed the border. Six months later he appeared in a video message. He was released in October 2016.
Syria is a country in Western Asia, also known as the Middle East.
Hitchhiking is possible and easy in Syria. However, many people will think that you missed a bus, and want to bring you to the next bus station.
The concept of hitchhiking itself is understood differently in this country. While in the more rural areas (the mountains and the desert) hitching a pickup is extremely normal (because of the absence of public transport), in the more urban areas of the country people often can not understand why somebody is not taking a bus, especially because the prices for those are extremely low and nearly everybody uses them. Because of this, locals often think you might need help, and stop for that reason.
Nevertheless, people will in most cases be glad to give you a ride and as an conclusion, hitchhiking is extremely easy in this country.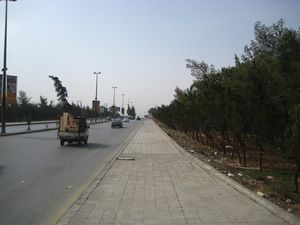 It might be wise to learn at least some basic Arabic to communicate with locals. Not many people speak more English than the phrase "Welcome to Syria". Sometimes you can find old people speaking French. Some people also, from the older and middle generation, speak Russian due to the fact that they studied or worked in Eastern Europe. Especially for explaining your hitchhiking intention (and to ask for the way the driver goes), it is an absolute advantage to know some Arabic.
When hitchhiking out of a city, try to stand by the road where there are no people around. When CRCulver tried hitching out of Jisrash Shugur, he accepted an invitation to tea from employees of a nearby garage. They thought he was lost and called the police, who sent him to a military base where he was interrogated for several hours and told hitchhiking was illegal before being forced onto a bus bound for Damascus.
Border Crossing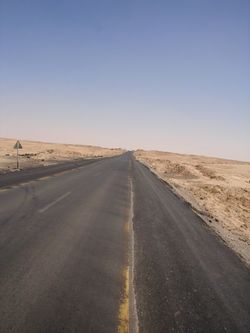 Most European tourists can get their visa directly at the border, but of course check your local embassy for country-specific visa requirements. The prices are in US$, so it's best if you have some of this currency on you before you head towards the Syrian border. If you're only planning to stay a couple of days you should get a transit visa, which was 15$ for Dutch citizens in December 2010.
As of February 2012, prices for VOA's are divided into two categories. 3-day transit, and 10-day transit. Typically the 3-days are considerably cheaper. Prices range from 5US$ to over 200US$ For German passports, 3-day: 8US$, 10-day: 33. But for some, are the same. For Canadian passports it's 56US$ for either.
As of June 2016, it is not possible to obtain a visa on arrival at a land border crossing.
When entering Syria, you also get an entry/exit card. Don't loose it, you need it when leaving the county. When leaving Syria, you additionally have to buy an exit/return-ticket at the border checkpoints. These can be bought in most cases in little supermarkets just in front of the we stamp your passport-offices. As of December 2010, the price for an exit card was 500 Syrian Pound.
Turkey
Hatay checkpoint: This checkpoint is easy to reach via Reyhanlı (Turkey). Passing the border by foot is no problem, but it might be wise to hitch a ride after crossing the Turkish checkpoint, the distance to the Syrian checkpoint is around 4 km. Behind Syrian controls, hitch your way towards Aleppo (~65 km). Don't wait for trucks to pass the border and give you a ride, you can be much faster with walking to the next village and catching a ride with some motorbikes or pickups.
Kilis checkpoint: The northern checkpoint with Turkey, easy to reach from Aleppo (~70km). The different checkpoints are not far from each other, so you can go by walking distance. Be aware of street dogs. When traveling from Aleppo, also be careful in the city of Azaz and surrounding area near the border. More about it at the specific Azaz city article.
Nusaybin checkpoint: Easternmost border transition to Turkey. The border is between Al-Qamishli (Syria) and Nusaybin (Turkey). This border is open from 9am in the morning until 3pm in the afternoon. It's easy to walk across, as it is rather quiet here. When arriving too late, Al-Qamishli has several hotels, in which you should always try to bargain for the price.
Lebanon
Masnaa checkpoint: The only open checkpoint with Lebanon on it's western border. It is located directly on the highway Damascus-Beirut and is very easy to hitch. Get a ride to the border, where many cars will wait to get over the controls. Just talk to people who have an empty car and get a ride to Beirut, where nearly everyone here goes. Exit cards can be bought in a little supermarket just before the controls. Be aware of Jordanian taxi drivers. Check for Lebanese visa stuff the Lebanon article.
Aaboudiye checkpoint: Checkpoint in the north of Lebanon and north-west of Syria, might be a choice if you come from Tartous or Aleppo going to Tripoli or Beirut. Small border checkpoint, very bad condition of the roads, mostly taxi's and buses around here. Not much traffic at all. Take care! Platschi recommends to take the Masnaa checkpoint, which in fact is much further away (if coming from Hama/Homs or Aleppo), but also possible to hitch in one day if your destination is Beirut.
Jordan
Daraa checkpoint: guaka didn't experience any troubles heading to Jordan in October 2008 and in December 2010. CRCulver experienced that it was not permitted to walk across the border, and any cars going across must have a formal manifest of all passengers. The guards on the Syrian side are generally not willing to allow a hitchhiker to stand at the border gate to wait for a car, and any car willing to drive back into the city to add your name to the manifest at the transportation office will want money. Gekko crossed the border at this point in March 2011 and didn't experience problems concerning a formal passenger manifest. Walking across the border is not allowed. Border officials enjoy telling travellers that pedestrians would be shot by sharpshooters. However, finding a ride seems to be easy, generally.
On February 24th 2012, LordOfTheCheese reached the first checkpoint via camion and was told the truck will be in quarantine for one or two days. They then had him wait for a taxi to cross. Outside the taxi, the driver seemed all right with a free ride, but then tried to charge 300 Syrian pound just to cross to the Jordanian side. He was then left before the final check, but the guards were friendly and got him a ride over the border.
Iraq
Iraq has three border checkpoints with Syria. One near the town of Abu Kamal, another near Attanf. For these two there are good roads to travel on. If you want to enter Iraq you have to take the visa in advance, you will not get it at the border. The third crossing is in the north-eastern corner of the country.
No border with Israel is open to civilians. Syria is in a state of war with Israel. If you have any evidence of a visit to Israel in your passport you're not allowed to enter Syria. This includes stamps from the Jordanian or Egyptian side of border crossings with Israel. Israeli and Jordanian officials are usually okay with providing a separate paper so it remains possible to travel to Syria and other countries strict on Israeli stamps - Egyptians however tend to stamp your passport all the time. Your only way out is to go through Jordan, and take the ferry from Aqaba to Taba, Egypt.
Regions
Links
Nomadwiki & Trashwiki
Check Nomadwiki for info on accommodation, showers etc. or Trashwiki for dumpsters...and share your wisdom :)

Syrian
cities