Bern
Jump to navigation
Jump to search
Bern

<map lat='46.95694118331635' lng='7.447013854980469' zoom='13' view='0' float='right'/>
Information
Country:

Switzerland
Population:
141'660 (31. Dezember 2016)
Licence plate:
BE
Major roads:

E 25

,

E 27

, A1, A6, A12
Meet fellow hitchhikers on Trustroots
Bern is the capital of Switzerland.
Hitching out
Options follow in loose order of usefulness. Almost any lift can take you to the service area Grauholz which is some 5 kilometers past Bern. Option 3 will tell you how to get to Grauholz directly.
Option 1: Murtenstrasse
A great on-ramp spot with a reasonable traffic flow and a great hard shoulder for cars to pull over, about 10 minutes on foot from the train station resp. the center. The general direction is West, follow the Laupenstrasse and then the Murtenstrasse past the Inselspital hospital.You can take bus #11 to Güterbahnhof (final stop) partway and continue walking straight for another 400m. It's technically illegal (if perfectly safe) to stand here, and if you're unlucky the police may say something -- in which case you can also easily approach people (with a sign or without) at the traffic lights. This on-ramp also has cars going towards Thun.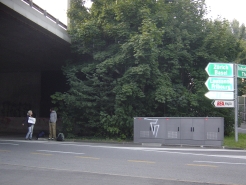 Option 2: Ostring
From the train station, take tram #7 to Ostring (final station). Just stand in front of the motorway entrance. It's not the best place because cars can't see you from far away, but when it's raining you can place yourself under the motorway bridge. And there is enough place for cars to stop.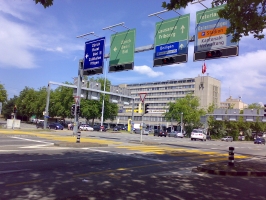 Option 3: Grauholz
Take the S9 from Bern Hauptbahnhof to the end stop (Unterzollikofen), then walk over the fields eastwards to the rest area "Grauholz". It's all in fairly walkable distance and besides, probably a pretty lovely walk in the spring and summer months due to the sunflower fields. Take a picture from the map with your camera, it might come handy.
Options follow in loose order of usefulness. Another option is to catch a lift to the service station Grauholz on the north side of the city (or check option 3 above on how to get their by public transport), change sides (there is a bridge) and ask at the gas station for rides south as it can be hard to find a ride going as far as the next service station to the south from any of the on-ramps below. As of June 2014, the south-bound side of Grauholz is under heavy construction and useless, however. If you're going to anywhere before Lausanne, be aware that there is two different highways between Bern and Lausanne and that your on-ramp serves the one you want.
Option 1: Wankdorfplatz From the train station, take the bus #20 to the station Wyler (buy a ticket 'zone 1-2' for 4 CHF, or don't). Walk 200m on the right side of the street (on your right you see a huge stadium, then cross the big crossroads. There's a perfect bus stop. Better use a sign.
Option 2: Murtenstrasse See Option 1 above. Doable spot for hitchhiking towards Lausanne, too, technically illegal to stand at, but odds are small that you will wait long enough to run into any trouble.
Option 3: Weissensteinstrasse Take tram 7 or 8 to Schlossmatte, for example from Hirschengraben near the train station. Backtrack a bit and turn right down Huberstrasse, before you turn right again and follow Weissensteinstrasse until you see the motorway signs. This isn't a very good spot as several directions meet very close to the on-ramp, but by working with signs, you can still get a ride down towards Lausanne.
South towards Thun
You can use option 1 of going towards Zurich or options 1 or 3 of going towards Lausanne, or alternatively the option below.
Option 1: Ostring From the train station, take tram #7 to Ostring (final station). There is a place where many lanes come together and it's a bit chaotic as a hitcher, but luckily there is a stoplight you can stand next to, so during a red light drivers will be forced to look at you. There isn't much space for cars to pull over, so keep your things close by and ready to chuck into the car when a spot is offered.
Sleeping
There is a Wagenplatz by the E25 north of Bern, outside Bethlehem. You can get there taking a bus to Bethlehem b. Kirche or by tram 8 (check times on google maps). The nearest train station is Bümpliz Nord, one station away from Bern Hauptbahnhof. Walk up Eymattstrasse, past the bridge that goes over the motorway, across into a nice woodland. Take the first footpath on the right and keep to the right at the following forks. Eventually you´ll see lots of beautiful vans and trailers. People are very friendly and welcoming. There are two guest spaces. The coordinates are 46.960324,7.392554
If you go straight down from the Hirschengraben (close to the train station) following the tram-tracks, you will find a small park on the right side after a few blocks. It's a good place for sleeping out.
There is an emergency sleeping place called Sleeper, where you can get a bed for 5.-, breakfast included. But they only accept people in an emergency, not people who actually could afford a hostel bed. Check-in times are from 10pm-1am and you can stay till 10am. Be there soon enough, especially in winter time. You can't make reservations.
You can try contacting Zenit if you need help or just company. His home base is in Bern, even though he's not there so much these days.
Food
Breakfast:
Monday-Friday at Aufenthaltsraum, Postgasse 35. Opening times 8.30-11.30am with free breakfast, and 2.30-5.30pm with free coffee, tea,... Postgasse is located in the lower old town, close to the (bus #12 stop) Rathaus.
There is also a Bakery (with attached vegetable-shop) which sells Sandwiches, Bread etc. from yesterday (they collect it from Bakerys in the City) and because its from yesterday they sell it for the Half of the Price. Its located in the Celler at Marktgasse 19 and the Name of the Shop is "Ässbar", open Mo-Fr. 9-19 and Sat 9-17.
Lunch:
Tuesday-Friday and Sunday at 12.30pm at La Prairie, Sulgeneckstrasse 7. It costs 5 CHF, if you can't afford that you can work for it in the kitchen. From the main trainstation go to the park "Kleine Schanze", on the right side of the park there is the street Sulgeneckstrasse and La Prairie just 50m from there.
Dinner/Supper:
Every day from 6pm-8pm at the Sleeper. It costs 5 CHF. The place is located at Neubrückstrasse 19. From the main train station, walk towards Bollwerk/Reitschule. Go behind the Reitschule building, cross two streets and you will see it. Bus 11 or 21 stop there, the stop is called Henkerbrünnli (which means Hangman's spring).
Internet
If you need to use a Computer for a shorter time: visit a Library. The most of them have Computers free to use but limited in time (1hr or so), but you can always ask to extend (no garanty). In the National-Library ("Nationalbibliothek", Tram #8) you just need to ask the Person by the Computers (not the person in the entrance) for a Code.
There's a free internet café at Monbijoustrasse 16. Follow the tram lines of #9 south out of the center and find the Internet Cafe Power Point on your right hand side. The place is just for the unemployed and poverty-stricken, but if you're a penniless traveller, they'll likely let you use one of their machines for half an hour. [EDIT. Summer 2017. NEVER mention you are a traveller, hitchhiker or whatsoever. The moment we told the guy of the Power Point that we were hitchhikers he considered us to be tourists and mentioned that we were just pretending to be poor. AVOID these words by all means and ALWAYS say you live in Bern for long-term]
Alternatively, there also is a free, publicly useable computer with internet at the Autonomous School at Lagerweg 12. From the train station, go downhill towards and past the well-known alternative culture center Reitschule, cross the bridge, turn left and turn right.
Public Transportation
Bern's system of buses and trams is verry good and very dependable. Inspectors can often be spotted as they wear black pants and red or grey shirts, and of course they have bags/bum bags/etc. If you don't have an address in Switzerland, you don't need to worry about being caught because there is no way you can be made to pay a fine.If you do happen to have an address in the country, lie, flirt and bargain your way out but don't show ID. Often the inspectors can be appeased by buying a Ticket from them or at the Ticket-machine.
Other
If you need to fix some Gear.
"Flickerei" Store - they fix all kind of Stuff for a very low Price. The Opening Times vary and can be checked on https://www.flickerei.ch. The Store is located in the Cellar, a bit hidden but if you take the alley at Laupenstrasse 5A just look out for Signs with "Flickerei". If you need buy cheap-stuff to fix things: visit coop "bau&hobby" or "migros do it +garden"

Hangout in Bern
If you want to Hangout, even if you dont consume anything, visit the Reithalle in Bern.
If its hot just ask People for a "Freibad" (free swimming bath) or look out for People which are swimming in the River and join them (its a local sport to swim in the river. Just watch out and ask where its ok! Dont jump simply "somewhere" in the river!
Comments from Authors about Bern
unknown: "BEWARE people from the StadtNomaden. StadtNomaden is a 'Wagenplatz'(which is kind of a wagon-village, people living in caravans) that rotates evey six months from one place to the other. We knew most of them but some of them proved to be very dangerous bastards. Beware something else: in whole Switzerland drugs consumption is quite wide spread. You need to watch out, because many of them lose their heads."
waymarks: "DONT talk to people who ask you for buying drugs, they hang out sometimes in front of the cultural center (Reithalle). Police shows up often and people who buy the very shit they sell get caught easily.
Cities in
Switzerland
with more than 30.000 inhabitants