User:Amines
Jump to navigation
Jump to search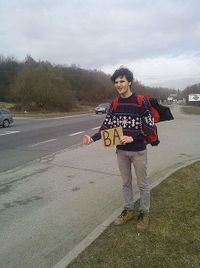 Hello!
About
I'm a human being from Bratislava, Slovakia. Stuying ...
I speak Slovak (motherlanguage), Arabic (motherlanguage), English, German and a bit of Spanish.
Personal Hitchhiking Records
Longest Ride
Longest Distance In 24 Hours
Longest Wait Time

Hitchhiking out of Istanbul - Came to the paytoll it was around 21:00, next day around 14:00 took a ride, then another, came to the border (BG-TR) hicthiked until the next day, then gave up and walked till svilengrad (got a ride to the trainstation) and took the train to sofia (6,95lv - 3,5eur)
On a gas station :- Around 14 Hours near Zaragoza,Spain. A guy told he will drop me here. It was in around 10pm so I had no idea where are we. Not sure if this counts, because for 6 hours I was waiting for a guy who told he will take me.

Shortest Wait Time

Few seconds, happened to me more than once.
Hitchhiking Summary
I hitchhiked in '17' countries
I hitchhiked '116' rides
I hitchhiked '16,996' km
Unforgettable Moments
Contact