Trier
Jump to navigation
Jump to search
Trier

<map lat='49.75221448190674' lng='6.649818420410156' zoom='12' view='3' height='350' />
Information
Country:

Germany
State:

Rhineland-Palatinate
Population:
103,900
Licence plate:
TR
Meet fellow hitchhikers on Trustroots
Trier is a historical city in Germany, very close to Luxembourg. It has approximately 100,000 inhabitants. Most of the old town belongs to the UNESCO world heritage, thats also why many tourists come to Trier.
Hitchhiking out
East, North, South towards everywhere
A good place is the Verteilerkreis in the north-east of the city, which is a roundabout that connects the local roads with the motorway. From the main station it's about 30 minutes walking, but you can also take bus 1, 30, 85 or 86. The bus stop is called Nells Park. It is a good idea to use a sign at this spot. You can hitch either at the bus stop or walk a little bit further to the on ramp where cars will also have space to stop. Don't stand on the road to Ruwer which leads trough an industrial area parallel to the motorway, there are sometimes prostitutes and you may be misunderstood.
If you want to go from the Verteilerkreis via the A1, A48 towards Koblenz you may get offered a lift to Wittlich (happens very often), which is before the first service station on the motorway. You can take it, because the ramp in Wittlich-Mitte is a good place to hitch on.
From Verteilerkreis you have good chances to hitch to Hahn Airport.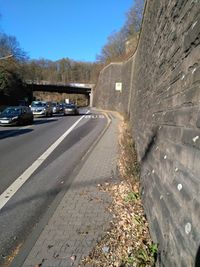 Take the bus to Fachhochschule and exit at the terminus. There is enough space to place yourself, uphill is the motorway to Luxembourg and the road straight (B 51) is heading to Bitburg (and from there further to Belgium).
You will find a cargo railway station north of Trier in Pfalzel. Maybe you will be lucky here (not tested).
You will notice many Barges on the Mosel River. You may have a chance asking at the watergate. It is on the left Mosel side between the camping site and the industrial area in Zewen. Remember: hitchhiking a barge is very slow. Maybe you can also ask at the small yacht club. It is south of the Watergate.
Public transport
Bus
Trier has a good bus network. Due to the buses being relatively expensive (EUR 2.45 for a single ticket) walking may be a good option, because Trier isn't this big (you can walk from the very north to the very south in 1 hour).
There is a regular bus connection to Luxembourg served by Voyages Emile Weber (line 118). With the day ticket you can also use for the local buses in Luxembourg City.
Trier Verteilerkreis is a stop of the regular bus line between Metz <-> Thionville <-> Luxembourg <-> Trier <-> Hahn Airport. The bus has to be booked in advance at flibco.com and is quite expensive, unless you book well in advance. Don't take this, because it is no problem to hitch from Verteilerkreis to Hahn, or from the Fachhochschule spot to Luxembourg/Metz.
Train
Using the train served by Deutsche Bahn is expensive. From Trier you will find a line to Luxembourg, Koblenz and to Saarbrücken / Kaiserslautern. You will definitely (at least at daytime) be faster hitchhiking than using regional trains.
If going through Luxembourg you might be interested in taking trains once you have crossed the border as there is a 2hour ticket that gets you about anywhere for 2€.
Sleeping
Wild camping
If you want to hitchhike on to Bitburg, Belgium, Luxembourg the next day you can already approach the hitchhiking spot mentioned above. From there you walk to "Weisshaus Wald" it is the next street to the right and find a place somewhere in the forest. Another option is to find a hidden spot at the Mosel river, but a lot of people walking with dogs here. Another option is to climb up the Petrisberg and sleep in the small forest there. Very central is a dark place in the Palastgarten in the central city for example the playground there. For all places: Pitch up in the dark and leave before dawn.
Hospitality exchange networks
There are many students living in Trier. So Trier has a great hospitality exchange network community. You will definitely find accommodation via one of the well know hospitality exchange networks, but it can be difficult during the semester vacations. Maybe you can also try to contact Quarim.
Camping
In Trier you will find a camping side on the left side of the Mosel River in Trier West. Another camping site is located in Igel, 12km from Trier.
Nomadwiki & Trashwiki
Check Nomadwiki for info on accommodation, showers etc. or Trashwiki for dumpsters...and share your wisdom :)