Saarbrücken
Jump to navigation
Jump to search
Saarbrücken

<map lat='49.22432427721752' lng='6.99554443359375' zoom='12' view='0'/>
Information
Country:

Germany
State:

Saarland
Population:
176,000 (31 Dec 2007)
Licence plate:
SB
Major roads:
A6, A1
Meet fellow hitchhikers on Trustroots
Saarbrücken is the capital of the German Bundesland Saarland, located right at the French Border. It's not really something you wanna visit, beneath lots of other German cities, there are no important monuments. It's a student City and it's a border city to France, that's the main reason why you wanna get there.
Get there - Quite a hassle
According to lots of people from other German Departments, the "Saarland" doesn't even deserve to be German, they say. Some people even think, it's part of France and not Germany. And that's what it feels, if you wanna get there - It's somehow the arse-end of Germany. The only highway that deserves that name (2015) is coming from Mannheim - and if you just check out the map of the highway junctions around Mannheim you might feel dizzy afterwards...
Coming from Munich / Stuttgart / Switzerland / Austria
This following instructions according to Windsohn who has been living there for some time and hitchhiked quite a lot in and out are only helpful for you if you are used to the highway rest area hitchhiking style. If you prefer to stand at the highway entrances, that guide is not recommended. According to talk it's not always the fastest way, but the most secure way to always get here within reasonable time.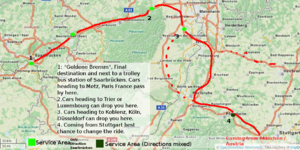 The really best way to get there, as I learned it, is on the highway - and once you're on the highway, never leave it again until you're at your destination, otherwise you gonna die alone in the forest! -.- From Munich towards Stuttgart and from Stuttgart towards Karlsruhe, check out the other Wiki pages. Whe you are on the highway between Stuttgart and Karlsruhe, make sure you get dropped on a service area, like Pforzheim which is located between Stuttgart and Karlsruhe. There you change the car to a car that goes either directly to Saarbrücken or towards Koblenz, [Cologne[Köln]] or Düsseldorf. Then let you drop down again at the service area "Dannstadt-Ost", close to Mannheim and change the car again. This time take a car towards Saarbrücken (if you are veeery lucky) or towards Trier / Luxembourg (what is most likely). Ask them, if the could just take you to the next petrol station which is about 20km from there. And this Petrol station, also some kind of service area of course, is called "Pfalz" and it's located next to a village called "Hettenleidelheim". There you can ask the cars that are heading towards France or towards Saarbrücken. Again - don't take half-ways or you gonna die in the forests of Saarland (Saarland is famous for the most trees per civilist). If the driver is heading towards france: The service area "Goldene Bremm" (more below) is the only spot where you can get off, the highway to France is not passing through the city itself.
Hitching Out - Many directions
The service area Goldene Bremm on the A6 is the best spot to hitch near the city. You can reach the service area easily by taking bus 123 or 126 to Neue Bremm. Don't confuse it with the Autohof that's nearby, there is a proper highway gas station, too! Take a look at the schedule of the buses. Enter through the back doors of the buses if you don't want to pay, I have been living in Saarbrücken for two years and have never seen anyone controling tickets. Waiting time is 5-30 minutes when heading towards Metz, Paris, Strasbourg. You can catch a ride even to Spain or to Nuernberg, Dresden, Leipzig or even Poland. Zenit found the service station quite depressing to get rides towards Strasbourg and ended up settling for a ride towards Metz after spending the night and trying to get a ride for about five hours, changing directions at the Longeville service station.
Go to the big bridge on Malstatter Strasse. You will notice many cars stopping at traffic lights beside the Luxembourg motorway sign. Approach the cars when they have stopped. I got a lift in less than 2 minutes.
After 15 KM there is a service station located on the Saarlouis section of the motorway. It could be useful for lifts in other directions.
Nomadwiki & Trashwiki
Check Nomadwiki for info on accommodation, showers etc. or Trashwiki for dumpsters...and share your wisdom :)
| | |
| --- | --- |
| | This article is a stub. This means that the information available to us is obviously insufficient. In these places little information is available or the description is severely outdated. If you have been there, whether hitchhiking, for travel or as part of an organized tour − be sure to extend this article! |