Stuttgart
Jump to navigation
Jump to search
Stuttgart

<map lat='48.79' lng='9.19' zoom='11' view='0' />
Information
Country:

Germany
State:

Baden-Württemberg
Population:
606,588 (31 Dec 2010)
Licence plate:
S
Major roads:
Meet fellow hitchhikers on Trustroots
Stuttgart is the capital of the German federal state Baden-Württemberg.
Hitchhiking out
Possibility 1
Esso petrol station Heilbronnerstr: From Hauptbahnhof (Central Station) take Metro U5, U6 or U7 just one stop to "Stadtbibliothek". Leave the station in driving direction and walk about 100 metres up the hill. On the right side there is the petrol station where many people fill their tanks before they're entering the motorway.
You can also stay some meters before the petrol station. There is a little green area and after that a departure for a car park or something like this. With a good sign you get lots of the traffic out of Stuttgart heading towards the motorway and they can stop quite easily. Took me one hour at a Friday to get a straight ride to Würzburg.
Possibility 2
From Hauptbahnhof (Central Station) take Metro 15/7 to "Borsigstraße". When you leave the train, there is one petrol station in front of you (direction of the train) . Most of the cars that stop there go on the motorway ("Autobahn") A81
When you are on motorway (Autobahn) A 81 you can jump off on the resting place called "Wunnenstein" that has also a petrol station and is between Stuttgart and Heilbronn or rather the departure to motorway (Autobahn) A 6. From there you can get rides to the north or west. But there I sometimes had to wait longer (about 45 minutes in average) to get a ride to the north because a lot of cars are going to the west.
Löffelstraße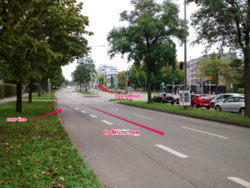 Löffelstraße/Stuttgart-Degerloch (B27 that leads to A8 München-Karlsruhe) – From Hauptbahnhof (Main Station), you can take the metro U5 (Leinfelden), U6 (Fasanenhof), or U12 (Möhringen/Vaihingen) and exit at the stop Degerloch. Leave the station and go West towards big omnibus station, then cross the big street at the traffic light, and walk on straight until you reach the start of a turn lane

This one is also a good spot to go south on the B27 towards Tübingen/Reutlingen, to the airport, and it might also work for all other directions (according to the license plates of passing cars).

If you are going to Munchen from Stuttgart you will need to go on highway 8, take care not to go on highway 7 because you will get stuck there if somebody leaves you on some rest place or petrol station after Ulm. You can not get to Munchen from anywhere on highway 7 because everyone is going in a different direction. If you are stuck there you will need to ask a driver to just move you on to some other place from where you can catch ride to highway 8.
South towards Singen and West towards Karlsruhe
It is perhaps best to check the hitch map also as there have been numerous stories of these points being hard to leave. There is only one rest station between Stuttgart and Karlsruhe. Getting to Strasbourg and beyond is a little tricky as there's no rest stations on the route down between Karlsruhe and Strasbourg apart from ones that are off the route. The German autobahn is much more frequented, it seems, but regardless, try to get a straight ride from before Karlsruhe to Strasbourg.
Stuttgart-Vaihingen
Motorway on-ramp "Stuttgart-Vaihingen" (A831 that leads to A8/A81) – From Hauptbahnhof (Main Station), you can take S-Bahn train S1 (Böblingen/Herrenberg), S2 or S3 (Flughafen/Filderstadt), and exit at the stop Vaihingen. Leave the station to the right (direction of the train) and walk straight past the place to "Robert-Koch-Straße". There you turn right and continue on to "Hauptstraße", where you turn left and follow the street until you reach the motorway on-ramp.
You can wait there with a sign on the striped road markings. This is not the best place, as it is illegal for cars to stop there (nonetheless, it is likely that they will, because they cannot go very fast here). Also, you may attract attention from the police, as it is also illegal to stand there.
This one is a good spot to go south and west, but it might also work to get a ride east towards München. The A831 motorway leads directly to the A8/A81 interchange "Kreuz Stuttgart" that connects all directions.
Stuttgart-Österfeld
Car park "Stuttgart-Österfeld This is an alternative to "Stuttgart-Vaihingen". You also take the S1 in the direction of Böblingen/Herrenberg or the S2, S3 in the direction of Flughafen/Filderstadt but you get of at the stop "Österfeld". This is just one stop in front of "Vahingen". There are two pedestrian-bridges connected to the trainstop. When you get of the S-Bahn turn left and take the bridge that the train passed first. It is connected to a multi-story car park. The car park is just a couple of hundred meters away from the motorway entry. A lot of people are using the car park and take the S-Bahn into the city centre to avoid the traffic. Especially if the local football/soccer team is playing or if there is a similar event in town you should easily get a lift asking the people driving out of the car park. Obviously there are a lot more people leaving the car park in the evening but you should get a lift during the daytime as well.
Just outside the car park is a roundabout so you can try to get there a lift too.
Or you turn right at the exit of the car park. 100 meters down the road are some traffic lights. All the cars on the left lane are driving directly onto the motorway. You can easily ask them if you can get a lift or use a sign.
Stuttgart-Denkendorf
About 15 km south-east of Stuttgart on the A8 there is the service station Denkendorf. Lots of cars are passing by here coming from the direction of Munich, lots of them going to Stuttgart but many also going further on the A8 or A81. The station can be reached by taking the U7 metro to Nellingen Ostfildern (which is the last stop), and from there bus 119 to Denkendorf. Leave the bus at Rathaus. The journey takes about 50 minutes from Stuttgart central station, costs eur 3.60 and normally there is a connection at least every 20 minutes. If it is more practical for you, bus 119 also departs from Essingen Hbf.
From Rathaus bus stop, go back 20 meters, then take a half left turn into Kirchstraße, follow it for about 1 km. Then again a half left turn into Friedhofstraße, follow it out of the village along the cemetery. Take the second to the left (still Friedhofstraße), follow it up the hill (keeping to the left), and after a small hill you will reach the service station. To avoid frustration when asking the drivers, note that cars whose German number plate starts with the single letter S are registered in Stuttgart and will probably end their journey there
When you cross Stuttgart than it is not so easy to go down to Konstanz with high way 81. You have every 20 or 30 km petrol stations with a lack of traffic. A lot of people are going to small places and they will go out from high way so you ask them and check if there is any petrol station before they went in their direction. On petrol stations you must go and ask drivers because you will not have so much opportunity to catch ride. When you get closer to Konstanz, maybe 50 km before a lot of drivers will go to Switzerland but you can try from there back to Konstanz. If the dark falls than it will be more difficult because traffic more reduce, so just be prepared.
Take S1 direction Herrenberg and drop of at Nurfringen. When leaving the Train, go direction Wiesengrund and from there go through the forest to the Schönbuch petrol station. Baam! You are at A81 direction South! Have fun!!! https://goo.gl/maps/eBnBq
Nomadwiki & Trashwiki
Check Nomadwiki for info on accommodation, showers etc. or Trashwiki for dumpsters...and share your wisdom :)