Milano
Jump to navigation
Jump to search
Milano

<map lat='45.49094569262732' lng='9.22027587890625' zoom='9' view='0' float='right'/>
Information
Country:

Italy
Population:
1,303,000
Licence plate:
MI
Major roads:
A1, A4, A7, A8, A9
Meet fellow hitchhikers on Trustroots
Milano (English: Milan, German: Mailand) is the second biggest city in Italy.
Hitching around
The Milano metropolitan area is very large and the road network complex. If you are dropped at a petrol station on the outskirts of Milano, it will probably prove faster to take public transportation across the city and hitchhike from the other side, than to try to get a lift around the city.
Hitching out
Both petrol station are still on Milano ring road, which means most of people will be going just nearby the city. Refuse any lift which doesn't go at least after Agrate ask for a big Agip Brianza petrol station from there finding lifts will be super-easy though don't risk to get stuck on the motorway that is illegal.
Best combination to go to Venice or Slovenia is: ringroad station > Agip Brianza station > Sommacampagna (Verona) Bauli Station > Arino (Padova) Limenella Station -> further
Option 1: Area Di Servizio Cologno Est rest stop
Take metro 2 (green line) to Cologno Nord. Exit to the left and go down the stairs to the right, you should see a parking with buses. Keep walking straight (northeast) for ≈600m along Via C.A. dalla Chiesa to the junction (there is a bridge over the motorway to the left). Keep walking straight on along the edge of the field (there's a fence blocking your access on the motorway side) for 200m until you arrive at a big electricity pole with a couple of doors under it leading you to the service station on A51 highway.
Option 2: Autogrill Cascina Gobba Est rest stop
Take metro 2 (green) direction Cologne Nord or Gessate and get off at Cascina Gobba. From the platform right where you get out of the train, there begins a footbridge over the motorway leading to an extra train which only goes to a hospital Ospedale San Raffaele. It costs 1.20€. After you get out at the hospital, follow the stream of people and go up the first steps you see (round ones). Look for a high place – from there you can see a Eni petrol station. It is best is to ask someone to show you the best way down to the petrol station.
Walk for around 10 minutes from Porto Di Mare metro station to the Tamoil petrol station on the other side of the motorway. Look on the city map in metro stations how to walk there exactly
Option 1
Take the metro to the station Famagosta and 2.5 km walk down by A7 at the end of Via Giuseppe de Finetti street is Autogrill Cantalupa Ovest rest stop
Option 2
Catch bus 46 after you leave Famagosta. Take it just 1? stop about 5 minutes. There is a pizza place called Fratelli Diversi by the bus stop. (Big green sign). Ahead you'll see a pedestrian bridge over the motorway which leads right to a service station on the highway and the advantage of being able to talk to people.
Option 1: Slipway Via Antonio Sant'Ellia
At the end of Via Antonio Sant'Ellia (metro station QT8 on the red line) close to the park Monte Stella, there is a big slipway to the full motorway interchange between A8 and A4. So it is possible to hitch to west, north and east from there. Stand on the curb before the slipway splits with a sign. There is a street lamp nearby, so it is possible to hitch at night. N.B. occassionally there is street prostitution on the other side of the road close to stadium San Carlo.
Option 2: Via Fratelli Rizardi traffic light
Another good place where you can catch more westwards traffic is at metro stop Molino Dorino. There is a roundabout which splits the ramps and car park driveways. Stand at the traffic light close to Via Fratelli Rizardi with a sign. Because of the traffic light, cars need stop longer before ramping onto the motorway tangenziale ovest A50, so you have more chance to be seen and longer time for the driver to think.
Option 3: Q8 and McDonald's on Viale Alcide de Gasperi
Good spot to go to Torino/French Alps and it was really good and actually it's possible to go in the other directions too - like Verona, Venice. It's a petrol station/McD near of the metro station QT8. It's necessary to walk in Via Collecchio and cross the bridge. There is a park in the end of the bridge and you must follow the path until find a small street called Via Don Luigi Palazzolo and turn right in the road. Around 100 m further you will find the petrol station where you can ask for someone there or you can go directly to the road with a sign. I got a ride directly to Chamonix (France) and the driver was on his way to Geneva. This spot is less than 10 minutes walking from the metro station.
EDIT (09/2021): Didn't worked for me, waited for 5 hours without result. There was no one going to Torino, one car going to Switzerland and most of the traffic was going to Milano city centre or other cities like Verona. Afterwards I went to the Pero Nord petrol station and found a ride to Torino in less than 30 minutes.
Option 4: Area Servizio Pero Nord
Getting to a service area on the Autostada is very simple. One takes the Metro Line 1 to Pero station (direction Rho Fiera Milano: trains on Line 1 alternate destinations between Rho Fiera Milano and Bisceglie, which is to the southwest), and then walking southwest on the little pedestrian street onto which the station exits (Via Mario Greppi) you turn right on Via Oratorio. Follow it to the end where to your left there will be a roundabout; enter the roundabout and take the first right onto Via Papa Giovanni XXIII. You'll see a water tower of sorts in the distance, which is to where you walk. Just below and beside the tower, on your right, there will be a little paved walkway which is a pedestrian and bike trail over the highway. You'll see the service area to your left as you're crossing the highway. Follow the trail as it continues just below the station's fence and shortly you'll find a revolving metal door that provides easy pedestrian access, and then you're in! A map of these directions can be found here; it takes around 20 minutes walking.
It is not the busiest of all service areas, but there is a steady flow of traffic; many trucks stop here for their pausa, and many take the turn right after the station onto the
on their way to Switzerland.
There is a petrol station on the A8, before the junction where the A9 branches off, leading towards Switzerland. You can reach it by taking a local train to the community of Rho (S5 or S6 should go there, 5 stops, 2-3 Euros but there are no barriers et5. Important: Don't take the metro to Rho - it stops at the Expo site 5km before Rho central) and then taking a bus Z113 towards Lainate (direction is Saronno; bus is blue).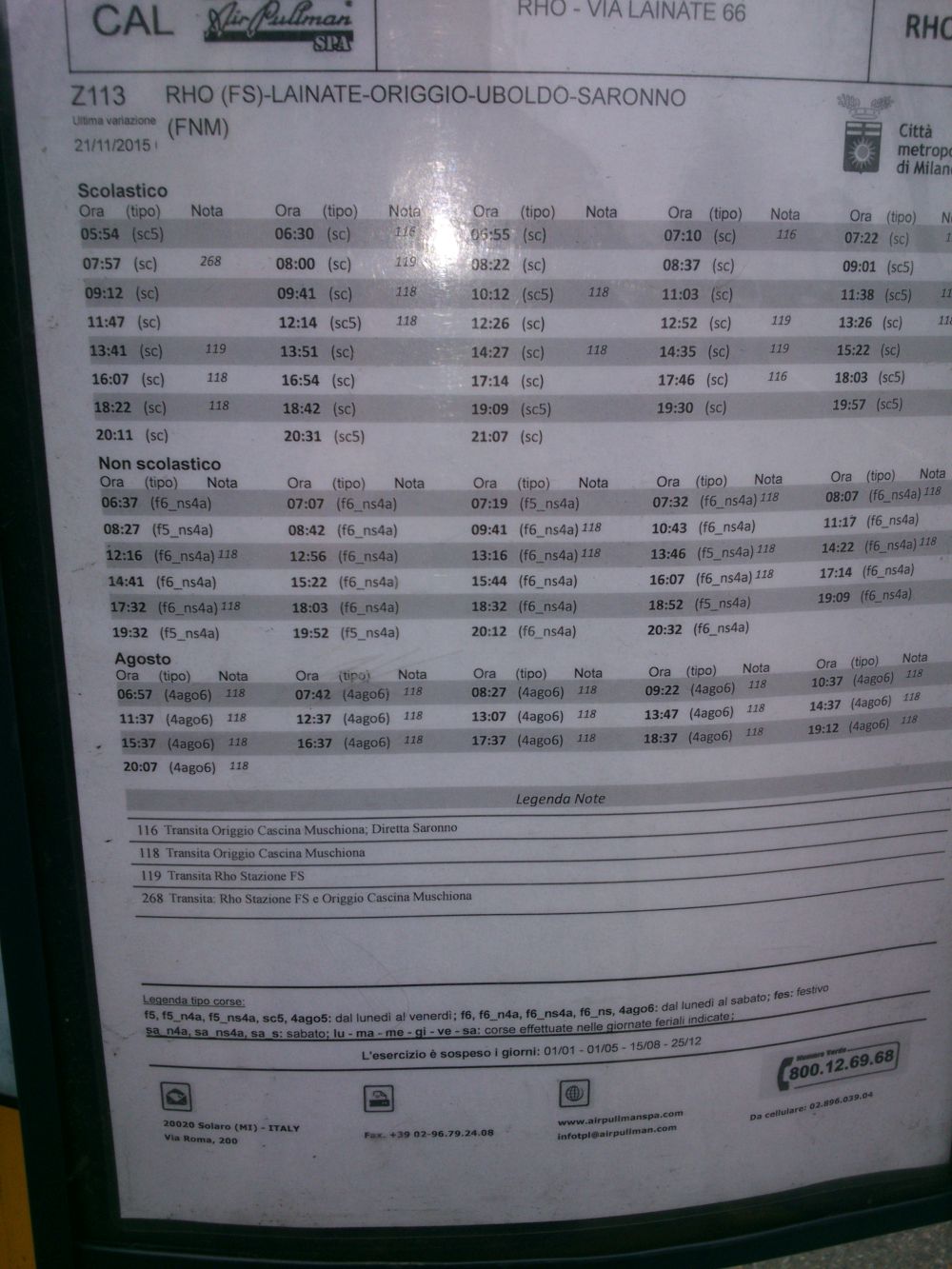 The bus should cost around 1,55 Euros. Get off at the stop Via Pagliera (the stop isn't called Pagliera anymore, but it's right after the roundabout) or Via Alessandro Manzoni, and walk towards the little roundabout between Via Giacomo Puccini, Via Scarlati and Via Gaetano Donizetti. This is an industrial area, just walk to the end of Via Gaetano Donizetti, you will reach the petrol station, southwards (there is a turnstile in the fence - when you get closer to the area keep left to find it).
On the petrol station, find the sottopassagio/underground walkway which will take you to the other side. From there, it should be easy to get a hitch on the A8 or A9 northwards, towards Lago Maggiore, Lago di Como, Switzerland.
To Lago di Como it is quick to get a ride from 45°29'59.9"N 9°07'50.6"E. Off the record: if you are taking the train from Como back to Milan after 21, they almost never check tickets.
Option 2. Service Station directly on the A9. (Lario Est)
You can take a regional train heading towards Como and get off at Cadorago. (Very unlikely to get checked for a ticket but there is a barrier at Milano Cadorna.). Then cross the parking lot at the station to the roundabout. Then heading away from the tracks, follow Via Roma for about 500 meters until SP26 (Via Alessandro Volta). Turn right and go about 600 meters to via Giacomo Puccini. Turn right and go about 400 meters and you will arrive at the service station. Unfortunately, the gate on the back was closed when I got there. I tried asking the attendant, who just arrived through the gate, and she said it was closed and I would have to go around. There is a fence all around the Autostrada but when you go far enough north there is a small hole in the fence (close to the tunnel). You have to fight your way through thorny blackberry bushes though. After that you can walk back from the other side of the fence. From here you should easily be able to find a ride into Switzerland and across the Alps.
Sleeping
The hospitality exchange community is one of the biggest in Italy, you should not have problems finding a host on Couchsurfing etc.
If you hitch at Monte Stella, there are plenty of long benches in the park and a public water tap nearby. It's a good place to stay on a summer night.
Parco Nord (tramway 31 or 4, taking from yellow subway zara or maciachini) can be a nice spot to camp. Big enough to hide, lots of tap water. Parco Lambro may also be a good place for free camping. However, there is risk of theft in either park. All other parks inside the city (Giardini di Porta Venezia, Parco Sempione, Parco Solari) are closed during the night.
Eating in Milano
The are two places Milano where you can have free food. Both give food for homeless, poor people and are called "Pane Quotidiano" (It means "daily bread") They usually give some bread, pasta, vegetables and sweets every day without asking you money or papers from 7:00 to 11:00. One is located in Viale Monza 335 you can arrive easily there with the Red Metro Line in Villa San Giovanni the other one is located in Viale Toscana 28 you can arrive there with the bus 90. You can recognize it easily because you can see lots of people waiting there. (Note: Do not abuse these places, they are for those who really need it! Prinoblog, talk 13:16, 2 June 2014 (CEST))
ATTENTION! Do not go there during weekends,their distribution runs Monday to Friday and the time is 09:00 - 11:00
Busking in Milano
Milan has a very welcoming policy for street performances. They may now perform in the designated squares and streets every day of the week from 09.00 to midnight. There is an official website "Strada Aperta" where you can book the place where you would like to perform, usually you can find many performers in the centre from Corso Vittorio Emanuele to Piazza Castello.
Nomadwiki & Trashwiki
Check Nomadwiki for info on accommodation, showers etc. or Trashwiki for dumpsters...and share your wisdom :)