User:RedFox
Jump to navigation
Jump to search
About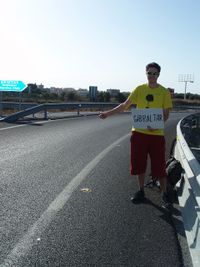 RedFox is a Swiss hitchhiker from Yverdon-Les-Bains. Even though he hitched a few times to reach small villages of Switzerland that were lacking public transports, he really started hitching with his brother and 2 friends in 2012. They made a bet about who would arrive first in front of the Manneken pis in Brussels, starting from their home town in Yverdon, Switzerland. Even though he lost this race for 40 minutes, it did not discourage him, and along with his 3 buddies (and later other friends), he continued to hitch Europe.
Their group is called SomewherExpress and they raced towards Brussels, Monaco, Helsinki (through Bratislava, Krakow, Vilnius, Riga and Tallinn), Amsterdam, Oslo (through Prague, Berlin, Copenhagen and Stockholm), and Barcelona so far.
He also hitched some rides with his then girlfriend and now wife in Switzerland, France, Belgium, Spain and Kosovo.
Links