Tallinn
Jump to navigation
Jump to search
<map lat='59.39686968816479' lng='24.770050048828125' zoom='10' view='0' float='right'/> Tallinn is the capital of Estonia.
Hitching in
If your driver is not going into Tallinn, but only proceeding on the Tallinn ring road towards Narva (as many trucks do), don't get off at the first roundabout where there is a road into the city. From there, it is a long distance into the center. Instead, stay with the driver until the last roundabout east of Tallinn where the E20 branches off towards Narva. From here the distance to the center is only about 12 kilometers and it is easy to hitch into the city.
Hitchhiking out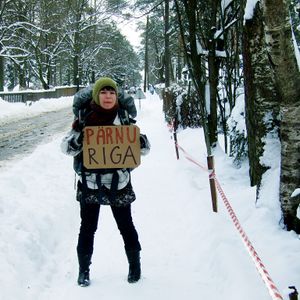 Option 1: E67 (Laagri)
1. Take bus 18 from bus-stop Viru (close to the Viru Gate entrance to the Old Town where the McDonalds is) to the final stop Laagri (about a 30 minute ride). Walk on about ≈150m along Pärnu maantee, the large road to the south, and hitch. Traffic is going fairly slow and there's a wide hard shoulder.
One stop earlier, you will also find a petrol station. Also buses 10 and 14 stop nearby at their end stations.
2. Take the "Elektriraudtee" commuter train from Tallinn-Balti jaam to Laagri station and walk to the main road as above.
Option 2: On the ferry
If you are arriving to Tallinn by a ferry and not planning to spend any time in the beautiful city, it is advisable to go to the car deck on the ship about 30 minutes before arrival and ask drivers directly for a ride. Looking at licence plates helps. If you don't get a ride before the doors open and the cars start leaving, climb the stairs back up and leave the ship as any other foot passenger.
Option 3: At the ferry terminal
It is also possible to hitch from the ferry terminals. When arriving at the port from Helsinki on Viking Line or Eckerö Line, just walk to Logi street, some 200 m away from the passenger terminal towards the city and stick out your thumb. Many trucks can take you all the way to the Polish border. There is probably a similar place for trucks coming with Tallink's ship, as well. Use a sign so that the drivers know where you are going. You can see the timetable for ships arriving to Tallinn here.
Option 1: Highway 1 at Pae
Take one of the following buses: 12 (Väike-Õismäe - Priisle (this is an express line and costs more)), 13 (Väike-Õismäe - Seli) or 54 (Mereakadeemia-Estonia, 67 (Estonia-Seli) or 68 (Estonia - Priisle; does not circulate at Sundays) or better still, tram 2 (Kopli-Ülemiste) or 4 (Tondi-Ülemiste) to Pae. The tram-stop to take from the centre of the town is Hobujaama. When you get to Pae hitch from the crossroad of Peterburi tee and Pae. Although buses in the 100's and 200's (e. g. 156) go there from Balti Jaam as well, they drive out of town and are therefore much more expensive than normal buses. Also, Pae street is still pretty much in town and hitchhiking from there might be a bit more difficult.
Option 2: Highway 1 at Pirita Jõgi
A better option is to hitch from Pirita Jõgi, which is on the border of Tallinn. To get there one has to walk for some distance, though. One can go on any bus leaving from Balti Jaam to Loksa (e.g. 152). These are also buses that leave town and therefore cost more. To get there by Tallinn's public transportation one can take one the buses 13 (Väike-Õismäe - Seli) 49 or 54 (Mereakadeemia-Estonia), 67 (Estonia-Seli), 68 (Estonia-Priisle) to Priisle (or Seli if you take bus 67) and then walk along Rahu tee until one reaches Peterburi tee and walk eastward. It's best to start hitchhiking from after the bridge over Pirita river.
To get from Pae (Option 1) to Pirita Jõgi (Option 2), one can (in addition to buses 13, 54, 67, and 68) also take either bus 50 (Seli-Pae) or 58 (Priisle-Pae) to Priisle.
Southeast towards Tartu
Take bus #2 from Viru to Pühamägi (next stop after the airport) and you can hitch just after the bus stop. If hitchhiking is not possible due the big road construction works (as of April, 2013), continue to walk on left side of the road for one more kilometre in order to get to a place with enough space to stop.
Mostly on summer Sundays you can attempt hitching a private boat/yacht going back to Finland. It might take 6-10hours to cross with a yacht so better try your luck with a fancy expensive motorboat first. Two marinas in Tallinn: one in main port near Sadamarket; another in Pirita - more relaxed (Tomi Astikainen reports hitching a fast and expensive boat with only 55min ride). Hitchin boat in Tallinn (as often) could be really time and energy consuming, especially if summertime and weekend you might do it but prepared to long wait and lots of refuses, there are not so many boat and they are not really eager to give you a lift. Though if you have patience and time it could be a very good experience and should be easier than find a truck driver allowing you to hide in his cabin. Prefer Pirita marina to old center one cause there are more boats and most of finnish arrive there
Black riding a ferry with a truck: convince a truck driver to let you sit on his bed and not mention about a passenger when tickets are checked. This can be done in parking lot near Logi street near terminal A and bigger truck stop behind terminal D. You will risk to be cargo scanned, although amount of x-ray shouldn't be dangerous. However if they find you, it will be considered as a mild border violation and you'll thus get a fine.
While on the ferry, you should hitchhike already on the car deck of the ship. Go to the car deck about 30 minutes before arrival time to the harbour and start asking around. If you have a large backpack, keep in mind that at some point the car deck's doors will open and the cars will start flowing out into the harbour. You don't want to be between large trucks at that point! As over 50% of Finns live more than 150 km away from Helsinki, you will be able to get a rather long ride this way!
Cheap Ticket Since the ferries aren't hitchable, you might have to buy a ticket. One way tickets cost cost between 15 and 70 Euro/person (depending on the season etc.) So instead you might want to buy a "minicruise" ticket. That usually means you stay on the boat until it arrives back at your starting point. Anyways, no one is controlling the leaving passengers, so you just leave after half the ride you paid for. These tickets are usually a lot cheaper, since they expect you to buy food etc. while on board.
Ferry companies
Public Transport
This site and this one too have great journey planners and they both also show timetables and routes for all public transport in Tallinn.
Tallinn has free public transportation for its citizens. Non-citizens either buy a ticket from the driver for 1.60€ or a green card at kiosks which is called Ühiskaart. It costs 2€ once and then can be charged with money. You can also buy an e-ticket (also at kiosks). If you put money on your card one hour ticket costs 1.10€. If you buy an e-ticket, a one-day ticket costs 3€. There are not many ticket inspectors around the town. But if they catch you, you could try to pretend to have no money and get away with it. They give you a fine (first time 20€) which you should pay the day after, but well, maybe you are already on the way south.
Sleeping
The ferry terminals close for the night. However, outside the terminal entrances there are benches where you can unroll your sleeping bag (if the weather is relatively warm). In summer Pirita marina is a perfectly calm and cool place to set up your tent in tje wood or sleep in the beach and try your luck hitchin boats the morning after
Nomadwiki & Trashwiki
Check Nomadwiki for info on accommodation, showers etc. or Trashwiki for dumpsters...and share your wisdom :)