Difference between revisions of "Quebec"
Jump to navigation
Jump to search
---
Revision as of 14:55, 1 July 2007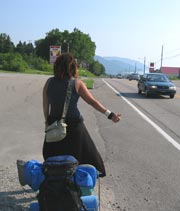 Quebec is the largest province of Canada and the second in population. The official language is French and it's local dialect while English is in minority and more widely spoken by the border areas.
The province is bordered by Ontario to the West, the United States to the South (New-York/Vermont/New-Hampshire and Maine), New Brunswick to the South-East and Labrador to the East.
The vast majority of the population (and therefore the cities) are located in the southern part of the province by the shore of the St-Lawrence River. Québec is the Capital and administrative centre of the province also being the historic gateway to the northern part of the continent, it is the second city of Quebec and the seventh of Canada in term of population.
Montreal is the main economical centre and the second city of Canada in term of population with a population above 3 milions.
The third biggest city of the province, Trois-Rivières, is located half way between Quebec city and Montreal on the north shore of the St-Lawrence, being another historic city that has mainly follow an industrial path in its development.
Sherbrooke, Gatineau-Hull, Drummondville, Chicoutimi and Rimouski are also important regional cities usually located outside the St-Lawrence river vallee corridor of Quebec-Montreal.
Local behaviour towards hitching
Road and Highway network
The numerous provincial roads follows a grid pattern where the even number marks the roads heading East-West, while the uneven indicate a road heading North-South.
The main highway vectors are the A-20 (Transcanadian Highway) which goes East-West from the border of Ontario through Montreal until the border of New Brunswick passing on the south shore of the St-Lawrence river.
Highway A-40 follows the same path on the north shore of the St-Lawrence, going through Trois-Rivières and ends up in Quebec city. The connection between those two main highways can only be made through one of the few bridges crossing the St-Lawrence at few specific points.
This is possible either:
in Quebec city in the east by the Pont de Québec and Pont Pierre-Laporte (highway A-73 which connects Maine/USA to the Saguenay/Lac-St-Jean (Chicoutimi) area through Quebec city.
in Trois-Rivières in the middle part of the province by the Pont Laviolette (highway A-55 which connects Vermont/USA to Lac-St-Jean area through Sherbrooke and Trois-Rivières
in Montreal in the western part of the province by several bridges through the metropolitan Montreal area. (highway A-10 which joins the A-55 in the East near Sherbrooke; highway A-15 which connects New-York/USA to the Laurentides area and Ottawa.
Cities
Places of interest