Difference between revisions of "Sarajevo"
Jump to navigation
Jump to search
Line 35:
Line 35:
 

[[WikiPedia:Sarajevo]]

 

[[WikiPedia:Sarajevo]]

 

__NOTOC__

 

__NOTOC__

 
+
 
+
 
+
 
+
 
 
 

=== Southeast toward [[Montenegro]] ===

 

=== Southeast toward [[Montenegro]] ===
---
Revision as of 17:16, 20 December 2013
Sarajevo is the Capital of Bosnia and Herzegovina.
Hitchhiking out
To hitch north take tram #3 towards the southern outskirts of the town Ilidza. The road north is marked with a sign towards Mostar and Zenica. Show the tram driver Zenica on a map and he'll tell you which stop to get off on. You'll see an overpass that looks like a freeway on-ramp. Get up on that road and then walk north about 1km past a grocery store on the right. That will get you past much of the inner-city traffic and to places with more open area for cars to stop.
Second advice: take bus #23 to the last stop, Rajlovac. It gets you on the main road out of town, too, but a bit more north than tram #3. You then nearly don't have to walk.
Road and motorway numbers change often and/or are not posted along the way, so once you get out of town, to get to Mrkonjic-Grad and Banja Luka, head towards Travnik, then Jajce. For Pecs, towards Tuzla.
Note from Nalddo :if you use the spot above, you will first have to hitch to a junction North of town where the road splits in 2. You can get to this junction directly. From downtown, take bus 21 to the last stop, in Vogosca. From there, continue walking a few minutes on the road until you reach a bridge. This is where the road M18 to Tuzla and motorway A1 to Zenica split. You can thumb easily to either direction. To hitch on the highway, I recommend walking a few more minutes to reach the paytoll
This advice from Nalddo is very good, we used in May,2013. When you go out on last bus station you just walk north pass petrol station on right side(I ask on petrol station and staff told me that we can hitchhike there but it is best place after bridge on junction on right side and we catch ride there. If you are going to Tuzla like we did, there is no pay toll, so when you come to junction just hitchhike on right side and this is way to Tuzla you can not miss it. If you need to go to Zenica, than you need to go left on junction, walk a few minutes follow sign for Zenica and than come to pay tolls and hitchhike there.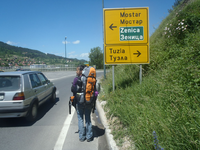 From the city centre, take tram three in the direction Ilidza. After about 15 minutes, get off at the stop right after a small group of petrol stations located to your left and right. There is a bus stop here where you can stop a car, and as it is just after a stoplight cars will not be going very fast. Because of the large amount of suburban traffic, using a sign is recommended.
To go east take the tram to Bascarsija and you will see the road which seems to go into the hills along the river. Bascarsija is actually in the middle of the city so don't make the mistake to board the train in Bascarsija and going to the other end station just to relies you where right from the beginning. trash:Sarajevo WikiPedia:Sarajevo

This is easy enough to get to, but getting to Serbia is not a straightforward hitch. Simply follow the road with the river on your right heading East. I walked out of the city for about 5-10 minutes eventually passing through a long tunnel. Shortly after there is a turning on your left for a hotel, and on your right there is a great place to stand and for vehicles to pull into.
--Looking for Stu (talk) 17:16, 20 December 2013 (CET)
Walk from Bačaršija to the street Garaplina that goes uphill. At the end of Garaplina, there will be a traffic light. This is the intersection with Mladih Muslimana street, which is leaving the city in the direction of Montenegro. Hitch at the traffic light or from the petrol station 50 m further down the road.
Go in the direction Trnovo and Foća, avoid Goražde because there is not much traffic there. At border with Montenegro on Hum crossing there are not many cars, but you can catch ride there and road to border is very bad, full of holes.(ask drivers on the border).