Gliwice
Jump to navigation
Jump to search
<map lat='50.24488588151929' lng='19.032922983169556' zoom='9' view='0' float='right' /> Gliwice is a city in southern Poland inhabited by more than 180 thousand people. It's one of the cities of Katowice Urban Area - the largest conurbation in Poland populated by about 2.7 million people. Conurbation consists of 19 cities. Beside Gliwice there are eight cities with more than 100,000 inhabitants in this area: Katowice,Sosnowiec, Zabrze, Bytom, Ruda Śląska, Tychy, Dąbrowa Górnicza, Chorzów. All of them are connected by a joint public transport system.
Hitchhiking out
From the city center e.g. from bus stop Plac Piastów (close to Gliwice railway station) take either bus 59 direction Żernica Pętla(timetable), 194 direction Leszczyny Czereśniowa (timetable) or 710 direction Szczygłowice Kopalnia (timetable). Get off at the fifth bus stop called Trynek Oczyszczalnia. The stop is situated just at the entrance to the motorway A4 (Junction BOJKÓW). It's a junction with a national road 78, and it's about 4 km away from the city centre. It's a pretty good hitch-hiking spot at the entrance to the motorway as there is a parking lot allowing the drivers to stop easily. You may hitch here at nighttime too as there are street lights. It's open area so it's a bit chilly & windy during winter. The only shelter against rain is the bus stop. The only disadvantage of this place is that the directions to West (Wrocław) and East (Kraków) go together at this point and separate some 100 m further after the parking lot & motorway sign. It's impossible to hitch after the parking lot (unless you will continue to walk along the entrance road and get down to the motorway, which is illegal), as the separated roads are 1 car narrow and driver can't stop without blocking all the traffic. New service stations are being built on both sides of the A4 motorway 300 m away from the exit (they will be legally reachable on foot by a bicycle path).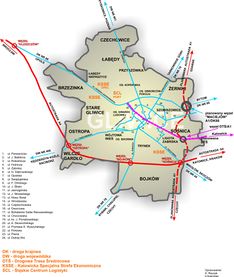 See direction Wrocław as it is the same entrance to the motorway A4.
You may take the bus 32 direction Zabrze Goethego or 41 direction Mikołów, get off at the 5th stop on a straight way to Mikołów/Tychy and start hitching there.
Walk some 5 min to Mikołowska street (2 bus stop) and start asking drivers of cars stopped by the traffic lights. This option is the fastest but Polish is useful (or just make a sign).
From the side of the road
Get to Junction BOJKÓW (see direction Wrocław). When you get off at the described bus stop you just need to cross the bridge over the motorway A4 and start hitching there.
Similar to option 1. You may get off one stop earlier and ask drivers at the by-the-road petrol station after Billa supermarket. There are sometimes people waving their hands by the road - still an option if you don't speak polish enough to ask drivers. Mean await time to Rybnik is 17,2 min (working day in a day light).
Ask drivers stopped at the traffic light near a Cathedral 5 min walk from town hall as all the transit traffic is stopped there (permanent traffic jams during rush hours). Make a sign if you don't speak Polish.
From bus stop Plac Piastów in city centre take a bus 624 direction Wilcze Gardło Pętla(timetable)and get off at the stop called Ostropa Silvia. The road to Kędzierzyń Koźle goes straight on.
In front of Gliwice railway statioan take a tram 1 (timetable) or 4 (timetable) and go till the last stop called Wójtowa Wieś Pętla. The road that goes straight is the one to Kędzierzyn Koźle. Although there is no shoulder the road is wide enough to let the driver stop without causing the traffic stoppage. The traffic here is almost the one to Kędzierzyn Koźle (plates OK), but still contains some cars from a nearby villages (plates SG, SGL).
Northwest towards Poznań
The best and fastest option is getting first to Wrocław.
Hitching In
The Junction BOJKÓW (307th km of motorway A4) is the best to get off at, as it's the shortest way to walk (in case you arrive too late to catch a bus) to the town center. If you arrive from East direction ignore the Junction SOŚNICA (with a sign Gliwice Centrum & 44 Tychy) and get off at the next one (BOJKÓW). There is a lot of place to put a tent for a night without any problems. Just move away from the road to avoid the noise.
Staying overnight
There is an inexpensive Youth hostel (Hosteling International) in the town centre 8 min. walk from railway station.
Alternatively there are some active members of Hospitality Club or Couch Surfing who are willing to share a place to stay and an advise with you.
You can also try to stay in students dormitories. You just need to find someone who will let you into the dorm. If a student wants to host someone he is obliged to pay some 6 or 8 PLN (EUR 1.50 - 2), but you may have a chance to sneak in for free.
The cheapest hotel in town is situated just next to the dorms. The double used to cost 80 PLN. I'll try to confirm the price soon.
Forget the railway station. Although it's not closed during night time you will not find a place to lay down quietly. It will only protect you against a wind but not against cold, as its almost as cold there as outside. It's the last option to consider and in winter only.
There is a squat in Gliwice but don't treat it as a sure place to stay for a night.
Nomadwiki & Trashwiki
Check Nomadwiki for info on accommodation, showers etc. or Trashwiki for dumpsters...and share your wisdom :)