Rabat
Jump to navigation
Jump to search
<map lat='34.025278' lng='-6.836111' zoom='12' view='5' float='right'/>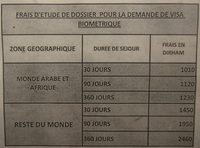 Rabat is the capital of Morocco.
If you are heading into Mauritania, check online if you need to get your visa in Rabat, as regulations tend to change frequently. As of October 2016, you can get the Visa at the border, faster and slightly cheaper than at the embassy. The bus to the embassy is 26a, which you can catch at Avenue Patrice Lumumba in the center.
Hitchhiking out
East toward Meknes, Fes (A2)
To get to Fes, go to the Bab el-Bouiba (one of the gates to leave the Medina) and follow the road towards the shell petrol station you can see down the lane. Across the street from the Medina there's a bus stop, go over there and ask somebody which bus to take to the road to Fes (it's one of the ones waiting there). You'll get out at a petrol station, so you can chose to ask around there or walk down the road a couple of hundred meters where there's ample space for cars to pull over, and start hitching.
Take bus no. 4 or 32 from Rabat's Bab el Had to a stop called Guich Lwdaya (about 45 minutes; 3,60 dirham). From there walk in the direction the bus has come from for 100 meters or so and turn left to hitch. Have a sign.
CRCulver isn't sure which road the above advice is for, but he recommends getting onto the motorway. The national road between Rabat and Casablanca passes through endless suburbs, and you'll find it tiring to avoid all the taxis. Standing at a motorway entrance with a sign, however, should get you a direct lift at least to Casablanca.
North towards Tanger
Take bus no. 18 from Bab el Had to a stop called Hay Senaai. Walk back to the roundabout and hitch, best with a sign.
Option 2: FInd your way towards the airport (Buses 1 and 2 go close), and you'll be on a big road leading out of Rabat / Salé towards the motorway (Avenue Hassan II). The same road also leads to the motorway towards Meknes / Fes. You can hitch this road or walk for a few kilometers until the onramp onto the motorway to Tanger. Here is a good spot to hitch.