Belgium
Jump to navigation
Jump to search
Belgium

Information
Language:
Dutch, French, German
Capital:
Brussels
Population:
10,584,534
Currency:
Euro ( € )
Hitchability:
(good) (good) to (very good) (very good)
Meet fellow hitchhikers on Trustroots
Belgium is a small country between France, the Netherlands, Germany and Luxembourg. The country is divided into a Dutch speaking part in the North (Flanders), and a French speaking part in the South (Wallonia) and a tiny German speaking part in the East . Brussels, the country and european Capital, has a bilingual status.
Hitch-hiking is usually easy within the country and to reach abroad. The country has one of the most dense road and motorway networks in Europe which can makes it slightly complex when trying to find a direct route to a destination. Still, hitching out of a city or moving from on-ramp to on-ramp is usually fairly simple.
The best places to start are the roundabouts near the entrance of the main highways (such spots can be found very easily in Liège, Louvain-la-Neuve and Namur). <map lat='50.81461241998999' lng='4.41650390625' zoom='7' view='0' float='right' country='Belgium' />
Belgium has a very high density of gas stations and service areas on the motorways. This makes it easier to find one, but also leads to less traffic on a single service area. Because of its bilingual status, it could be helpful to aboard a driver in its native language. Although there is no specific way to be sure of it beforehand, the solutions are:
To quickly say 'Hi' in both Dutch or French,
To check up the sticker of the car retailler to notice in what part of the country it has been bought,
To introduce yourself as a foreigner,
Useful tip: Free use of Internet PC's in many city libraries.
It is common practice to use the E-numbers for motorways, instead of A-numbers like in most countries. Even on road signs you will only find E-numbers.
Cities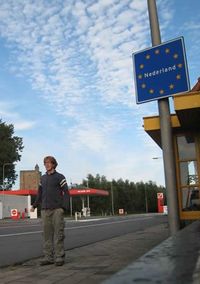 License plates
Belgian license plate do not contain information about where the car comes from. A Belgian license plate is assigned for life to the owner of a car. Usually the plates are white with yellow text. Cars owned by employees of institutes of the European Union in Brussels have a white plate with blue letters. When a Belgian replaces his car, he will keep the same license plate number. Often the name and the city of the garage where the car was bought is indicated just under or at the left side of the license plate on the backside of the car. A license plate of an old timer starts with "O".
European Carpooling (Taxi Stop - Eurostop)
Taxi Stop is an agency that offers carpooling possibilities to drivers in destination or from european countries as well as passengers looking for a destination. The website is available in English (on the contrary of its german equivalent) but requires to create a free subscription account in matter to contact a driver or a passenger. Although the availability and destination listing does not require to log in. This service is called eurostop and has a set rule regarding the fees which is pretty simple: registration to the service is free of charge, a passenger is simply asked to pay 3€/100km to the driver once at destination.
Public Transport
Public transport is extensive and affordable at a certain point.
Train:
The Belgian train (SNCB/NMBS Company reaches all major cities with a regular service. On week end (from Friday after 19h until Sunday evening), the return ticket is reduced of 50% which is good option for a week end evasion within the country. The Go-Pass/Rail-Pass is a 10 journeys ticket that allow you to go everywhere in the country (borders excluded). The Go-Pass cost 45€ (so 4,5€/journey) and is for the -26, although if wou don't look too old you probably won't be asked to prove your age. The Rail-Pass cost on the other 69€. The Go-Pass is a good option to go from one side of the country to another. The Pass is valid for a year from the date of purchase.
Buses/Tram:
In Flanders (north), the public transport company is DeLijn which complete the train services into the rural towns and inside the urbanised areas. It is possible to buy a 'LijnKaart' which saves you on the cost of local transport.
In Wallonia (south), the regional bus company is TEC
Food & Toilets
The food in the motorway services is margined relatively high, so it is always better to not have to buy any goods there. Also in many of these services, toilets are paid. The cheapest supermarket in the country are Lidl, Aldi and Colruyt, many travelling goods can be obtain at a reduced price at those supermarket such as waffles and chocolate bars. GB and Delhaize are some more expensive options but are extensively located downtown with longer opening hours which will offer better prices than the night stores, note that in Belgium shops are not open later than 6pm.
Toilets are usually paid in most places in town, and even in the most logic places to go for that (such as McDonalds). It is best to avoid the touristic areas when looking for a free toilet and aim at the less obvious places such as: Big Chain Hotel (Radisson...), Public buildings (Library and schools) and some cafes where you can use the toilet without being spot by the staff which might request you to pay a fee up to 50 cents.
Useful links
The Dutch Wikipedia contains much more useful information than the English Wikipedia (even you don't read Dutch), with specific information about locations of gas stations, e.g. about the A13/E313.