Algeciras
Jump to navigation
Jump to search
<map lat='36.132051884162735' lng='-5.44647216796875' zoom='12' view='0' float='right' /> Algeciras is an industrial port-city in southern Spain, in the region named Andalusia. It is one of the main ferry crossings to Tangier, Morocco, and from which it is often possible to hitchhike with truckers ("camioneros") onto a boat to Morocco, without having to pay a ticket. Many drivers have the right to bring a passenger along with them, so it is both legal and free for them to take you along. Beforehand, you will see many trucks waiting in the many parking lots surrounding the port. The easiest way to find a ride is to simply ask, and continue asking everyone you see until you find someone who is leaving on the next boat. The last ferry of the night departs around 10 PM, and each ferry loads about an hour before departure. So, to be on the safe side, you should arrive no later than 8PM (20.00) if you´d like to try for the last ferry of the night.
Customs and border crossing patrol will take place on the ferry. You should bring your passport and a pen to fill out the form that you will be given. Sometimes, you have to ask the staff for guidance, since the border personnel expect you to come to them, rather than for them to come to you. You should take care of all passport-stamping before the boat arrives in Tanger because you will have to present your stamped passport page to the authorities before leaving the port.
It took n0id two hours to find a ride in August 2009. Without a basic knowledge of French it would have been much harder. Many trucks already had two drivers, only a few didn't. Truck drivers on the ferry told him that it was much harder to hitch a ride from Tangier to Algeciras, due to the drivers' fear of getting busted for drug-trafficking and the tight security at the port in Tangier. On the other side, security will let you sleep in the gare maritime in Tanger (New Port) if you arrive after 11pm because there won't be any buses going to Tangier city anymore.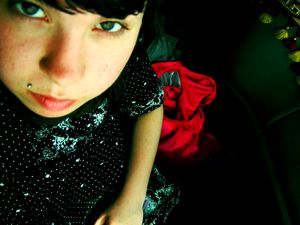 Coming from Morocco
Arriving by ferry from morocco you should have tried to locate a ride on or before the ferry. If this failed (as it did in my case) you arrive at the passengers port. Go past the places where there are long distance buses and you'll come to a crossing. Follow the signs to whatever direction you're going to.If your going direction Malaga (many people going long-distance here) follow the signs to Malaga for a couple of minutes and you'll see the huge shipping port. Keep on walking until you come to a roundabout where there will be many trucks going in slow speed and many cars from all over Europe coming from the ferry. Although these cars tend to be full.
If you're going far make sure the driver drives on Playa del Sol or some other motorway and don't avoid them because they aren't free.

I found that if you just walk over to where the cars are being led off'f the ferry and out of the port area (the roundabout by the main building), you can find a lot of people hitching and cars that stop. Found a ride directly to Amsterdam there.