Plovdiv
Jump to navigation
Jump to search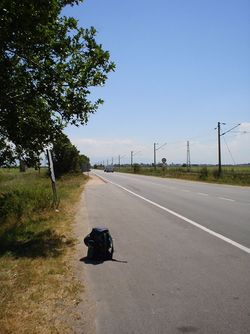 Plovdiv (Bulgarian: Пловдив) is the second-largest city in Bulgaria.
If you're down there, don't hesitate to visit the overwhelming Old Town!
Hitchhiking out
Take the mini bus #5 towards Trud. This one is driving out of town direction north. If you're coming more and more into a rural area, you'll recognize the motorway in front of you. Scream stop (spri in Bulgarian) to the bus driver to let you out (or ask him in advance to stop under the highway (avtomagistrala) near the ramp if you want to go east- or westwards. Even though it's not a great spot it's the best one. For going more north, wait until the bus enters the not-so-nice village of Trud. You'll find an old factory to your left. Get out of the mini bus when he leaves the main road. From there, walk some 100 meters north until end of town. There you'll find a petrol station.
It seems that the road through boulevard Vasil Aprilov (бул. Васил Априлов) is more common for drivers who goes to Sofia. Take the bus 20 (it stops somewhere in the center) or buses 11, 92, 113 (have no idea where they stops but each bus stop in Plovdiv has public transport route map, so you easily check there). Get off on the last stop for bus 20 and somewhere on the road for other buses where you'll see good position.
When you are in the centre, next to the main tourist information look for the Knyiaginia Maria Luiza boulevard and follow it until you find yourself on the Tsarigratsko shose boulevard. There are plenty of hitchhiking spots, but I would recommend walking a little bit further. To find yourself at this place you need to cross the circle crossing and keep going straight on. Once you notice a bridge, cross the bridge and after which there will be a hitching spot.
A second option is to take bus 26 or 36 in front of the main railway station (Centralna Gara) and get off at Tsarigradsko Shose. Walk a bit further until the beginning of the bridge where you can start thumbing.
Trashwiki & Nomadwiki