Perpignan
Jump to navigation
Jump to search
Perpignan is a cozy town that connects France with Barcelona. There isn't much to see, but if you happen to end up there, it is well worth a visit. It is the first bigger town when entering France from Spain, and so a useful place to change vehicles.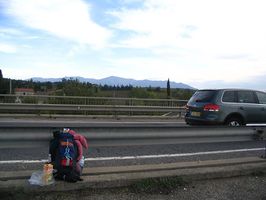 Hitchhiking out
Going South and North
When traveling North, it is recommended to wait by the traffic lights on Cours Lazare Escarguel where traffic occasionally stops. It is possible to get a lift from here to the autoroute ramp further up.
Both onramps are good for traveling north and south.
Perpignan Nord
Take bus bus 13 or 14 until Cap Roussillon. There go ahead to the roundabout, and to the right. Where the road makes a turn to the left, take the field way ahead. In front of the express road to the left and after 500 meters there is a tunnel, take it and walk on the other side back to the north. Follow the street and you end at the roundabout with the onramp.
Perpignan Sud
This is in the experience of Armoniautopia the best and quickest option if you are heading to the South (Girona, Barcelona) To get to the peage (pay toll) by public bus, the best is to take the line number 3, direction Pascot. Get out on the last stop, then walk until the end of Avenue Pascot, then go left on Route de Canohes until you see the big road (road D900). Go on right and follow this road for few hundred metres until the toll. Cars have lots of space to stop and there is usually lots of traffic.
From this toll you can easily get a lift North or South. There is an international fruit and vegetable wholesale market (Saint Charles Market) close to this toll, many trucks that come from there enter the autoroute through this toll to go both to Spain and France. If you go to Toulouse, it is best to use a sign and accept only lifts going there because 60 km North in Narbonne the motorway splits. Equally, if you want to go to Montpellier, don't accept lifts that don't bring you directly to your destination.
If you're going to Spain and your driver is only driving to Le Boulou (which is the last exit before Spain) avoid getting out on the last petrol station called Village Catalan; on the map it looks like the last best place to hitchhike but no one going to Spain stops here because petrol is cheaper on the other side of the border (as of 2008). Instead, go to Le Boulou but ask your driver to drop you off at the final barrières de péage where all the traffic will have to stop (not to mix it with a small toll barrier on the sliproad which is used only by locals to exit and leave the motorway).
South by national roads
Yet another good spot, if you're travelling South, is a roundabout 15-20 minutes on foot south of the city centre. Walk down the Boulevard Felix Mercader until and continue when it changes name to Avenue du Général Guillaut - just follow the signs for Barcelona. It's the first roundabout you meet after the road changes name and there's lots of space for cars to stop.
Public transport
Another handy thing to remember is that buses within the province only cost 1 euro no matter how far you go! (But only for two hours.) That way you can get almost to Andorra's border for only 2 euro.
This is my personal advice and has nothing to do hitchhiking. But this is what has worked for me. Keep in mind I don't encourage anyone to break any state's laws. I just report what has been useful for me. Method: wait until last minute INSIDE the train station for the train to Barcelona. Don't wait outside, on the platform. Once the train has arrived, don't go directly for it. You need to catch it last minute (or last seconds), when it is about to leave. PAY ATTENTION to the fact the usually the train halves in two, so one section will remain in Perpignan and the other one is to go all the way to Barcelona. But once you know this it is fairly easy to spot the half moving further (you'll see everyone getting off from one side and noone getting on). Be sneaky, try to get in when nobody is looking and be fast. Inside the train, act normal, go to first class, leave your backpacks on the baggage shelves, and head for the train restaurant. At the restaurant, sit and enjoy the views. Or you can sit comfortably on your cozy first class armchair. Usually there is no control at all at this stage of the trip. I have done this twice and has always proved to be the best technique. Once in Barcelona, you arrive at the main station Sants. If you need to go further South, go to the Rodalies (short-distance trains) platforms and take the one going to Sant Vincente de Calders, R4, and get off at Castell Bisbal (more info on the Barcelona page). For those of you afraid of getting 'caught', I give you some facts: in France, they won't kick you out from the train. At least, this is not the common practice. You get a fine, but even if you live in France, if you don't get fined more than 10 times a year, nothing happens Now, if you don't live in France, you have it even easier. Myself, I have crossed the whole country twice and only got fined once each time I went across the whole of France. So you get an idea of your chances.
Nomadwiki & Trashwiki
Check Nomadwiki for info on accommodation, showers etc. or Trashwiki for dumpsters...and share your wisdom :)