Namibia
Jump to navigation
Jump to search
Namibia

Information
Language:
English, German, Afrikaans, Oshiwambo
Capital:
Windhoek
Population:
2,108,665
Currency:
Namibian Dollar (NAD)
Hitchability:
<rating country='na' if you stick to the main roads 'gr' if you try to go on the off-road />
Meet fellow hitchhikers on Trustroots
<map lat='-22.67484735118852' lng='17.841796875' zoom='4' view='0' float='right' country='Namibia' />

Namibia is a country in Southern Africa.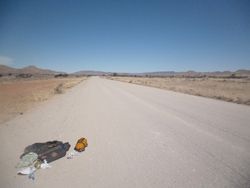 Namibia is a big but very sparsely populated country in Southern Africa, it's actually the 2nd most sparsely populated country in the world, with only Mongolia having less inhabitants per square kilometer. Hitchhiking is pretty common simply because the public transport network is not very efficient and many places are accessible almost exclusively by thumb or your own vehicle. Having that said many hitchhiking here actually often includes paying for the ride, or to quote one local Keetmanshoop hitchhiker - pretty often people are nice and don't ask me to pay, but normally they want a little compensation . Being non-namibian might change the situation. So bear in mind that some drivers might expect money but a quick question such as "is this lift for free" clarifies things.
When hitchhiking in Namibia the distances are huge and towns as well as villages are generally small and very far in between which means that getting a short lift is very rare and a "average" lift is going to be something like 150-300 kilometers (depending on the road of course). Sometimes places are marked as a village on a map while actually having only 2 houses, especially in Southern Namibia.
Cities
Places
Border crossing
When coming from Botswana or South Africa border procedures are generally quick and painless. If you arrive from Zambia or Angola they might check you more cautiously though.
In general most nationalities are allowed a 90 day visa to the country upon arrival to any landborder but bear in mind that at some border (such as the border with South Africa close to Upington) they will actually ask you for how long you intend to stay in Namibia and then give you a visa valid for the number of days you request. Just say your intending to stay for longer than your actually intending to stay so you have the opportunity to prolong your stay if you would like to later. Saying 90 days works.
Generally a lot of the traffic at the border is heading to Windhoek or past Windhoek en-route to the unofficial German colony of Swakupmund so you are likely to get a long and direct lift from the border.
South Africa
Getting around
Basically the road-network works like this;
B-roads are good quality asphalt roads.
C-roads are well-maintained gravel roads where many locals will go in up to 130 kilometers per hours (although tourists tend to go slower)/
M-roads are sometimes as good as C-roads although sometimes a bit bumpy.
On some gravel roads there is quite a steady amount of traffic and people always seem to stop on those roads while some asphalt roads (such as the B4) has very little traffic so just because it's asphalt does not mean that its easy. However Namibian roads have the advantage of having very few intersections which makes hitchhiking signs redundant unless you want go a short distance (anything shorter than 100 kilometers) as people who are going short distances generally dont stop for hitchhikers unless they think you'll be going short distance as well.
Language
The country may only have 2 million inhabitants but there is a vast range of languages being spoken and a lot of them uses clicking-sounds. However English is the most commonly used lingua franca in most of the country with Afrikaans (which is very similiar to dutch) being spoken primarily in the south. Some people in Windhoek and a lot of people on the touristy coast (from Swakopmund to Walvis Bay a lot of people also speak German.
Vocabulary
Bakkie - Pronounced 'buckie' is a pick-up. Probably one of the most important words to learn as you often end up in the back of one.
Hiking - Doesn't refer to walking but hitchhiking.
Babbelas - Hangover
Chief - A respectful way to refer to any person who stops for you initially.
Dankie - Pronounced 'Donkey' and meaning Thanks. if you wanna say thanks a lot you just say 'Buy a donkey'. It's afrikaans and not Namibian english though.
Robot - Traffic light (not that they are common outside Windhoek)
Biltong - Dehydrated meat. It's cheap and extremely good food on the road provided that you're not a vegetarian.
Circle - Roundabout
Health and Safety
Distances are big
It's sunny and warm 300 days per year
A lot of the country is on high altitude and winter nights can be cold
Almost no conveniant hitchhiking-spots have any shadow
Sometimes there seems like there are no vehicles
As an effect of these factors you should;
1 Bring plenty of water.
2 Beware of the sun.
Hitchhiking in Namibia is fairly safe in comparison to the neighbouring countries and people tend to be very friendly and helpful. Bear in mind that there are quite a lot of trafic accidents though.
Sleeping
Generally you can camp pretty much anywhere without encountering problems because 'its so sparsely populated. Your biggest obstacle is probably going to be the fence which is always on both sides of the road. Even on small gravel roads a lot of the time.
You can either climb the fence and camp on the other side. Which is recommended on the main roads as there can be some traffic however on gravel roads it's simpler just to camp by the side of the road as there are generally no or very few cars there after darkness.
You're likely to have some encounters with animals though. Theo found himself being surrounded by a gang of 10 or so baboons in the middle of nowhere.
If you don't feel secure with wilderness camping going to pretty much any lodge and asking if you an camp for the night works pretty well. Some will let you camp for free (normally if they are unaccustomed to people coming to camp there) while others will charge 50 to 100 namibian dollars a night.
Nomadwiki & Trashwiki
Check Nomadwiki for info on accommodation, showers etc. or Trashwiki for dumpsters...and share your wisdom :)