European Hitchgathering 2019
Jump to navigation
Jump to search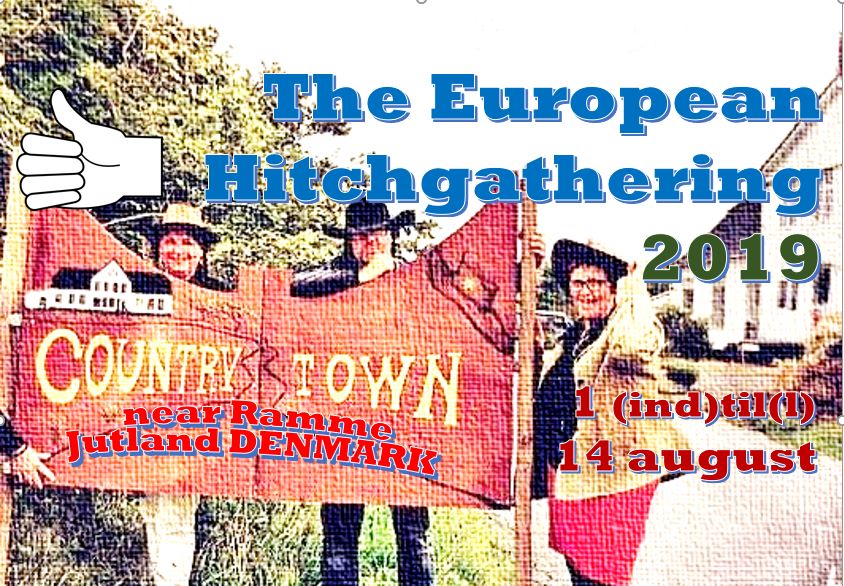 Main Gatherings
Denmark - 1-14 August

The Place
Some years ago, a woman called Lisbeth accidentally bought an entire village in western Denmark. She made it into a country town and announced herself the sheriff. She is the only one living there, but various groups of people show up for visits in the village every summer. We are invited! The danish hitchhikers have been visiting a couple of times, I joined too, once, and we had a really good time. The Sheriff herself believes in letting things run on their own and let the country town be as the people that are inhabiting it at the moment. It is a ghost town playground with lots of room for creativity. Improvements of the place in any sense are welcome. Sheriff Lisbeth was a hitchhiker herself and enjoys both road stories and live music. She has one plea, if we are going to have the hitchgathering in country town; that we don't ask her for permission and directions, but figure it out ourselves - it's the wild west! I told her that's how it always is anyways. It would also be nice, if we can help making the place better when we're there. There is a saloon with a bar and a lot of rooms upstairs. We can use the saloon if it rains and the bar is a great place to hang out. It's also a ghost town bar, so it's just the building, we will have to bring our own beer. Otherwise, there's lots of room for tents and we can make fire pits wherever we want. There's drinking water in the saloon. Dumbsterdiving was good the last time I was around, but 10-20 km away, meaning you would have to hitchhike to get there. Sheriff Lisbeth really hopes that if we come, we can hold a big western party one night.
PROs:
Legal
Drinking water available
3 km from the beach
dumbsterdiving is usually quite good in Denmark
great sheriff
possibility to go inside
lots of stuff to do
possibility to wear cowboy hats everyday

CONs:
Denmark is expensive
summers are quite often rainy
it will be windy on the coast
quite far to an open bar
we're using somebody's resources. We can't just use all their firewood and give them a massive water bill without giving something back.
Albania - 15August - 8 September
+++Update+++ (26.8.)
More detailed directions:
From Bunec Beach (about 20km north of Sarande).
Walk down to the beach. Walk north along the beach from there. There is are 2 Beach bars. If the bars are closed you have to to cross about 3m through water. After the last bar walk about 5 min fuether. There is a arrow of stones pointing to spot where you can get up to the camping spot. It's a bit of a climb. Up there just follow the path till you see tents.
From Borsh Beach: Walk about 45minutes south. There is a arrow of stones pointing to a water source and the spot where you can get up to the camping spot. It's a bit of a climb. Up there just follow the path south till you see tents.
By today our number dropped to 4 so we might join the Rainbow Gathering that's in walking distance. If we do so we'll leave directions for the other place.
Space for 200. Check. Fullmmoon we were 250+
Spring is 10 min walking, drinkin water
No dumpster diving, food is cheap because its Albania. Specially fruits and veggies. Easy to reach by hh, complicated by bus (strange timeschedules/ not predetermined) Secluded. On an olive tree forest.
It belongs to some people, but they said they didnt mind the other 3 times we did the rainbow. Just dont harm the trees and land. Shit-pit paradise.
Ill be there the entire July, will help with beginning/seedcamp.
The place is very good as its tried already.
Coordinates: Dropped pin, Near Vlorë County, https://goo.gl/maps/f48c7ZPxQumSD3Eu8, 15min walking north the beach from Bunec beach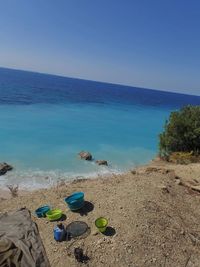 PROs:
beautiful spot in the nature, forest (shadow) and directly at the beach
drinking water source at the beach
easier to get a visa then Schengen
food is cheap
nice weather, warm water

CONs:
no dumpster diving
next bar/wifi about 40min walking; next bigger supermarket about 15-25km
Pre-Gatherings
La Borie near St Jean du Gard, France - 9 July
"Hey everybody,
for about 30 years there has existed a squat called La Borie. Situated in the heart of the Cevennes with lots of forest and a beautiful river and many nice and colourful people coming through all the time. Now the commune (municipality) of St Jean du Gard who legally (pfff) owns the land has apparently finally gotten their shit together to evict the place and to make something else out of it that involves private property and profits and liability and insurance and most essentially of all wearing swimming shorts while dipping into the river... the eviction date is July 9, and not coincidentally at all La Borie invites you and all of your friends and all of their friends etc. for a Semaine du Camping Ecolo Gratuit -- a week of free ecological camping -- beginning from July 9. There will be plenty of music and dumpsterdived food and nice people to dip in the river with and maybe some riot cops with home-made cakes. (If you're worried about police exposure, you can very much still come in support and get out of the way before things heat up too much.) So if you're in the area or if you don't have anything better planned for this week, I very much recommend that you consider dropping by :-)
location: https://www.openstreetmap.org/#map=19/44.12867/3.88525 "
Kesselberg near Berlin - End of July
Everybody is invited to come to Kesselberg towards the end of July (or any other time really). We have: A lot of forest, very nice swimming, abundant dumpsters, and an anarchist village if you want to already experience the future first-hand ;-) Just ask for Carlos.
BeNeDeLux Pregathering Belgium - 26-28 July
Heyho fellow hitchhikers!
Since it looks like the main gathering in Denmark is save, I'm gonna propose a little pregathering in Belgium, right next to the German border and only a glimpse away from the Netherlands and Luxembourg! So it's perfectly on the way for travellers coming from the warmer, western parts of Europe!
The venue is an abandoned camping ground with lots of caravans, so it's already a little taste for the empty country town in Denmark! It's also right next to a river and the well known Fenn cycle path.
See you soon :*
Sven
Post-post-post-gathering - Razana, Serbia
At the farm where we had last year's gathering, Western Serbia.
Winter/New Year-Gathering - Northern Norway
In what seems to be(come) a tradition some brave hitchhikers will hitchhike up to the arctic circle to enjoy darkness, a frozen world and northern lights.
The rough plans so far:
Tobi and Paula start hitchhiking on the 20th december from Umeå via Kiruna and Narvik towards Lofoten / Vesteralen, search for a nice wilderness hut wait for the rest to catch up and then move further north.
Another team of two will make a stop at Country_Town, Denmark and start from there around the 23rd of December, prob via ferry Hirtshals-Kristiansand.
One person might start hitchhiking from Copenhagen and wouldn't mind company :-)
Suggested activities: building Igloos at the North Cape, watching Northern Lights, finding a nice hut with a sauna, hitchhiking back via St. Petersburg (now visafree?)
More info on the mailing list. Facebook-Event
Mailing list
A new mailing list has been created: https://lists.riseup.net/www/subscribe/hitch
Unfortunately, the old mailinglist is down and it doesn't look like it will come back (http://lists.freeactive.net/listinfo.cgi/hitch-freeactive.net).
Links