El Salvador
Jump to navigation
Jump to search
El Salvador

Information
Language:
Spanish
Capital:
San Salvador
Population:
7.1 million
Currency:
United States dollar ($)
Hitchability:
<rating country='sv' />
Meet fellow hitchhikers on Trustroots
<map lat='13.8333' lng='-88.9167' zoom='7' view='0' country='El Salvador'/>

El Salvador is a state in Central America, bordering Guatemala and Honduras. It is the smallest and most densly populated country in Central America. The currency is US dollars.
El Salvador is one of the easiest countries in the world to hitchhike. Getting a ride in a city is difficult as usual, but in rural areas, the first car will usually stop for a gringo. However, the buses in Salvador are so cheap (the country can be crossed for a few dollars), that the only reason to hitchhike is for the sake of meeting locals (who are very friendly).
It is possible to pick up rides from people at petrol stations, and most of the time - like in the rest countries of Central America - you will end up sitting in a back of a pick-up truck.
Getting In
El Salvador borders Guatemala and Honduras. Honduran border of El Amatilio (towards Tegucigalpa & Nicaragua) is rather difficult to leave or reach on long distance vehicles but easy on short lifts. So go for the shorties. At El Amatilio on the Salvadoran side hitchhiker Craig recommends to get at least a lift to a gas station at a junction five kilometers into the country. The gas station is a good place to get long distance lifts!
There is another big border to Honduras at Ocotepeque.
A good border option for Guatemala is Las Chinamas.
Mind of a Hitchhiker crossed the "Frontera Hachadura" from Guatemala to El Salvador 2014 in the night with a small pineapple truck and three male drivers (one of whom was deported from the USA after doing 10 years in an east coast prison for murder). The border crossing was fine after realizing that the countries Guatemala, El Salvador, Honduras and Nicaragua have a 90 day visa free policy for all of them combined. This means that if you stay one month in Guatemala, you'll have 60 days left for the three other countries unless you do a visa run towards Belize, Mexico or Costa Rica (the neighboring countries of this visa block). If you stamped in in Guatemala, you won't get a passport stamp in El Salvador. Somehow Honduras did give a stamp again while Nicaragua didn't. If you hitchhike a pineapple truck across this border at night expect it to be a long process as the truck needs to be fumigated. Iris from Mind of a Hitchhiker decided to stay with her drivers as finding a new ride would have been exceptionally shit and frankly quite dangerous at that time. Pupusas are sold in little comedores directly on the Salvadorian side.
Random advices
Take some sunscreen though because you can get burnt quickly.
Taste pupusas! The most wonderful food in the world! The bean version is peculiarly similar to lobiani (bean khachapuri) in Georgia.
Personal Experiences
I traveled around El Salvador sometime in 2010 by thumb. It was incredibly easy to get rides, and I found Salvadorans to be particularly friendly. The coast is steamy hot, and the black sands are remarkable. I was even able to hitch to the more remote location of El Mozote. Good hitchin-Chael777
I hitchhiked from Guatemala to San Salvador to Honduras in 2014. Never waited more than 5 minutes for a ride. However, I had trouble asking the locals for directions... everyone was telling me which bus to get on. I just wanted to know how to get to the highway! -Keith
I spent one month in El Salvador between february and march 2016 using mostly my thumb and some buses.I never had to raise my hand more than 5 minutes. Note that some roads are really quiet - Kodo
Cities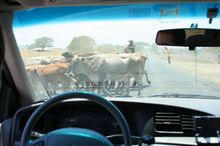 | | |
| --- | --- |
| | This article is a stub. This means that the information available to us is obviously insufficient. In these places little information is available or the description is severely outdated. If you have been there, whether hitchhiking, for travel or as part of an organized tour − be sure to extend this article! |