Category:Traumschule
Jump to navigation
Jump to search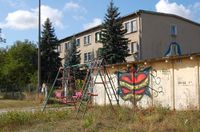 Traumschule in Riebau is an open space, platform for actions, nomadbase, Hackerspace, ecovillage and much more. It belongs to the Freiräume foundation and is part of a wider Nomadbase-Network promoting the concept of free learning, self-organized skillsharing and DIY projects.
Hitchgathering 2017 was hosted here. Share your story when you were around!
Pages in category "Traumschule"
This category contains only the following page.
Media in category "Traumschule"
The following 11 files are in this category, out of 11 total.