Batumi
Jump to navigation
Jump to search
Batumi is a city in Georgia on the Black Sea. It is an important port and resort city, and the closest city to the Sarp-Sarpi border crossing with Turkey.
<map lat='41.6473' lng='41.6495' zoom='12' view='3' float='right' />
Hitching out
From the city centre, walk northeast on Chavchavadze St. under you see a tall building with a Coca-Cola advertisement on top of it. Another characteristic point could be a catholic church on the right side of the road. You can thumb here, though you'll have to be careful not to attract the many marshrutkas and taxis driving by. This is after the bypass joins the main road, so you might even stop a truck.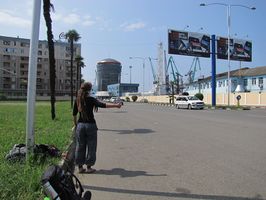 To get there you can also get into any marshrutka going on Chavchavadze St. towards Plaza (where the cable car is). Marshutkas usually take two routes - they can go right to the marshrutka station or left to the building with Coca-Cola. If you happen to go to the marshrutka station, just follow the street on your left, crossing the track. Even if taking city marshrutkas might seem to be scary for the newbies, in fact it's the easiest thing ever. When you see your spot (the church, the coca-cola advert, the marshrutka station) say to the driver "GACHERET" (gah-ah-cheh-reht), which means "stop" (let me off). The vehicle will immediately stop and you will get to the spot without bothering yourself with walking. A ride with a city marshrutka costs 0,40 GEL and is paid when you leave.

Alternatively, if you don't mind taking a marshrutka and want to take the slower road through Ozurgeti to Samtredia, a good strategy for hitchhiking northeast is to take a marshrutka from the taxi stand at the eastern end of Chavchavadze St., where it joins the main coastal road, to the town of Kobuleti about 20 km north. Get off at the first (southernmost) stop in Kobuleti, follow the northeast road for a couple of hundred metres, and just after the railroad tracks you can hitch.
This is the worst thing you could do to yourself. If you like yourself, please, don't go through Ozurgeti. I've lived there for 6 months when I was doing my EVS service and I can certainly say that the road from Batumi to that city is bad but the road from there to Samtredia is even worse. It goes through mountains, overcoming never ending serpentines might end badly to owners of sensitive stomachs. It's also easier to get stuck going this way, especially if it's night. pieczara
I strongly object to the above point of view. The Samtredia-Ozurgeti road, although twisty and turny for sure, is in my regard one of the most charmingly beautiful in the country, and the Ozurgeti-Batumi road a close second. Far to be preferred over the busy შ-1 highway through Lanchkhuti. Furthermore the rural region of Guria that these roads pass through is simply full of generous, warm and open-hearted people. Getting stuck at night is simply not an option as you will be certainly taken care of by the first Gurian who sees you. tetri_tolia
East to Akhaltsikhe
From city centre go in direction Turkey and soon you'll come to the crossroad where you go to left following sign Akhaltsikhe. In first ten kilometres there are a lot of cars and marshrutkas(minibuses) going only short distance so it can be harder to find someone who'll take you little bit further. Road is going through mountains and it's really bad quality. After lets say first 60km there are even less cars. It can take you a long time to cross the mountains because there are only small villages and locals usualy travel by marshrutka. Even when you take a car it will be very slow ride because there is no asphalt on the road. From village Zarzma (30km from Akhaltsikhe) there is really nice asphalt road and also more cars to hitchhike. In Zarzma there is also a monastery and if you ask monks they might offer you a dinner, warm shower and bed for the night(for me it worked, but for sure it's good if you speak Russian or Georgian).
Note: not to be attempted in winter! The pass is closed approximately late September to late May.
South towards Turkey
Just walk towards the south of Batumi and get on the big road to Turkey. Hitch a ride with anyone going to the border and cross it on foot. The wait won't be long if you're not from Georgia or Turkey. From there, go right and hitch along the coast. Or take bus 101 from the Central Bus Station, it goes directly to the Sarp-Sarpi border crossing and a ticket costs around 80 tetri.
1.6.2015 the bus going to Sarp-Sarpi was bus 16. You can take it from all the bus stops in the main street, there is no need to go to the Central Bus Station.
August 2018: buses 15 or 17 go straight to Sarpi, starting point for their route is Bus Station.
Bus 16 and marshrutka 88 straight to the border. Can catch them on Tbel Abuseridze Street and well, all along the main road going through Batumi.
Sleeping
The cheapest sleeping is around the bazaar, where there are some cheap hotels and nearly every family rents out rooms. Even in high season a room for two people can be had for 20 lari. There are also some cheap hostels. In Makhinjauri (you can get there with local buses, number 10 or 101) there is large beach (of little rocks, not perfect as sand ones but there's no sand in black sea..) away enough from the city and easy to reach. There are also minimarket to grab/buy meal and even an internet cafe. Also a good spot to start to hitch to day after.
As of August 2017 it is possible to pitch your tent in front and to the left of the Hilton Hotel facing the sea. There are a lot of other tents so you can meet locals and other travelers and you will not be bothered by the police. It also has been reported that camping around the alphabet tower is possible.
Free computers
There is an american corner in one library in centre of Batumi and you can use there computers with internet for free and without any time limit.(Checked in may 2017) https://www.google.ge/maps/place/American+Corner+Batumi/@41.6467382,41.6346447,15z/data=!4m5!3m4!1s0x0:0x7fc1f7f6c5c6c758!8m2!3d41.6467382!4d41.6346447
Trashwiki & Nomadwiki