New York City
Jump to navigation
Jump to search
New York City is the largest city in New York State. Generally, when travellers say they are from or going toward "New York", they are referring to this city, which is made up of five boroughs: Manhattan (an island), Brooklyn, Queens (both located on the western end of Long Island), Staten Island, and The Bronx (on the North American mainland).
Hitchhiking is illegal in New York City as well as in the neighboring state of New Jersey; enforcement varies see https://hitchwiki.org/en/New_York_State
Hitchhiking Out
Heading North (I-87, toward Albany, upstate New York, and Montreal)
Advice: Don't get stuck in Albany. There is a fairly large service area (New Baltimore Travel Plaza) on the Thruway just before Albany, so getting off there is preferable (technically illegal to hitch on a rest area connected to the Thruway, but you can ask around).
Ask the rides in EV Connect Charging Station petrol station / rest stop on I-287 highway next to Rte 119 & White Plains Rd bus stop.
Ride the subway to Fordham Rd on the B/D, where if you have a Metrocard you can transfer for free from the subway to the Bee-Line #61 bus which runs to the suburb of Rye (and beyond). From Rye you can start hitching on the onramp to I-287.
Ride the subway to Woodlawn in the northern Bronx, last stop on the 4 train, and hitch at the ramps just north of there where Jerome Ave joins I-87. You're still within New York City so hitchhiking is technically illegal but this far out enforcement seems lax. There's also a Dunkin' Donuts and a gas station nearby where you can ask around for rides up I-87 or the partially-parallel Taconic State Parkway.
EV Connect Charging Station petrol station / rest stop on I-287 highway next to Rte 119 & White Plains Rd bus stop. Ask for drives direction to I-95 (next rest stop is place bellow next to Greenwich train stop)
Small highway I-95 rest stop next to Greenwich train stop. Google Maps look for Homestead Inn and place is next to it at the end of Augustus Ln
The #2 subway train out to the last stop, Wakefield-241st St and walking about a mile from there to the Mount Vernon East Metro-North station, where you can take a local train a bit farther afield. To hitchhike to Providence, Rhode Island on a cold winter's day, she took the $5.50 train to Noroton Heights in Darien, CT, usually with changing trains in Stamford, and officially started from there. She recommends this route for hitchhiking North, especially if you don't want to spend a lot of money getting out of the city or time waiting outside. In Noroton Heights there is an on-ramp about 1km from the train station. There is a steady flow of cars who mostly have to stop before entering the on-ramp, and the area is suitable for low-key camping out. A local police patrol car passed her while she stood with her thumb out but did not harass her. (Whereas, if you take the Metro-North train from Grand Central Station in Midtown Manhattan, you'll pay more than double for the ticket, plus the $2.75 subway fare to get to the station. So, if you're already on the subway, you might as well get the most of your $2.75 (or free swipe, see below) and take it as far out as possible.) Zenit followed these instructions in July 2010 and highly recommends them as well. Also on the train his ticket was never checked. Got a ride within 5-10 minutes at night using this around May 2018.
Taking the "B" or "D" subway to Fordham, and walking the six blocks south ("right") on Fordham Rd to Metro North. This requires less walking, and the New Haven Line trains stop here more frequently on their way north. Fares from Fordham to Noroton Heights are the same as from Mount Vernon East, and it is much easier/quicker to access.
Hitching along Bruckner Blvd near Brook Ave in the Bronx, reachable via the 6 subway train. (This section of Bruckner Blvd is used heavily by cars trying to get from Manhattan to the northeast-bound Bruckner Expressway without paying a toll.) Drivers may be less likely to stop in such urban surroundings, and you should exercise caution as the levels of both crime and police presence in this neighborhood are relatively high, but this is at least one option that does not require a commuter train.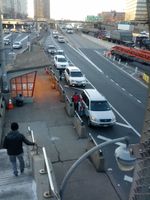 There is a bus stop at the New Jersey end of the George Washington Bridge (below Lemoine Ave) where drivers pick up passengers to try to qualify for the carpool discount on the bridge toll, and hitchhiking at this location is reportedly considered legal. The vast majority of drivers will just be crossing the bridge to reach Manhattan, but as this is the main freeway route for traffic from the south crossing New York City towards Connecticut and beyond, looking for longer rides here may be worth a shot. It's about a 3km walk from 175 St on the A subway train to the New Jersey end of the bridge.
If heading towards Vermont, take the Metro North all the way to Danbury, CT (Change in E. Norwalk). The fare is $8 from Mount Vernon East ($9 from Fordham). This puts one right on Rt 7, which winds through the hills of Massachusetts and Vermont all the way to the Canadian border.
Heading West (I-80)
If you are trying to get to Pennsylvania or points West, your best bet is to take NJ Transit to Mt. Olive, New Jersey ($14.75 from New York Penn Station, or $9 (plus $2.75 for PATH) if you take PATH to Newark, walk to Broad St Station and catch NJT there). This will get you out of the suburbs, and thus increase the likelihood of getting a long-distance ride. From the Mt. Olive train station, you can walk to the on-ramp of I-80. Be advised that hitchhiking is illegal just about everywhere in New Jersey, including shoulders and on-ramps, so use caution.
It may also be possible to get a ride from the westbound Lemoine Ave bus stop at the end of the GWB (opposite the eastbound one described under "Northeast" above).
Heading West/Southwest (I-78)
Interstate I-78 is a road that more or less comes from NYC, passes through New Jersey and leads towards Harrisburg. Since New Jersey might be a little bit tricky and hitchhiking is kind of outlawed there, it might be best to take a bus ride. For $25.80 you can get to Allentown in Pennsylvania, hence bypassing New Jersey. The bus leaves New York at the Port Authority bus terminal. In Allentown you can walk or hitchhike (within the city) to the entrance of the I-78. (Of course, if you can book in advance then for that price you can get a Megabus all the way to Pittsburgh or beyond.) You can also take the Bieber Bus for about $27 to one of several towns (Hellertown, Wescosville) along the highway and thus avoid the long walk from the Allentown bus terminal to the highway. You may need to buy your ticket online in advance. If you do take the Bieber bus to Wescosville, don't bother with the Wescosville travel plaza if you're headed west - i know it looks promising but all traffic out of there is headed south to philadelphia. Ask at gas stations or thumb it on the ramps.
Another option is to take a NJ Transit train to Annandale ($15 from Penn Station, $11 from Newark) and hitch the on-ramp.
Ask the rides in Thomas Edison Service Area on Highway I-95. Thats next the Woodbridge train station
Subway
You're likely to need a subway ride at the start of any attempt to hitchhike out of NYC (and probably to get around while there as well). Many subway riders have unlimited-ride Metrocards, and since a card is only required to enter the subway system (not to exit), it's possible to get people with unlimited-ride cards who are leaving the system to swipe you in for free (as there is no additional cost to them). At busier stations, just stand outside the turnstiles and politely ask exiting riders if they'll swipe you in. It's also possible to swipe in for free by waiting in the emergency door and ask someone from the other side to open it. Many people use the emergency door to jump in for free, specially families with kids, only the parents have card and once they are inside they open the emergency door for their children. See this article for a discussion of the "free swipes" phenomenon.
Nomadwiki & Trashwiki
Check Nomadwiki for info on accommodation, showers etc. or Trashwiki for dumpsters...and share your wisdom :)