Groningen
Jump to navigation
Jump to search
Groningen is the largest city in the north of the Netherlands, as well as the name of the surrounding province. Groningen is a student city and there are a lot of German students who study here.
Hitchhiking out
South towards Assen
There is a liftershalte, a spot for hitchhiking, at the Emmaviaduct, the road to the A28, 200 meter westwards of Central Station, in the direction of Assen.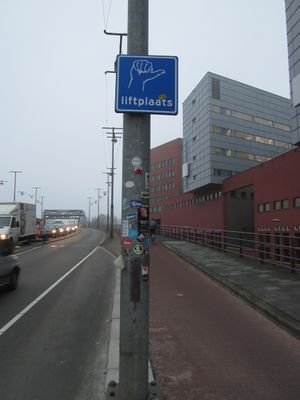 The liftershalte is also fine if you are going West.
From the city
Hitching east towards Germany is harder since there is no obvious place to start hitching. The usual hitchhiking spot used to be at the crossing of the Europaweg and the Sontweg (close to Ikea), but the bus stop has been relocated to the middle of the road so people cannot stop on the side anymore. Some people prefer to start hitching already on the other side of the bridge, just after the crossing Europaweg/Damsterdiep. People at these two spots can, however, still drive towards the West or South. The best spot is therefore at the end of the Euvelgunnerweg. It's quite far away, so might not be an option if you don't have a bike or someone to drop you off. Here all cars are going on the motorway eastwards, so all cars would do. Many are not going very far, but the first petrol station is already before the first exit.
Koen decided to stand at the on-ramp of the N7 at the crossing of the Europaweg and Bergenweg. Cars have some place to stop there and most go towards the east too. He got a ride in 15min.
Fverhart hitched at the busstop on the A28 acces lane 39 "Groningen-Zuid" with a sign "A7 -->". This access lane is a 7 minutes busride away from Groningen central station frequented 10(+)x/hour (cost EUR 1,30), the busstop is called Van Ketwich Verschuurbrug, or a 2.5 km walk from the central station or the center.
By bus to Scharmer (1h.)
There is a petrol station on the highway about 10km out of town which is easily accessible by bus (cost EUR 3,50). Take line 78 (1x/hour) from Groningen central station heading to Appingedam and get of at the stop Scharmer, Hoofdweg 15. From there walk in the direction in which the bus is going and take the first road on the right to cross the highway. You can see the petrol station from the bridge. After the bridge turn right again and walk all the way until the end of the road. Almost past the petrol station there is a small bridge made for the employees of the petrol station to cross the water.
By train to Nieuweschans (2h.)
Alternatively you can take the train (EUR 8,90) to Nieuweschans and start hitchhiking on the border service station, a walk of 2.0 kms.