Arnhem
Jump to navigation
Jump to search
Arnhem is a city in the east of the Netherlands. It is the capital of the province of Gelderland. Hitchhiking out of this city is fairly average.
Hitching Out
guakasite, wikitalk, coming from Nijmegen, walked from the center towards the Amsterdamseweg where he quickly hitched a ride at a bus stop right after the city borders. If that wouldn't have worked fast enough he would have continued walking towards the on-ramp of the A12.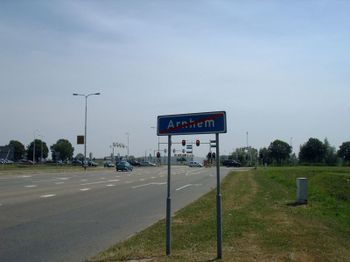 One good option is a petrol station on the IJsseloordweg (N325, in the south-east of town, see map). From the city centre the walk can be long, but bus number 5 will take you close. The traffic there is busy, and much of it will be going directly to Germany via the A12. However if the driver is not going as far as Germany, ask for a ride to a ride to motorway service station 'Oudbroeken' - it's on the A12 between exits 28 and 29. This petrol station is probably the best option available - use it if you can.
There is a petrol station in the south of Velp, 100 metres away from the 'Velperbroek' roundabout (the junction of the A12 and A348 motorways).
Another option is to try your luck on the Velperbroek roundabout itself (see map). Although the hard shoulder is small, there is still a small amount of space on the sliproad leading to the motorway, and cars may stop here.
There is also a petrol station about 40 minutes' walk east from the town centre (see map). It's more difficult but still possible to get a ride from here.
Bear in mind that although vehicles have free passage from the Netherlands into Germany, this is still an international border and chances of getting rides are rarer than usual. Beware that IJsseloordweg and the other spots mentioned are all some distance away from Arnhem city centre.
Tom had large problems hitchhiking out of Arnhem, as the IJsseloordweg petrol station was out of service when he was around (summer 2006). Also, he noticed an unusually high proportion of older drivers (over 60 years of age), and of gangs of youths showing off their modified saloons. Certainly no-one was interested in giving a lift, and definitely not over the German border. Any attempts were met with sour looks from the pensioners, and middle fingers from the youths.
The A12 is a major route into Germany, and it's worth sticking at Arnhem to get a ride. But if you do get frustrated and want a change of scenery, then it may be worth accepting a lift to Nijmegen (very close to the border), and negotiating with the driver to make a short diversion and take you over the border. The roads on the German side of the border are secondary roads, but seem to be fairly effective for hitchhiking. See Nijmegen. trash:Arnhem