Seattle
Jump to navigation
Jump to search
Seattle is a city in Washington State.
Seattle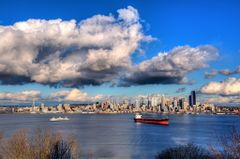 Seattle is the largest city in the State of Washington, northernmost major metropolitan area in the United States, and one of the largest on the West Coast of North America. With a population of about 618,000 and a metro population of 3.5 million, it is the 23th most populated city in the United States. Seattle is also home to the most diverse ZIP code (98118) in the country, with 59 languages spoken within it's borders.
Seattle is situated on the beautiful Puget Sound. Seattle is just a few hours east of the Olympic Nation Forest, home to some of the world's largest temperate rain forests, and is also about 1 1/2 hours west of the Cascade Mountain Range. Seattle is served by many different transit agencies (King County Metro is the main transit agency in the city, along with Sound Transit/Snohomish County Community Transit/Pierce County Transit/Washington State Ferries) offering buses, trains, light rail, tram lines, bus rapid transit, and ferries. One bonus for weary travellers is the downtown ride free area, which serves all of downtown Seattle until 19:00 daily. All buses are free of charge in the ride free area. Link; however, is not.
There is plenty to do and see in Seattle if you are not just passing through. Of course you will want to visit the world famous Pike Place Market or Seattle Center, but those are not the only attractions for travellers. Seattle is very welcoming to travellers as it is a city of transplants. Venture out of downtown and you will be very happy that you did. Take a bus out to Wallingford and see Gas Works Park on Lake Union or head on over to the Republic of Fremont (the centre of the Universe) and visit the Troll under the Aurora Bridge. Sample the delicious (and cheap!) foods in the International District and lounge around in one of the city's many parks.
The major highways and freeways in Seattle are:
Interstate 5 going North/South
Highway 99 going North/South (Do not even attempt to hitch on 99 -aka Aurora- you will get nothing but frustration)
State Route 520 going East/West
Interstate 90 going East/West
University District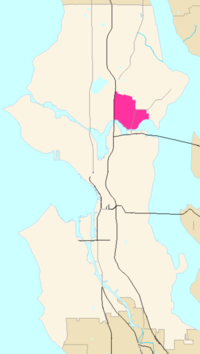 The U-District is home to the University of Washington, UW Medical Center, and one of the largest neighborhood populations in Seattle. This is a good destination for hitch hikers looking to make connections or just a quick ride. It is also also widely known throughout the city to be a center for a large transient population. Most hitchers, homeless, buskers, gutter punks, and what-have-you usually center themselves around University Way, also know as "The Ave." In turn, these people have come to be known by locals as "Ave Rats." The U-District is an ideal place for hitch hikers due the wealth of clean public restrooms on the University of Washington campus, the food bank on 47th St and 15th Ave (One block east of the Ave), and there is a semi permanent tent city directly adjacent to the food bank. There is also an abundance of diverse foods, grocery and drug stores, and bars for those of you with a bit of change in your purse. You can also crash in Odegaard Undergraduate Library if you look enough like a student.
The main thoroughfares in the U-District are the Ave/Brooklyn Ave/Roosevelt Ave/15th Ave (North/South) and 45th St/Campus Parkway (East/West).
Transit in the U-District is some of the best in the city. Downtown is a 15 minute bus ride away during most hours. Buses run on regular schedule usually until 01:00 or 02:00 on weekdays, the U-District is one of the only neighbourhoods with Owl (night) buses running through it. Owl buses run overnight, usually about once an hour.
Capitol Hill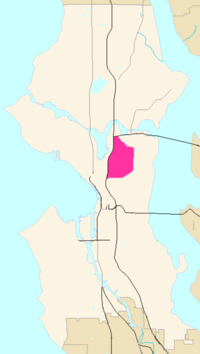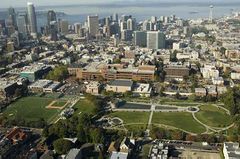 Now, the University District is not the only place in Seattle to find hitch hikers, buskers, and the like. Capitol Hill is another area of town frequented by hitch hikers. Capitol Hill is the city's most densely populated neighbourhood, centre of gay rights, and home to many Seattle artists, musicians and travellers. Due to it's diversity and wealth of parks, Capitol Hill is an ideal place for hitch hikers to crash, get a bite to eat, get a drink, or just hang out. The proximity to downtown is also hard to beat. A multitude of bus lines (including an Owl bus) run through Capitol Hill and Central Link light rail is a 10 minute walk down the hill. The First Hill Streetcar will be arriving on Capitol Hill in 2013 and the University Link light rail line will be following in 2016. Adjacent First Hill also has world class medical facilities, including Harborview Medical Center (The Northwest's only Level 1 trauma centre).
The main thoroughfares on Capitol Hill are Broadway/15th Ave (going North/South) and Pike St/Pine St/Denny Way/E John St/Madison St (Going East/West). Your best bet to score some cheap food is on Broadway. Many hitch hikers and buskers hang out in front of Dick's Drive-In on Broadway. Cheap burgers and open until 02:00. The best parks to sleep in would be Volunteer Park (Located in a very affluent part of Capitol Hill) and Interlaken Park. Ask any local and they can point you in the right direction.

Tip: The best public restrooms on Broadway are located on the third floor of Seattle Central Community College.
Identifying Transportation Options
Below are examples of what you will see public transportation-wise in Seattle:
Bus

Rail

Bus Raipd Transit

Water
Hitching In
Seattle is a big city, so it is a common and popular destination for many drivers, regardless of the time of day or night. Hitchhiking in Washington State is illegal along the freeways, but not along on-ramps. There are "No thumbing" signs along I-5, so if your ride can't take you all the way to Seattle, make sure that he/she at least drops you off at an off-ramp, near the next on-ramp. There are also many good rest stops along I-5, which can make picking up a ride easier. If you are coming from the south you can easily catch a bus into Seattle if need be once you hit Tacoma. Busses depart from downtown Tacoma to downtown Seattle frequently and it is a 30 minute ride. Coming from the north, you can also catch busses from Everett to downtown Seattle frequently.
Hitching Out
There are generally two options when hitchhiking out of Seattle:

A bus, BRT, express bus, light rail or train out to a suburb (Bus 594 will take you to Lakewood, which is decent when going south. Federal Way is another opportunity. Going north? Everett is good as well) and try to hitchhike from there. AdventureSauce got a ride from Federal Way in November 2011 in less than 30 minutes. Great ramp. Good traffic. 5.50$ to get out there on a bus and the light rail. This is the most common way out, since hitchhiking out of big cities is not popular. However, trying to hitchhike out of a low-income or high-crime suburb or city (such as Tacoma or White Center) may be even harder than hitchhiking out of Seattle city-proper.

There are exceptional on-ramps to I-5 in the University District, from within Seattle. amylin got a ride from Seattle to Portland from the on-ramp to I-5 South at NE 45th St & 5th Ave. There is a busy intersection at this point, in which vehicles stop and make turns onto the on-ramp, from 3 directions. The space for cars to pullover is not the best, depending on the amount of parked cars. The onramp going North at this same location is also recommended, and many hikers use it to get to Vancouver, British Columbia (There is also a Vancouver, Washington. To minimize confusion all road signs for Vancouver, British Columbia are labeled "Vancouver, B.C."). The only drawback to this location is that there are frequently homeless people, who beg for food or money, nearby, and drivers may be reluctant to pick up hitchhikers in the presence of so many

On Mercer Street and Fairview, cars are coming from three different directions and there are stoplights. They're either going south or north. The cars coming from the opposite direction of the freeway can pull over on a very small parking area. We got a ride to Portland in about 10 minutes with a sign.

Northto Vancouver: you can take bus 510 or 512 from the downtown (4th & Pike, 4th & Union, 6& Olive way, University district) for 3.75$ all the way to Everett. Takes about one hour. From Everett main station you need to walk for about 15-20min until the on-ramp to I-5 (on Everett Ave). Pretty good spot, there's a shoulder for cars to stop, enough traffic coming in.

If you're heading South on I-5 Oregon is a state where it is legal to walk on the highway.
If heading to I90, the first truck stop is at exit 34 in North Bend, reachable by public busses. It is a great place to get a lift long distance.
Public Services in Seattle
Useful Links
Nomadwiki & Trashwiki
Check Nomadwiki for info on accommodation, showers etc. or Trashwiki for dumpsters...and share your wisdom :)