User:Salman
Jump to navigation
Jump to search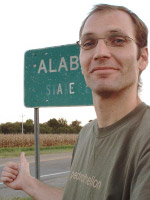 Morgan 'Salman' Strüb, who died on 28 March 2010, was webmaster and co-editor of digihitch.com. This profile will be used to share tips and information from digihitch sources as well as Morgan's personal research, experience and observations.
Digihitch.com has a wealth of resources for budget travel, and the editors attempt to share this with all wikis in the form of biographical references, related links and historical information in an objective way. If you feel our contributions to Hitchwiki are overly biased, please share your suggestions for improvement on our discussion page. Like yourself, we want to help Hitchwiki be the best resource it can be!
To avoid strong bias, we at digihitch.com are cautious about listing our site and its pages within individual wiki pages except where it most obviously belongs. If you believe digihitch has more sections and resources that should be mentioned on Hitchwiki, go ahead and add them yourself! Make sure to credit digihitch.com whenever you excerpt our content, or credit the original source found on our pages.
Learn more about Morgan 'Salman' on his featured hitchhiker bio. Read about digihitch.com on our About digihitch.com page. Read about the fight he ultimately lost on Meet Buster: My Big, Fat Tumor.