User:Quasipodo
Jump to navigation
Jump to search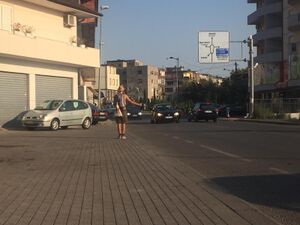 ¡Hola!
I'm a traveller getting more and more into hitchhiking. I'm from Spain and I enjoy adventures and spountaneous travel over tourism and routine. I'm also studying an online master of data science, so I having a sort of digital nomad lifestyle at the moment.
I'm also voluunteering in the development of Trustroots. You can check out my trustroots profile: https://www.trustroots.org/profile/abel-por-que-no.
Apart from hitchhiking, I like to travel by bike.
In any case, see you on the road!
Previous hitchhiking trips
From Prague (Czechia) to Barcelona (Spain)
From Tirana (Albania) to Vienna (Austria)
From Copenhague to Barcelona (Spain), going through all the Scandinavian countries and, thereafter, through all the Baltic countries
Some other local and small ones trips / rides in Spain, like the one I did last year from Sorbas to Almería to catch a train on time after I missed the bus.
Countries where I have hitchhiked in
Spain
Czech Republic
Italy
Germany
France
Switzerland
Sweden
Norway
Finland
Estonia
Latvia
Lithuania
Russian Federation
Poland
Austria
Albania
Croatia
Montenegro
Bosnia and Herzegovina
Slovakia
Slovenia