Sedona
Jump to navigation
Jump to search
Sedona is known for its beautiful red rock scenery as well as its "vortexes" and new age spiritualism. Hitchhiking is relatively easy due to the abundance of tourists, backpackers, local artists, and hippie types. Traffic is always flowing in and out of town. Navigating Sedona is very simple. Two state highways, the 89A and the AZ 179 converge at the epicenter of town, creating a "Y." As the highways wind through town, cars drive by slowly since Sedona mostly uses traffic circles in lieu of stop lights. You can easily hitchhike from the side of the road in most any direction, simply by positioning yourself on the correct spot of highway and putting out your thumb.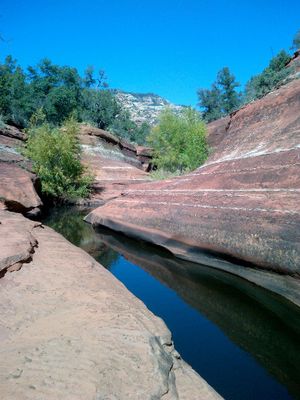 Hitchhiking out
The northern stretch of the 89A as it goes through Sedona is very narrow and windy, sometimes with no shoulder at all. You have a few options here. You can walk north past the main tourist drag (Pink Jeep Tours, Psychic Center of Sedona, etc.) and find a spot on the highway before the shoulder becomes too narrow, or you can stay in the center of town near the "Y" roundabout and perhaps make a sign. Either way, the wait times are not long.
From the "Y" walk south on the 179, past the Tlaquepaque Arts & Crafts Village. You should cross Oak Creek, and pass the Hike House (worth checking out.) Any spot along this stretch will do- almost all of the traffic is heading directly to Phoenix.
You can hitchhike south on the 89A directly from the "Y" or you can keep walking along the highway until you find an ideal spot. You might want to make a sign, as a good deal of the traffic heading in this direction will be local, though certainly not all.
Accommodation and Sleep
There are extensive wilderness trails throughout Sedona, with ample backcountry camping opportunities. Favorites include West Fork trail (the first three miles are a popular day hike, but if you continue on and wade through the creek, you'll have some stunning scenery to yourself) and Secret Canyon.
Other useful info